Baked salmon on a bed of Asian-flavored cabbage = the best fish dish for the moment – Atmospheric flavors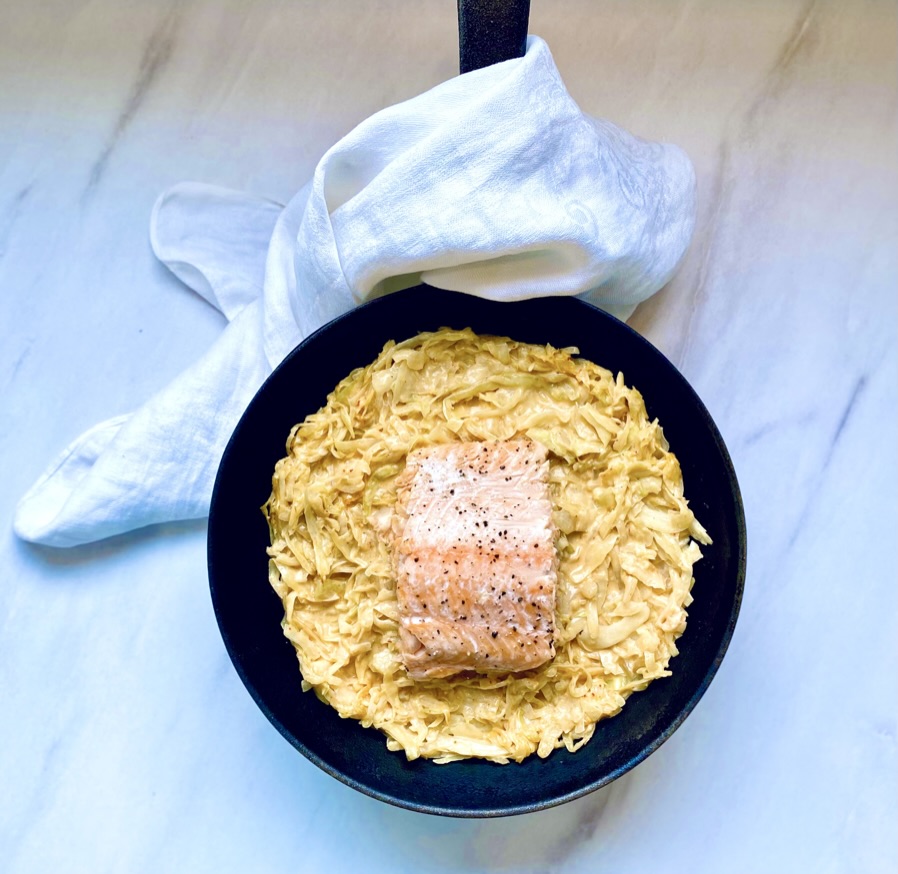 A surprisingly large amount of food can be prepared from one cabbage. That's how often with cabbage you get to thinking once or twice, what to do this time. Of course, the box and the wrappers always work, but now I felt like trying something new. This decision paid off; it seemed like the best fish and cabbage dish had been made in a while – and by the way, this was the opinion of the whole family.
Baked salmon marinated on a bed of Asian-flavored cabbage is very easy to make with just a few ingredients. Since curry paste acts as the main flavoring of cabbage, you don't need to find more wonderful ones in the spice cabinet, and besides, it's easy to adjust the hotness of the food. The recipe I was looking at recommended four tablespoons of curry paste, my version had maybe one and a half – because then I ran out – and this kid-friendly version was born. You can then choose your own, but I bet four spoonfuls would have been too much for me. However, I'm not a fan of hot food.
The spicy cabbage wrapped in coconut milk works extremely well and the salmon was also fried pretty much perfectly on the surface of the fry. I want to be able to serve this food to guests as well.
Baked salmon on a bed of Asian-flavored cabbage
4 servings
2 cloves of garlic
1 tablespoon grated ginger
1 onion
600 g of cabbage
1.5-4 tablespoons of red curry paste, depending on the desired heat
3 tablespoons of oil
4 dl coconut milk (Or, as I do, 2 dl coconut milk and 2 dl cooking cream, if you like a slightly stronger coconut taste.)
700 g of salmon fillet
salt
lemon pepper
To serve:
rice
(For decoration:
fresh chili
lime
cilantro)
Peel and chop the garlic, ginger and onion. Cut the cabbage into thin strips. Saute garlic, ginger, onion and curry paste in oil in a pan. Add the cabbage and saute until the cabbage softens. Pour in coconut milk (and cooking cream) and heat. Pour the mixture into the baking dish.
Remove any skin from the salmon fillet. Cut the fillet into pieces and season with salt and lemon pepper. Place the pieces of fish on top of the cabbage bed.
Bake in a 180-degree oven for about 15 min. The fish cooks in 10-15 minutes, depending on its thickness and desired level of doneness.
Serve with rice and garnish with chili, lime and/or fresh coriander if desired.
Source: tunnelmallisiamakuja.com