Ole friends of Paulina Cocina, Chickpeas with prawns! This Spanish recipe is typical of the Cádiz region, which is located in the autonomous community of Andalusia and is known for its rich culinary tradition based on products from the sea and the land.
This stew is popular in several coastal regions of Spain where high-quality fresh prawns are found. Each family or cook can have their own version of the recipe, adapting it to their tastes and preferences, since it is made both in homes and in gastronomic establishments.
Combining the proteins of the chickpeas and those of the prawns, this recipe, as we already anticipated, is hyperproteic and also the chickpeas with prawns can be used in a variety of recipes, such as salads, stews, soups or rice dishes. That is to say that it can act as a main dish, base or accompaniment.
About the recipe for chickpeas with prawns
This Cádiz recipe combines chickpeas, prawns and a variety of fresh ingredients such as onion, red pepper, garlic and tomato. Sometimes other shellfish such as prawns or clams are also added to enrich the flavor.
Chickpeas combined with prawns add a smooth and creamy texture of the chickpeas with the marine flavor and the delicacy of the prawns. This combination creates a balanced dish in terms of flavor and nutrients.
If you like dishes with chickpeas, you can try the Sevillian recipe for chickpeas with spinach or a delicious one chickpea stew.
The basics of this recipe
The Cádiz recipe for chickpeas with prawns usually involves slow and long cooking to develop flavors and textures. You usually start by soaking the chickpeas overnight to soften them before cooking. It is important to give a slow cooker to maintain the integrity of the prawns.
To season the dish, spices and aromatic herbs such as paprika, cumin, bay leaf and parsley are used. These ingredients add depth and flavor to the preparation.
Platter of chickpeas with prawns
Chickpeas with prawns are traditionally served in a deep dish or clay pot, and can be accompanied with some crusty bread. It is a comforting and hearty dish, ideal to enjoy during the colder months of the year. It is also another way to eat chickpeas outside of the traditional stew.
7 tips to make the best Cádiz recipe for chickpeas with prawns
use fresh ingredients: Opt for good quality, fresh chickpeas, either canned (from a jar) or cooked from scratch. Also choose fresh prawns, if possible, to ensure optimum flavor.
Fry the ingredients: Before adding the chickpeas and broth, fry the onion, pepper, carrot and garlic in a little olive oil. This will help bring out the flavors and aromas of the ingredients.
Add spices and herbs: It uses spices such as paprika, cumin and saffron to give it a touch of authentic flavor. Also add bay leaves or other aromatic herbs such as parsley to enhance the flavors of the dish.
Fish or seafood broth: Use a good fish or shellfish broth to cook the chickpeas and prawns. This will add a delicious and authentic flavor to the pottage. If you don't have homemade broth, you can use commercial-grade broth or dilute a bouillon cube in hot water.
proper cooking time: The chickpea stew with prawns requires slow and gentle cooking to allow the flavors to fully develop. Cook over low heat long enough for the chickpeas to be tender and the prawns to be cooked.
adjust seasonings: Taste the stew as it cooks and adjust the seasonings to your preference. If you find it a bit bland, add a little more salt, spices, or lemon juice to enhance the flavors.
Final presentation: Before serving, you can decorate the stew with some chopped fresh parsley leaves or a drizzle of extra virgin olive oil. This adds an additional visual and aromatic touch to the dish.
Chickpeas with prawns recipe
Chickpea stew with prawns is a type of spoon dish, which are hearty and comforting preparations, perfect to enjoy during the cold months, although in many regions they are eaten throughout the year. This recipe is easy and adaptable to all seasons due to its marine and fresh flavor.
Yield: 6 servings
Preparation time: 1 hour 30 minutes
Ingredients
250 g of chickpeas (previously soaked if they are dry) or 2 cans of cooked chickpeas
250 g prawns (peeled or unpeeled)
1 chopped onion
1 red bell pepper chopped
1 chopped carrot
2 minced garlic cloves
1 diced ripe tomato or 1 small can of crushed tomatoes
1 teaspoon sweet paprika
1/2 teaspoon ground cumin
1 bay leaf
1 head of broccoli, cut into small florets
Fish or seafood broth (approximately 1 liter)
extra virgin olive oil
Salt and pepper to taste
Chopped fresh parsley to garnish
How to make chickpeas with prawns step by step
In case of using dried chickpeas, soak them in water overnight. Then, cook them in salted water until they are tender. If using canned chickpeas, rinse them well under cold water.
In a large casserole or pot, heat a little olive oil over medium heat and add the chopped onion, bell pepper, carrot and garlic. Cook until tender and lightly golden.
Add the chopped or crushed tomato, paprika, cumin and bay leaf and cook for a few minutes until the tomato softens. Add the chickpeas and broccoli to the casserole. Mix well with the fried ingredients.
Pour the fish or shellfish broth into the casserole enough to cover the chickpeas and create a brothy consistency. Cook over medium-low heat for approximately 30 minutes, stirring occasionally. Halfway through cooking, add the prawns and cook until fully cooked.
Adjust the seasoning with salt and pepper to taste. Remove the bay leaf before serving hot in bowls and sprinkle chopped fresh parsley on top for garnish.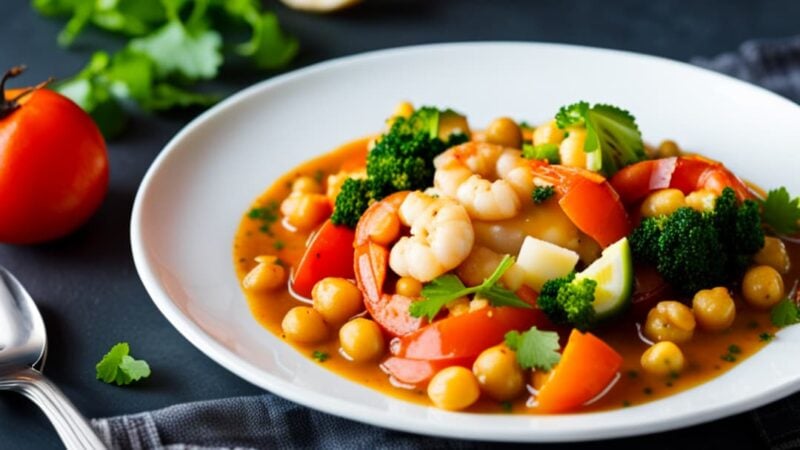 Source: www.paulinacocina.net