Hello and welcome! That means "Hello and welcome" in the Basque or Euskera language! And so we receive them because the San Sebastian-style crab recipe that we are going to give you today is so Basque so Basque that we even know when, where and how it was born, without any doubt.
The recipe of txangurro in Donostiarra style as it is known today, it has its origins in a haute cuisine restaurant. This became known through the book ¨La cocina donostiarra¨ by Mikel Corcuera and Manolo González where they explain how it came about. But we'll talk about that later.
About the txangurro, a special crab
Txangurro is a dish from the Basque region of Spain. It is generally prepared by filling the shells of crabs with a mixture of their meat, breadcrumbs, onion, garlic, parsley, and sometimes other ingredients such as tomato or peppers. They are then baked or grilled until golden brown and crisp.
The txangurro is a popular delicacy in Basque cuisine and can be found in many traditional Basque restaurants. It is characterized by its rich and savory flavor, which combines the sweetness of crab meat with the salty flavors of the stuffing ingredients. It is served as a starter or main course, accompanied by a salad or crusty bread.
If you are a fan of seafood, Spain has given us many incredible recipes such as grilled zamburiñas, clams to the sailoramong other. We love Mediterranean cuisine!
Where did the San Sebastian-style crab recipe come from?
The origin and history of the txangurro a la donostiarra dates back to the city of San Sebastián, also known as Donostia in Basque, in the Basque region of Spain. This dish is a variant of txangurro that has become one of the most famous culinary specialties of Basque cuisine.
The history of the recipe is closely linked to the fishing tradition of the region and the abundance of sea crabs on the Cantabrian coast. Local fishermen began to use the captured crabs to prepare various dishes and the San Sebastian-style crab was one of the most outstanding.
The txangurro a la donostiarra as we know it today
Chef Felix Ibargurenalso know as "Shishito" o "Xixito" He is a prominent chef of Basque gastronomy and He is the one who brought the txangurro to San Sebastian to be a unique and special gourmet dish. His recipe is prepared the same everywhere: spider crab, tomato cut into concassé, leek, brandy, breadcrumbs, butter, olive oil and salt.
Obviously the recipe for txangurro in Donostiarra style It has evolved over time, but the essence remains the same. It is a preparation that stands out for the use of fresh, quality ingredients, and for its filling and gratin technique.
The San Sebastián-style txangurro has become a symbol of Basque cuisine and is appreciated by both locals and visitors who come to San Sebastián. It is usually served as a main dish in restaurants and cider houses in the area and is considered a delicacy due to its intense flavor and combination of textures.
How to make homemade San Sebastian-style txangurro?
The dish consists of taking fresh sea crabs, extracting their meat and mixing it with a combination of ingredients that can include onion, garlic, tomato, pepper, breadcrumbs, white wine and spices to taste. This mixture is stuffed into the shells of the crabs and baked in the oven until golden and crispy.
Donostiarra-style chicken recipe
This recipe is not quick or easy to make since we must clean the crab inside, but its flavor and final appearance are worth the effort. It is a haute cuisine dish to surprise with our culinary skills.
Yield: 4 portions
Preparation time: 1 hour 40 minutes
Ingredients
4 sea crabs (txangurros)
1 small onion, finely chopped
2 garlic cloves, finely chopped
1 ripe tomato, peeled and chopped
1 green bell pepper, chopped
1/2 cup breadcrumbs
1/4 cup of white wine
Olive oil
Salt and pepper to taste
Fresh parsley, chopped to garnish
How to make txangurro to San Sebastian
In a large pot, boil water with salt. Add the sea crabs and cook them for about 10 minutes. Remove from the water and allow them to cool enough to handle.
Crack the shells of the crabs and extract all the meat. Chop the meat into small pieces and reserve the shells for later.
In a large skillet, heat a little olive oil over medium heat and add the onion and garlic. Cook until translucent. Add the green pepper and the chopped tomato. Cook until the vegetables are tender.
Add the minced crab meat to the pan and mix well with the vegetables. Pour in the white wine and let it simmer for a few minutes to allow the flavors to meld.
Add the breadcrumbs to the mixture and stir to integrate and thicken slightly. Fill the crab shells with the mixture. Sprinkle some additional breadcrumbs on top of each stuffed shell.
Preheat the oven to 200°C and place the stuffed shells on a baking tray. Bake for approximately 10-15 minutes or until golden and crisp on top. Remove and garnish with chopped fresh parsley before serving.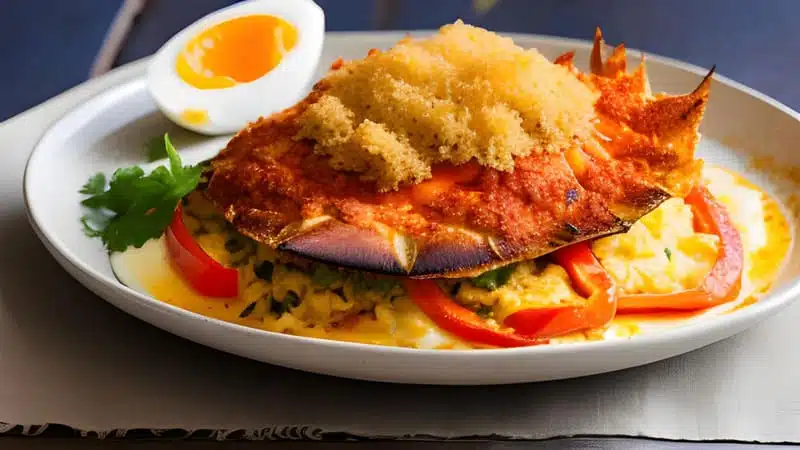 Source: www.paulinacocina.net