This post contains advertisements for Brother Are you having a party, a birthday or a summer party soon? Then you surely need invitation cardn, die you can easily design yourself. In this blog post I will show you how to do it.
June is a wonderful one early summer Mmonth in which a particularly large number of celebrations take place. If you're going to have a birthday party soon, a summer party or weddingstands, but don't know her but don't know how to design the invitation cards, you should now pay close attention. Then the anticipation of the beautiful event is already beginning with a self-designed invitation card.
I have my idea with you Brother and the Ptouch CUBE More* implements, it is also in the frame of the #DIYYearChallenge.
Be our guest!

Lisa from meinfeenstaub.com and i have been dating for the month June one each craft idea for the topic "hospitality" considered. Included came the labeling machine P-touch CUBE More by Brother for the Mission. For all those who still have a few question marks and think "What aChallenge?" – no problem. I have summarized the most important points of the challenge for you here.
#DIYYearChallenge 2023
Lisa and I face a creative challenge once a month for a year – the #DIYYEARChallenge. On a given topic and with the support of a sponsor, we independently implement a DIY. We get creative with the sponsor's materials and publish our results on our blogs and social media channels. Our followers can win great prizes from the sponsor by voting for their favorite under the Instagram post.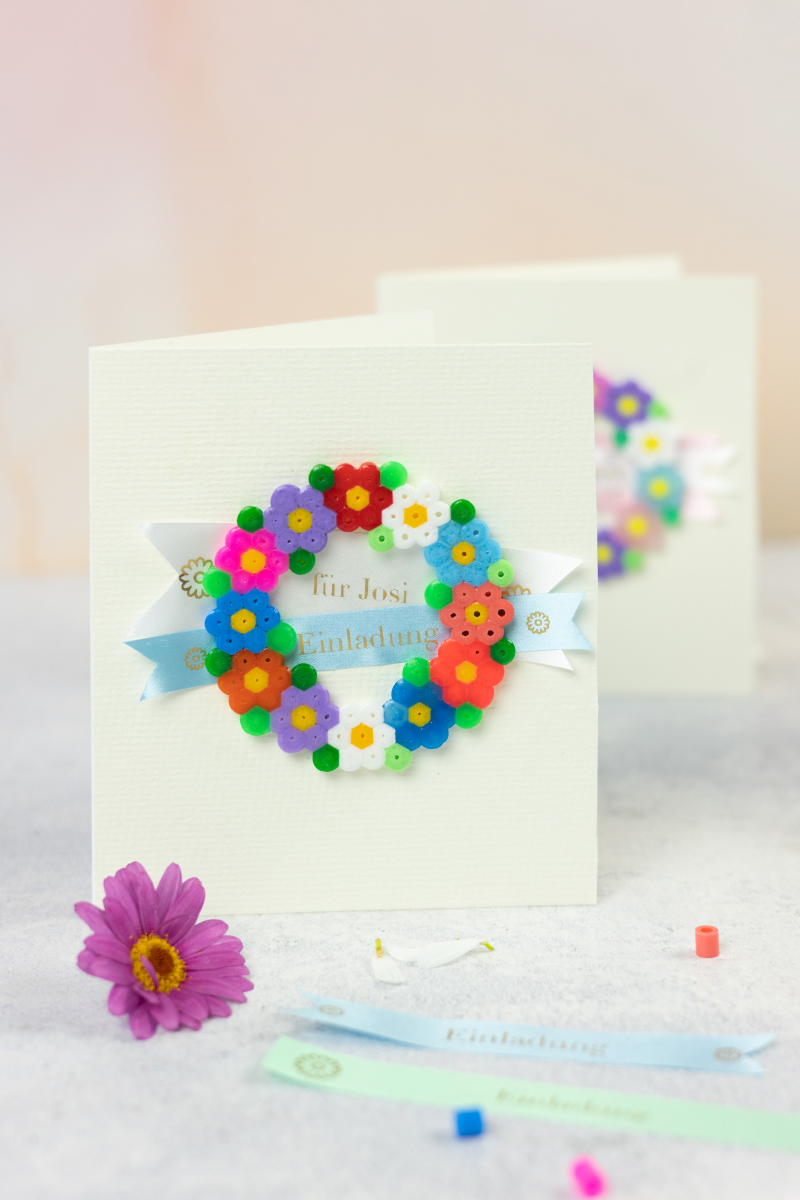 Monthly theme June:

hospitality
I especially like the June theme as I really love to invite friends and family over to my house and celebrate with them on special occasions. and eA beautifully designed invitation card causesthat the invitees can look forward to the festival even more ecan agree. To my contribution to the challenge I will explain you step by step how you special invitation cards with fuse beads and the products of Brother himself design can. Besides himdrive ihr more about below din P-touch CUBE More from Brother and the tape cassettesthat I used for my DIY. Be sure to check out how Lisa interpreted the theme.
So light could you Make creative DIY invitation cards yourself: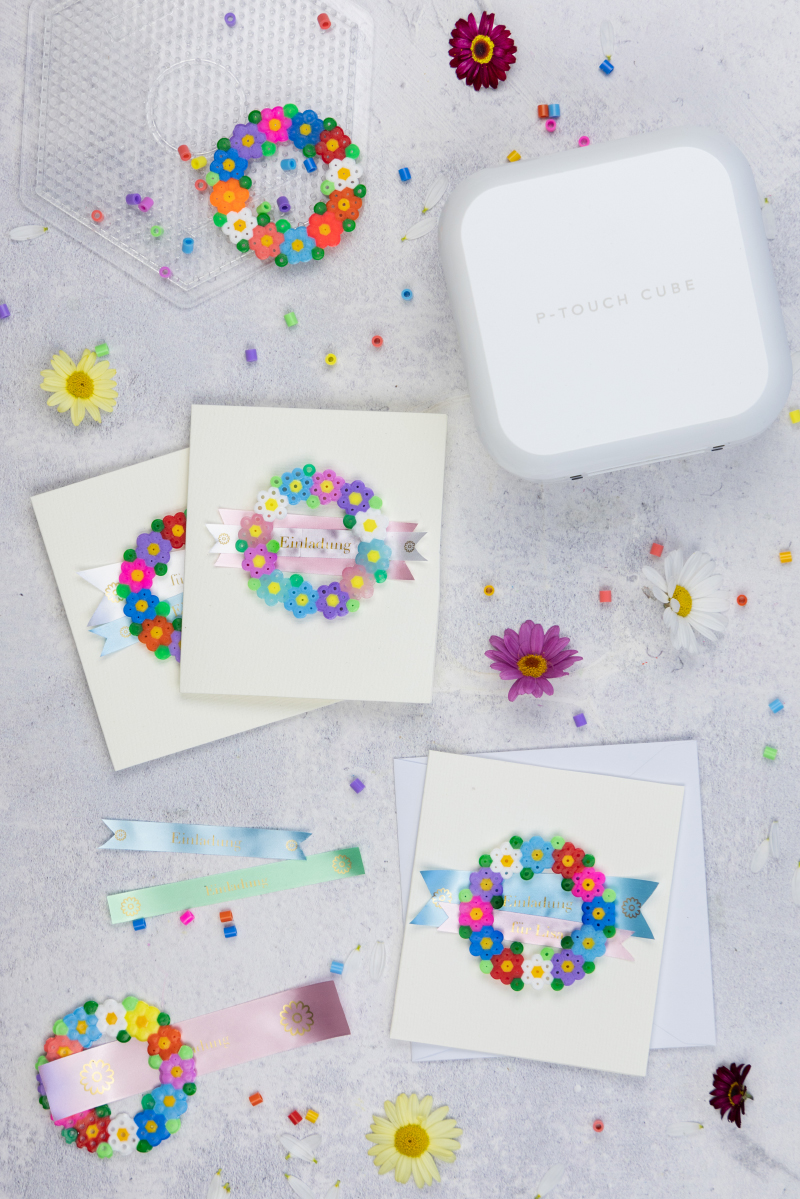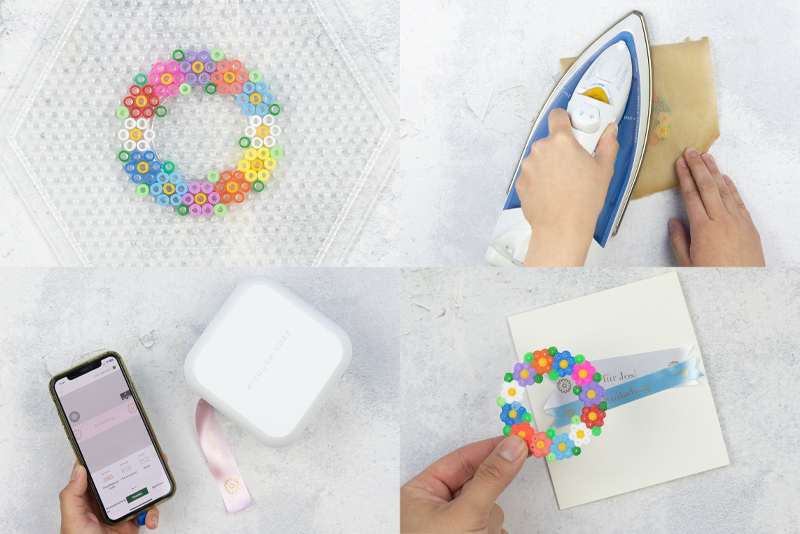 Instructions
1
Arrange the fuse beads on the pegboard as shown in picture one.
2
Now place a piece of baking paper on the beads and iron with an iron until the beads have melted together. Make sure to go over the pearls in a smooth, rotating motion so they melt evenly.
3
Let the wreath cool down completely and only then remove it from the plate so that it no longer deforms.
4
Now turn on the Brother P-touch CUBE Plus and insert the tape cassette.
5
If you haven't already, download the app to your smartphone and connect it to the P-touch CUBE Plus.
6
Design your bands via the app. To do this, click on "Create your own label" and then select the tape color, font and desired symbols.
7
When you are satisfied, you can click print. The P-touch CUBE Plus now prints your tape.
8
Cut a point into the ends of the ribbons. Then position the ribbons and the iron-on bead wreath on the invitation card.
9
When you are satisfied, first attach the ribbons with double-sided tape or glue stick and then glue the wreath on top with craft glue.
10
As you can see, it's very easy to design your own invitation card!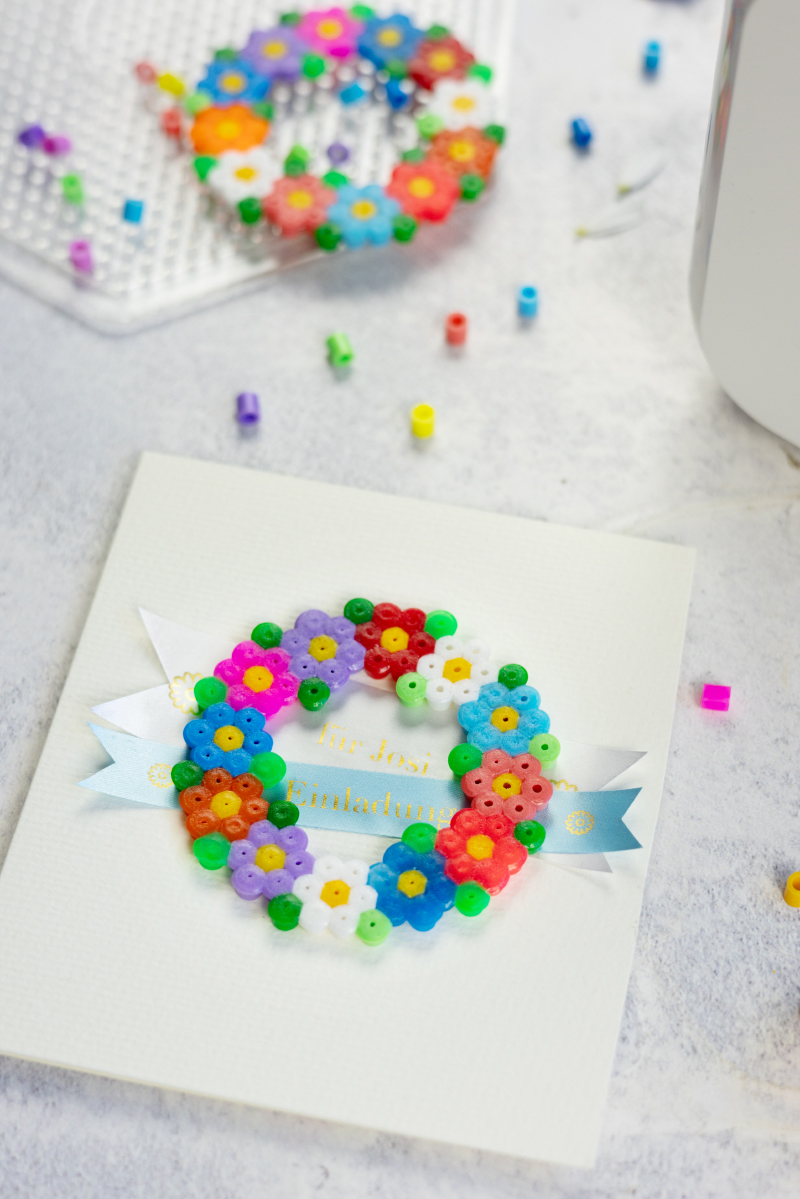 Get creative with Brother
The P-touch CUBE Plus is a flexible compact device with a modern style and also still energy saving. It can be easily connected to smartphones and tablets via Bluetoothbut who prefers to work on a computer can use the P-touch Editor software. Lettering and textile tapes can be printed. You have a large selection and combinations of colors for ribbons and fonts as well as different bandwidths at your disposal.
Loving, funny or romantic, cheeky or serious texts can be printed for many different occasions, which can be stuck onto invitation and greeting cards or used to design other DIYs. The P-touch CUBE Plus is also suitable for labels, so that order can finally be restored in the home office or kitchen, children's room or garden shed. The app or software gives you many design options. You can also upload your own images or use the ready-made templates that are available in the app.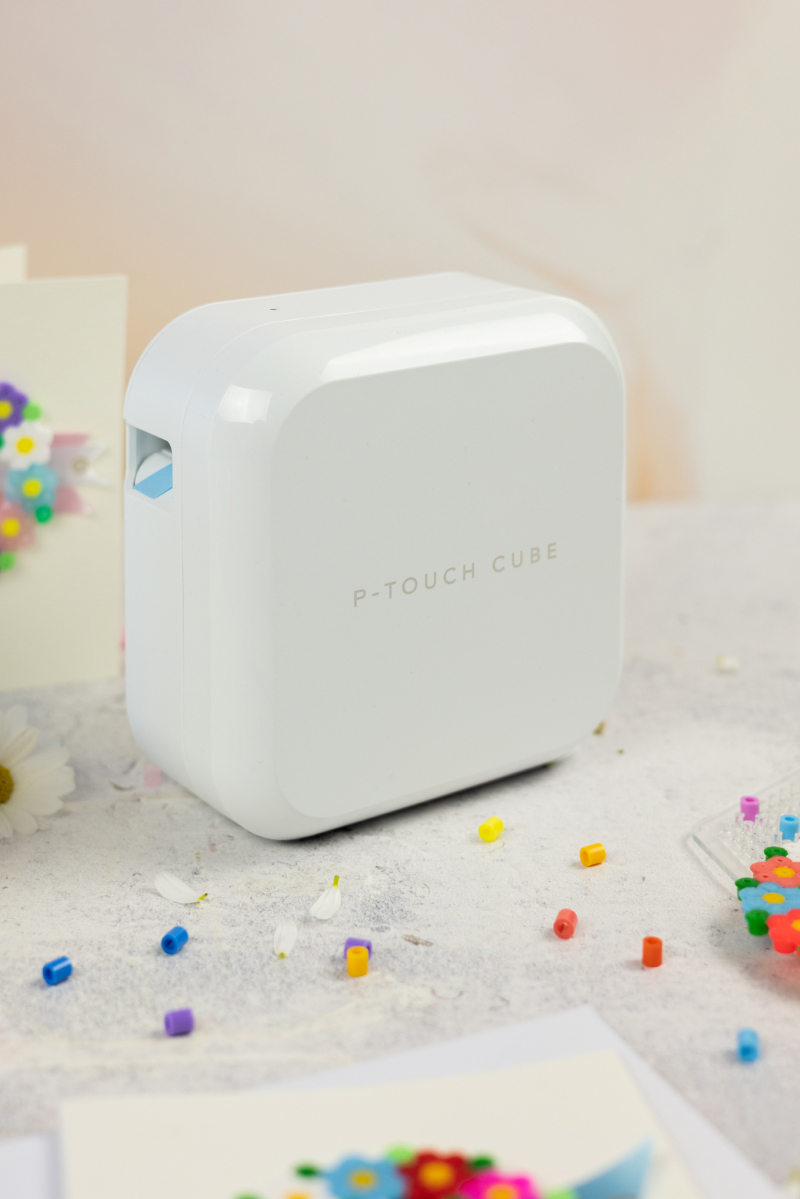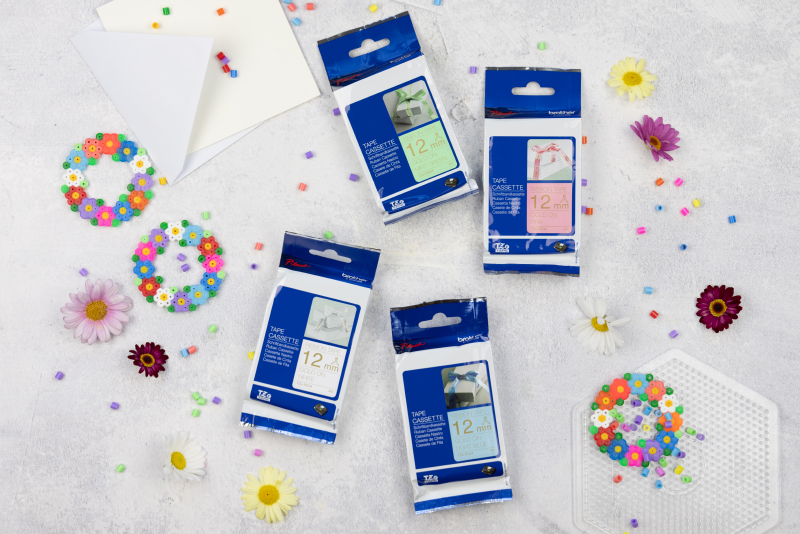 Win a Brother product bundle
So that you can convince yourself of the P-Touch Cube Plus, Brother, Lisa and I are giving away a suchs labeling machine to you!
All conditions of participation can be found here and information about the prize can now be found in the current post*.
Next month's theme is Tropical Summer
Until then. Your Laura
* In creative collaboration with Brother

Source: trytrytry.de