3 gifts from the kitchen: Ugly Christmas sweaters, raspberry chocolate pralines and winter jam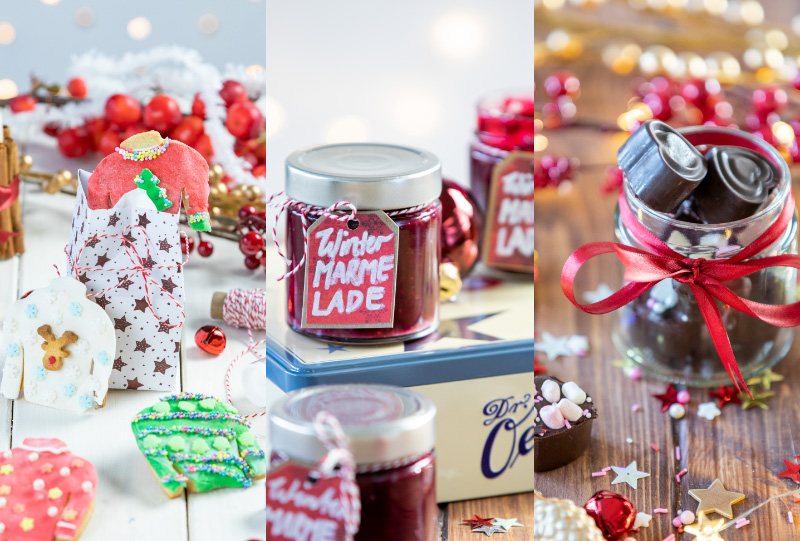 This post contains advertising
The festival of lights and scents, gifts and warmth is getting closer and closer. The Christmas markets have long since opened their doors, the smell of cinnamon stars, aniseed biscuits, gingerbread and Christmas punch. The search for Christmas presents for friends, family and colleagues is in full swing, so it's time for everyone who doesn't have anything yet to listen carefully!
So far I've shown you gifts from my Christmas workshop, but today I'm opening my Christmas kitchen for you. Because: A homemade and delicious gift is an expression of special appreciation for the recipient, but it doesn't necessarily have to be expensive. Since November 25th and until December 16th you'll be getting lots of gift inspiration from me – and always with a different partner!
Who could be a better partner for kitchen gifts than Dr. Oetker? The range here is so large that I had no problems finding the right ingredients for my recipes. Together we have prepared three Christmas food gifts that are very easy to make and will make Christmas hearts beat faster.
Dr. Almost everyone is familiar with Oetker and there is hardly anyone who hasn't seen the products in the supermarket. Everything you need for baking and decorating – Dr. Oetker has it on offer. But do you already know Dr. Oetker online shop*? The selection of products is even larger there, as there are numerous and special products that you cannot buy in the supermarket. I used many of these products for my gifts. So if you're curious, I'll now show you what Dr. Oetker offers, among other things, and what you can do with it! Let's start with my Ugly Christmas Sweaters: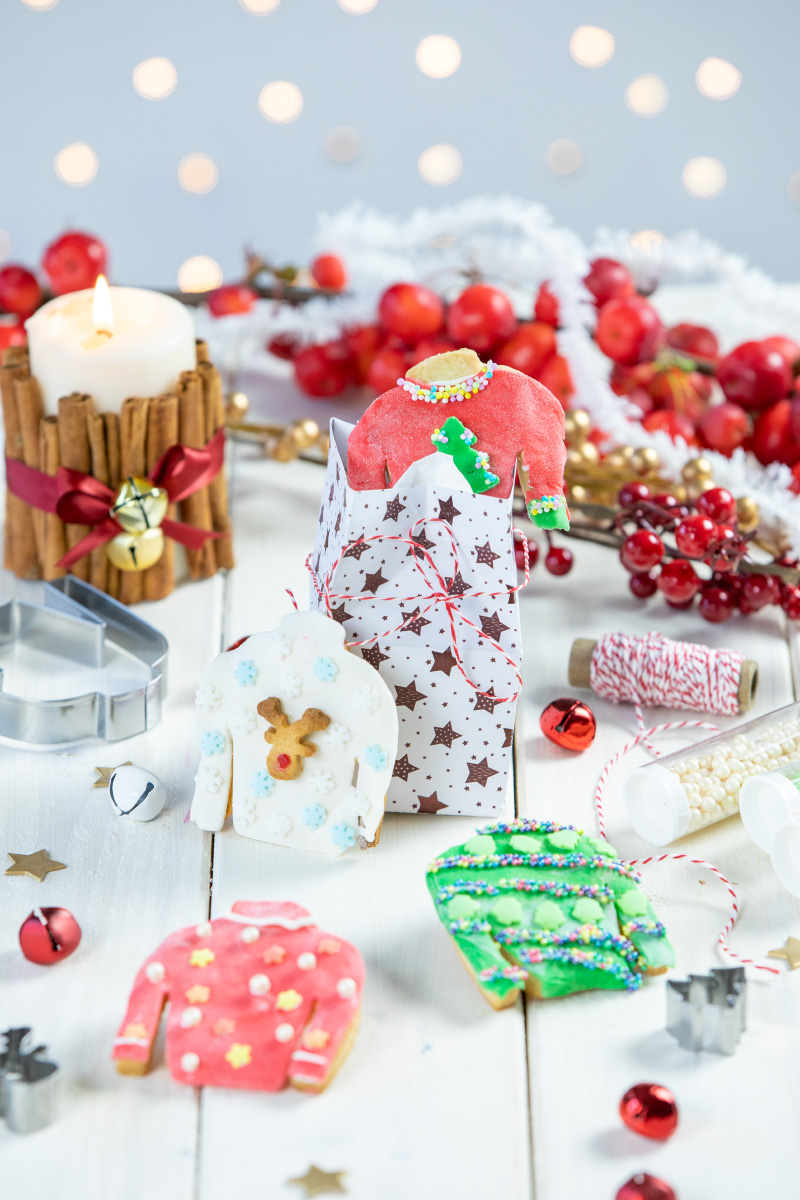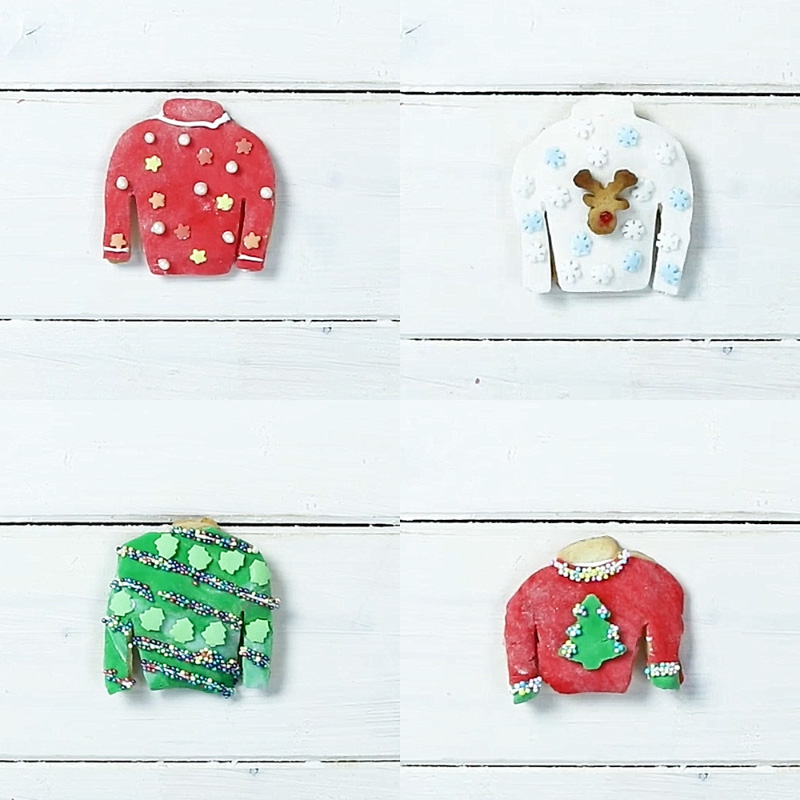 Ugly Christmas Sweaters
Ingredients:

250 g flour
60g sugar
125g cold butter
1 Owner
1 pinch of baking powder
1 packet of vanilla sugar
Winter Sweater Cookie Cutter by Dr. Oetker*
Fondant in green, red and white
Sugar writing
various sprinkles
Cookie jar from Dr. Oetker*

Directions:1. Mix together the flour, sugar, butter, eggs and vanilla sugar.

2. Form the dough into a ball and let it rest for 30 minutes.

3. Now roll out the dough on a well-floured surface with a rolling pin and cut out the cookies with the winter sweater cookie cutter.

4. Place the cookies on a baking tray and bake at 200 °C (fan oven) for 10 minutes.

5. Now the fun really begins: decorate the sweaters however you like. The more colorful and kitschy, the better! For example, you can roll out the fondant and use it as a basis. Spread small Christmas sprinkles on top using the sugar writing or draw a pattern with the writing.

6. When the sweaters are dry, pack them in transparent Christmas bags or in self-designed paper bags and give them away to loved ones!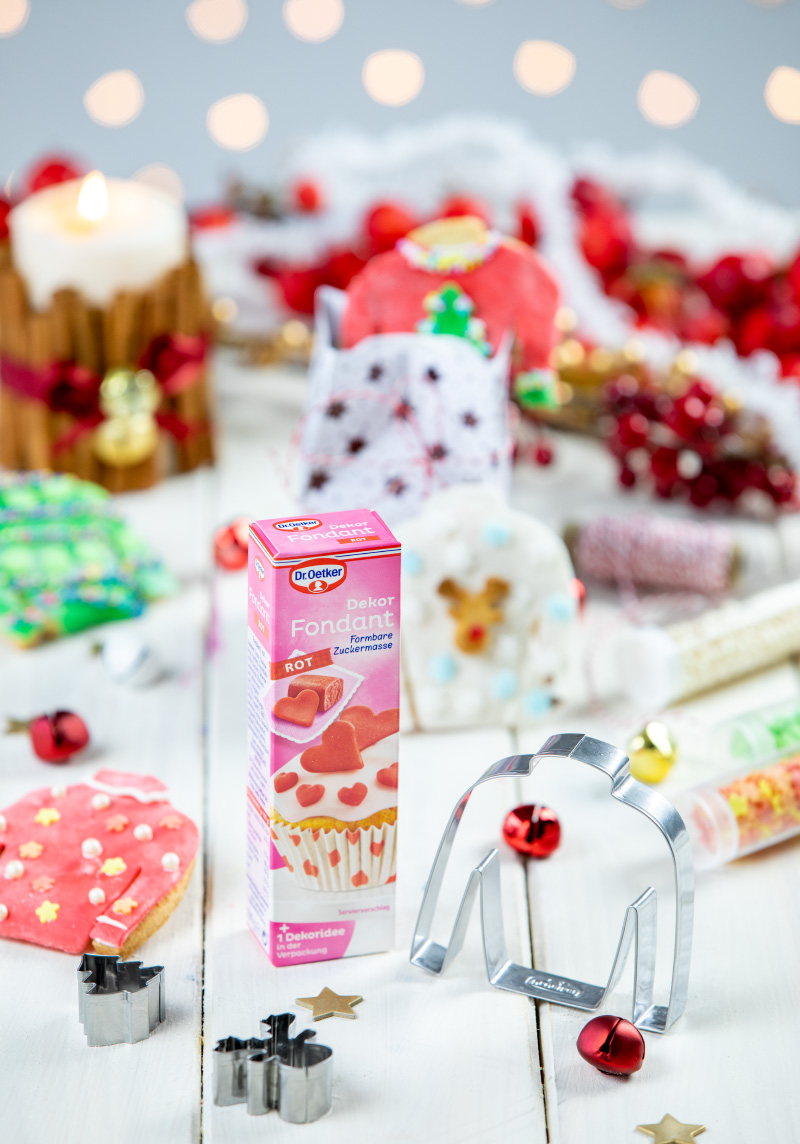 ---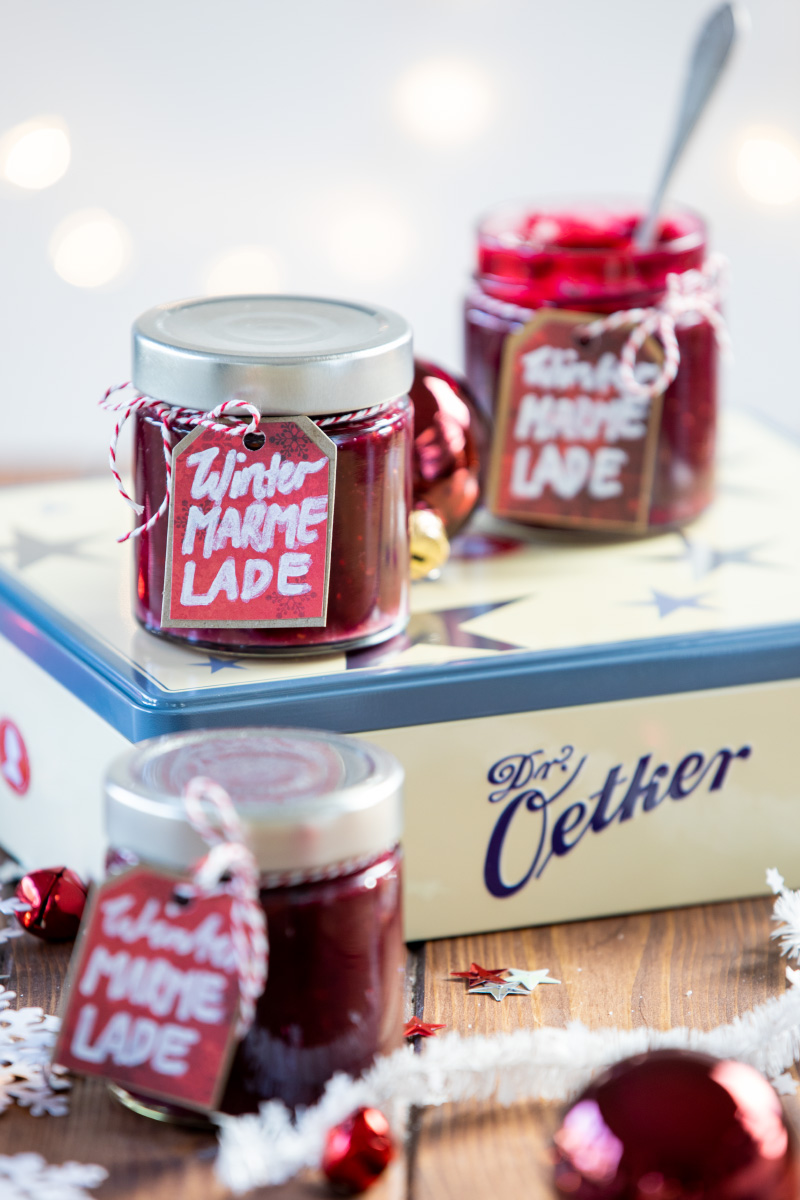 Ingredients
5 jam jars from Dr. Oetker*

1 kg forest fruits (frozen)

500 g preserving sugar 2:1 from Dr. Oetker

1 organic orange (peel and juice)

100g Marzipan

2 cinnamon sticks

4 The anises
Instructions
1
Wash the five 5 glasses well and prepare them sterile.
2
Put all the ingredients in a large pot and let it steep for about an hour.
3
Remove the cinnamon sticks and anise stars again and chop the mixture with the hand blender.
4
Now slowly bring the forest fruit mixture to the boil and simmer for about four minutes.
5
Then immediately pour it into the clean, sterile jars while boiling hot.
6
Immediately close the lid and turn the jars upside down for about 10 to 15 minutes – this will allow the air between the lid and the mixture to escape, the jars will be sealed airtight and the jam will last longer.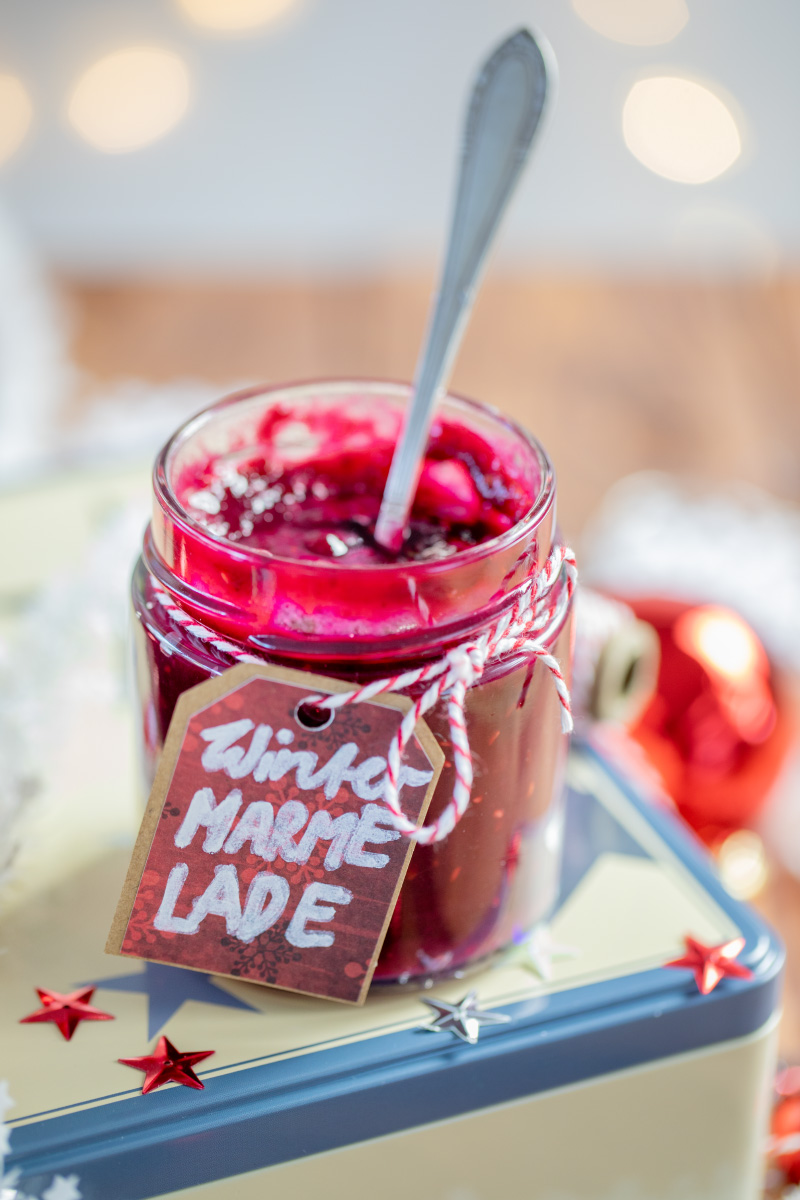 ---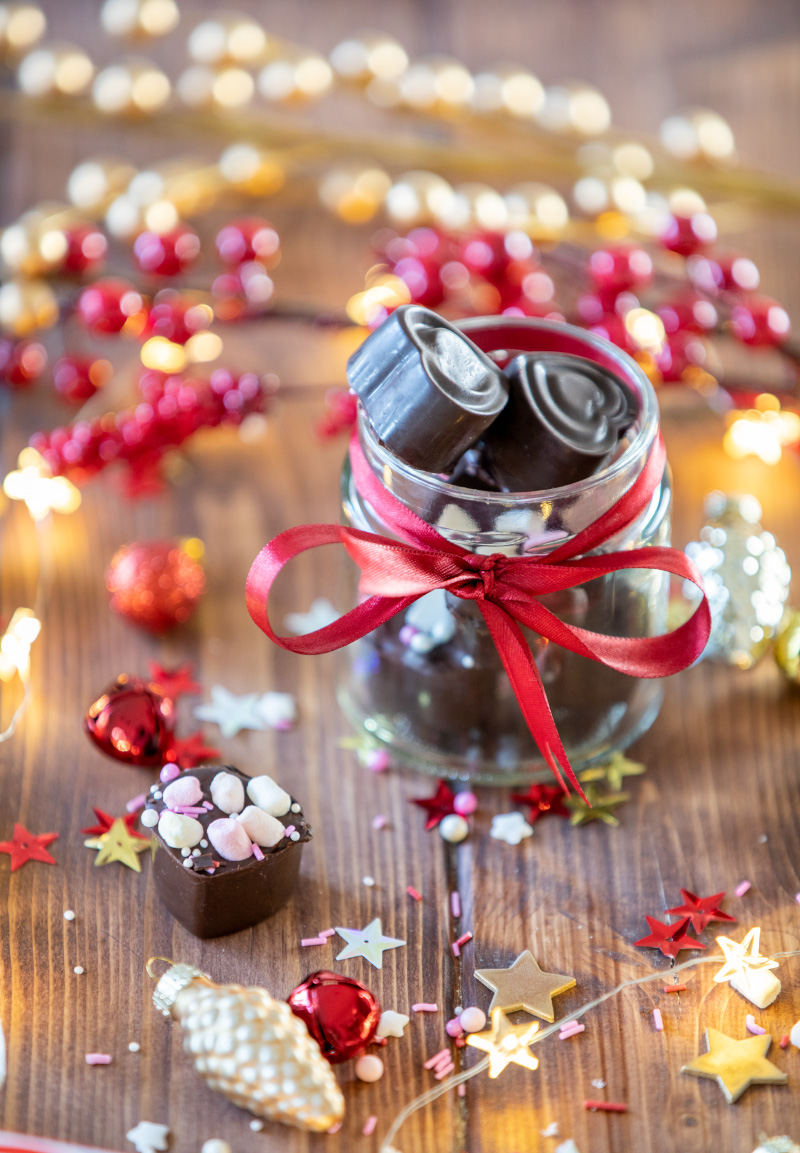 Raspberry chocolate pralines
Ingredients (for 40-45 chocolates):
125 g frozen raspberries
1 tablespoon of sugar
170 g white chocolate coating
500 g cake icing winter from Dr. Oetker
Silicone chocolate mold "Sweet Hearts" from Dr. Oetker*
Streusel
Mini-Marshmallows
Preparation:
1. Melt the cake icing in a hot water bath until it is liquid.

2. Pour the liquid chocolate halfway into the heart silicone mold. Spread the chocolate on all sides to create a chocolate coating. Allow excess chocolate to drip off and then place in the refrigerator to harden.

3. In the meantime, bring the frozen raspberries with the sugar to the boil and process with a hand blender until smooth.

4. Crush the white couverture, add it to the hot raspberries and stir until the white couverture has completely dissolved.

5. Pour the raspberry mixture into the silicone mold and harden again in the refrigerator.

6. Finally, pour the remaining cake icing into the mold to seal the chocolates. Optionally, marshmallows and sprinkles can be distributed here. Let it harden one last time in the freezer for 30 minutes and then carefully remove it from the mold.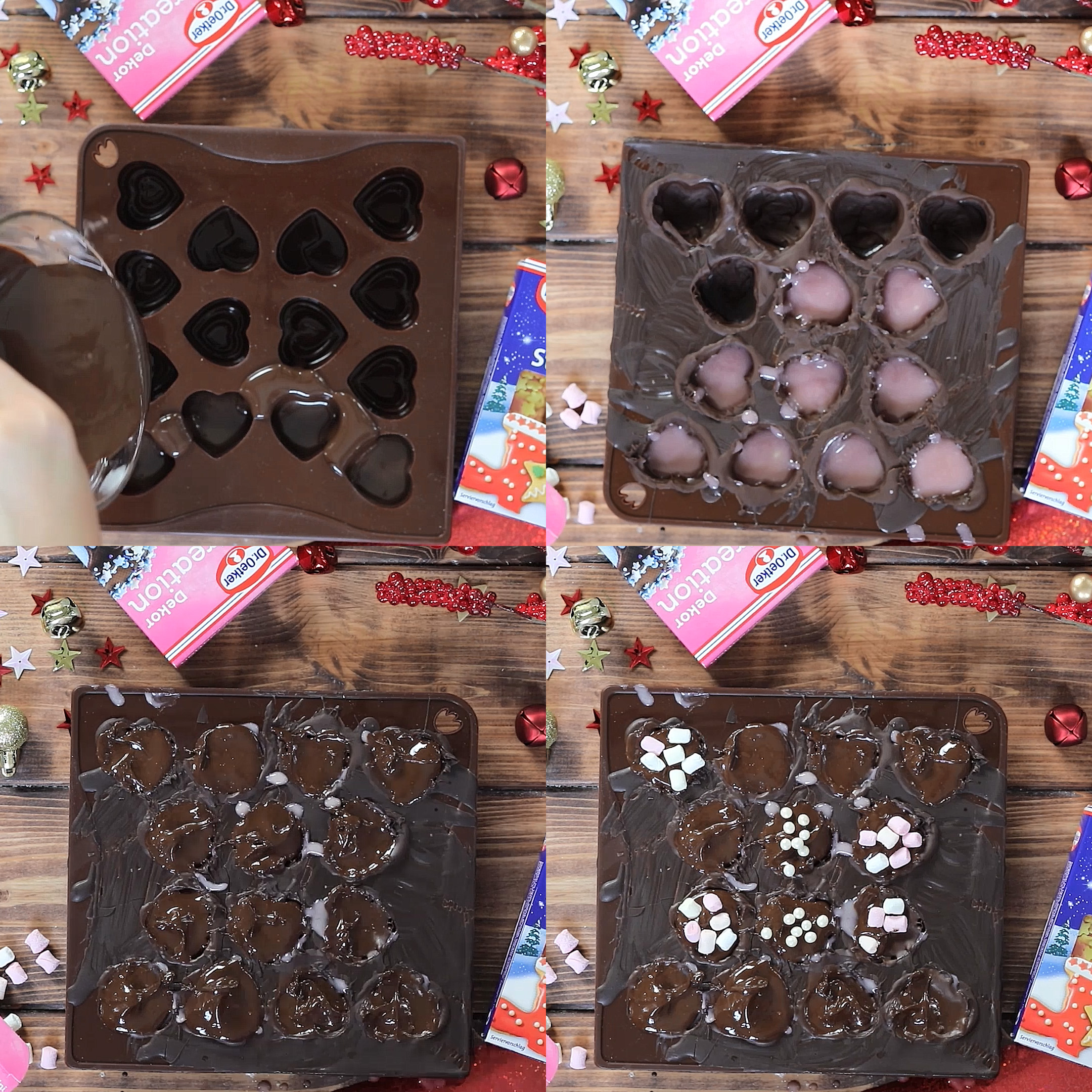 Well, do you feel like making the Christmas food gifts and giving them to loved ones who you want to make happy? The Ugly Christmas Sweaters in particular were a lot of fun to prepare and design. If you would like to prepare special gifts, then be sure to browse Dr. Oetker online shop*! I'm sure you'll come up with many more ideas!
See you then. Your Laura
* In delicious collaboration with Dr. Oetker
Source: trytrytry.de