Welcome to the Paulina Cocina Community. Today I want to introduce you to waffles. It is a baked dough that is cooked in a special machine (waffle maker), creating a crispy texture on the outside and soft and fluffy on the inside. They are usually made from a mixture of flour, eggs, milk or water, oil or butter, and dry or fresh baker's yeast.
Waffles are a delicious alternative for breakfast, brunch, or even as a special dessert after lunch or dinner.. In addition to their own flavor, they are versatile and can be served with a wide variety of toppings: fresh fruit, whipped cream, honey, maple syrup, peanut butter, or chocolate, among many other options.
In turn, they are very easy to make at home with a waffle iron and a few basic ingredients and with the toppings or toppings of your choice. On this basis you can experiment and customize them with your favorite ingredients to create a delicious one.
Where are waffles famous?
They are popular in many parts of the world, but are especially associated with the culture of Western and Central European countries, such as Belgium, the Netherlands, France, and Germany. In Belgium, for example, they are a national specialty. and they can be found on almost any corner.
In the Netherlands, they are known as "stroopwafels" and are typically served in cafeterias along with coffee or tea. In France, they are known as "waffles" and are often served as a dessert, especially in the northern region of the country. In Germany, they are popular especially in the Westphalia region, where they are known as "Westphalian Poffertjes". In North America, they are called waffles. In this video I share all my tips to make the best sweet and salty waffles!
About the waffles
Belgian waffles are characterized by their sourdough and pearl sugar that they carry inside although it is important to emphasize that it is not an essential ingredient for the preparation. However, it gives an interesting crispy touch to the dough.
The element used to make these waffles is called a waffle iron. and it is made up of two folding thermal metal plates that have gridded molds, generally made of metal. When heated, they give the dough that shape and in just a few minutes the waffles will be ready to give them that special touch and enjoy them for breakfast or as a snack.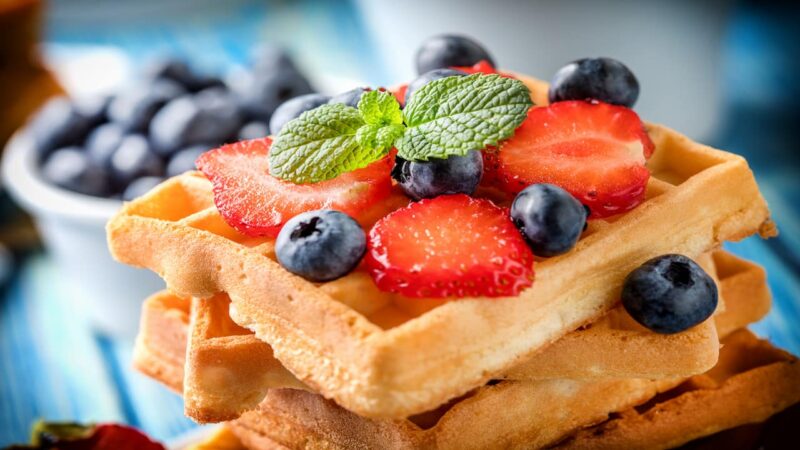 Different combinations of waffles
Waffles can be combined with a wide variety of sweet and savory ingredients. Among them are:
Fresh fruit: they combine very well with strawberries, bananas, blueberries, raspberries, or kiwis.
Chocolate: they are very rich when sauces based on this magical ingredient are combined and that many like. Chocolate chips can also be added to the batter before cooking.
Frozen: For a dessert, you can combine the waffles with a scoop of vanilla, cream, chocolate or whatever flavor you like best.
Honey and nuts: It is a simple but very rich and nutritious combination. You can add them chopped above.
Homemade peanut butter or dulce de leche: It's a classic combination that's always a hit. Add them on your waffles to serve a classic breakfast or snack.
If you like salty waffles or waffles, you can add cream cheese and smoked salmon. A guy: Plus you can add a little dill for a surprising flavor.
IMPORTANT: Do not add pearl sugar to the dough.
More waffle preparation options
In this case, I recommend using whole wheat flour. instead of common flour and oil instead of butter. And if you can't eat foods with TACC, I recommend you make them with the flour premix WITHOUT TACC.
It is also interesting to personalize them with additional nutritious ingredients, such as fresh fruits, nuts, seeds, natural yogurt and other ingredients rich in fiber and protein.
In summary, healthy waffles are a more nutritious and balanced alternative to traditional waffles and they are a great option for people who want to enjoy a delicious and nutritious breakfast or brunch.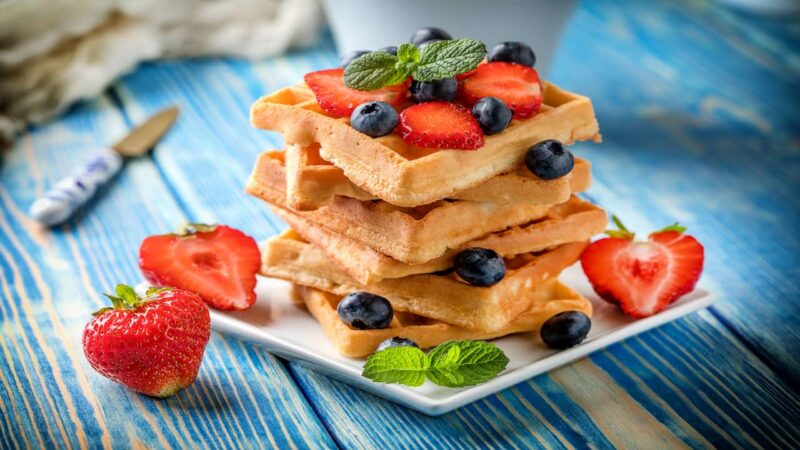 Homemade Belgian Waffles Recipe
Yield: 6 people (it all depends on the size of the waffle iron)
Preparation time: approximately 90 minutes (If the fermentation of the dough is taken into account, otherwise they can be ready in 40 minutes).
Ingredients for the waffle batter
600 grams of flour.
8 gr yeast.
36 gr sugar.
80 gr of pearl sugar.
250 ml of sparkling water at room temperature.
2 eggs.
225 gr of peanut butter.
Fruits to place on the waffles.
How to make waffles step by step
Place the yeast in a bowl with the sparkling water, sugar and eggs.
Add the flour slowly and integrate everything without making lumps.
When the mixture is homogeneous, add the melted butter and continue mixing until the dough is smooth and elastic.
At that point, cover with plastic wrap and wait 1 hour for the dough to ferment and double in size.
After that hour, uncover the dough and turn it out on a smooth surface. Its size must have doubled.
At this time, integrate the pieces of pearl sugar into the waffle batter.
Knead well to distribute the sugar evenly.
Cut the dough unevenly to give a rustic look.
Heat the waffle iron and introduce the waffle batter so that it does not fill the entire iron and wait about 3 minutes with each waffle.
Serve the waffle on a plate and add the fruits on top.
Source: www.paulinacocina.net