Are you looking for a simple recipe for a party snack to prepare? Then try my Flammkuchen Toast, which will blow your guests away. This recipe is one of my absolute favorites. The flammkuchen toasts go well with almost every party, are prepared really quickly and you can easily change the ingredients.
Perfect party snack to prepare: Tarte flambée toast
If you're looking for an easy and delicious party recipe that will wow your guests, then you should definitely try Flammkuchen Toast! This delicious dish is easy to prepare and is perfect as finger food for any type of event, be it a birthday party, a barbecue or a cozy evening with friends. In this article we will show you how you can prepare Flammkuchen Toast in just a few steps and which ingredients you need for this.
It's so easy to make flammkuchen toast yourself:
Simply buy more and get started immediately*:

* Advertising // Amazon Affiliate Link: If you buy something through these links, I get a small commission. For you, the product does NOT cost more!
Ingredients
10 Wholegrain Toast

200 g fresh cream

200 g diced ham

200g grated Gouda cheese

1 onion

Fresh Leek

salt and pepper
Instructions
1
Put the crème fraîche, diced ham and grated Gouda in a bowl and stir together. Season with salt and pepper.
2
Peel an onion and cut into thin rings.
3
Spread parchment paper on a baking tray and place the wholemeal toast on top.
4
Spread the toasts with the crème fraîche mixture.
5
On each piece of toast spread some chopped fresh leek and the sliced ​​onions.
6
Bake in a preheated oven at 180°C for 20 minutes.
7
Then take it out and eat it warm or cold.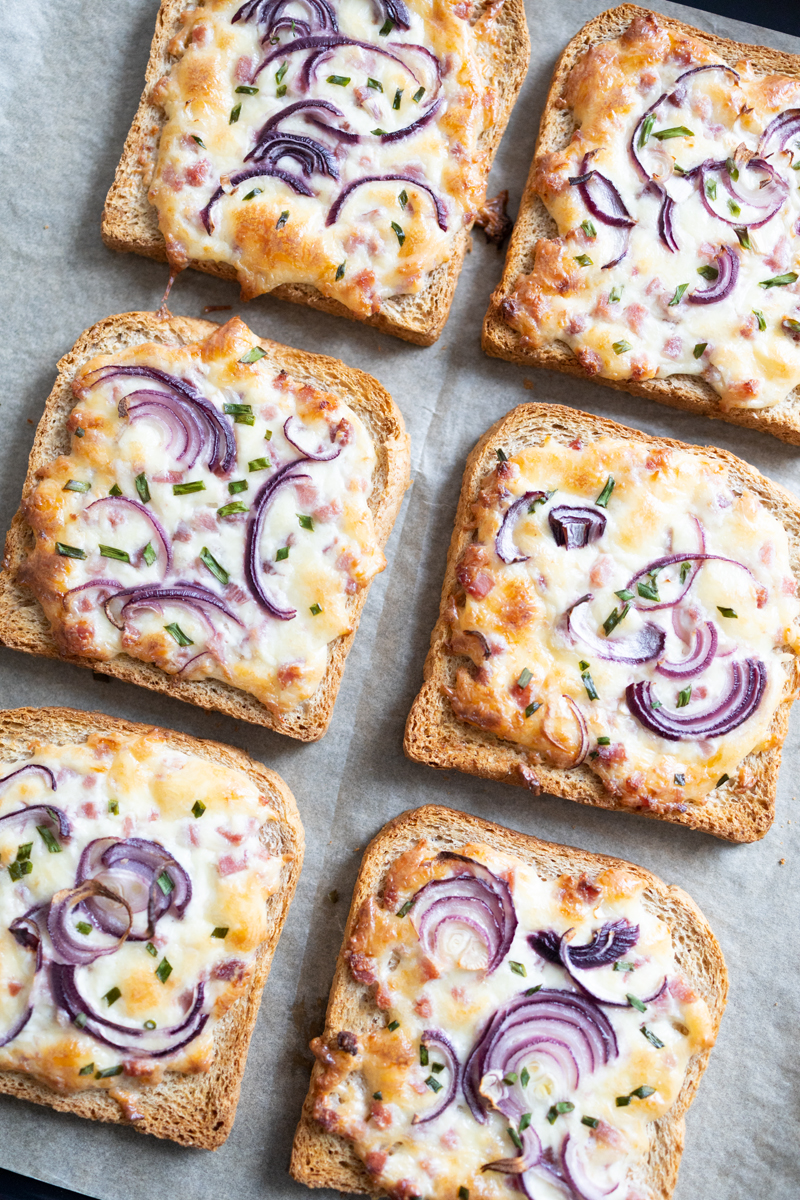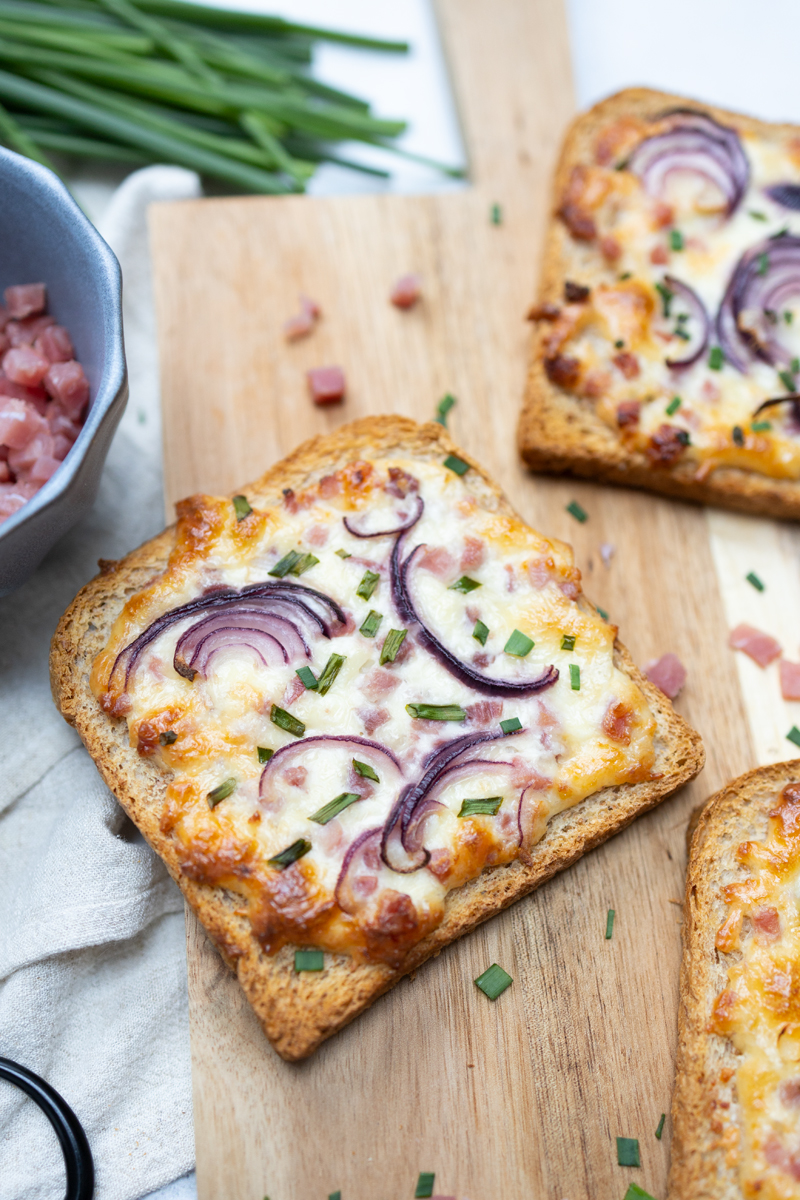 Quickly made and very easy to vary: Tarte flambée toast
Flammkuchen Toast is a simple, delicious and versatile party recipe that can be prepared in no time. With just a few ingredients you can impress your guests and ensure an unforgettable party. Just try it out and let us know how it went down with your guests. We hope that this post has helped you to spice up your next event with culinary delights and wish you a lot of fun cooking and celebrating!
More easy party food ideas
Want more ideas for quick party food? Then click through here: Puff pastry wreath with oven cheese – hearty party snack, finger food skewers with sausages (delicious party snack) or cake pop mini burgers as a party or picnic snack.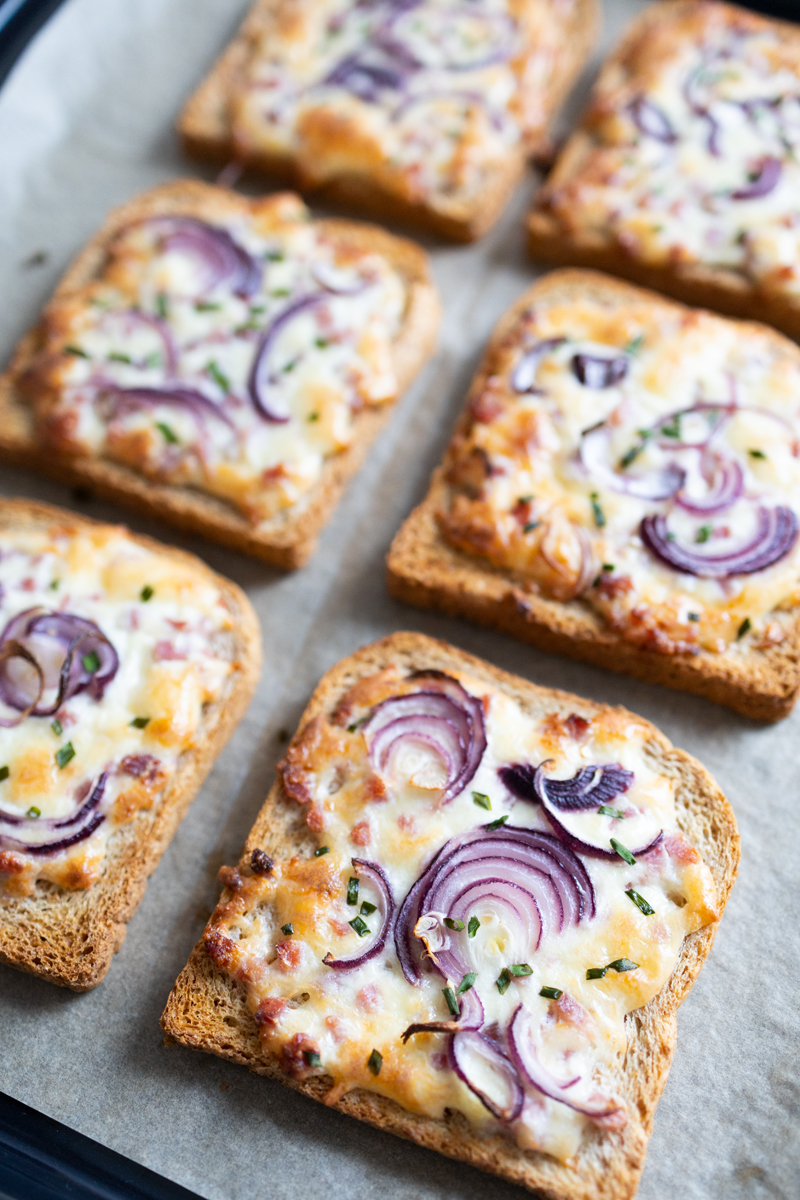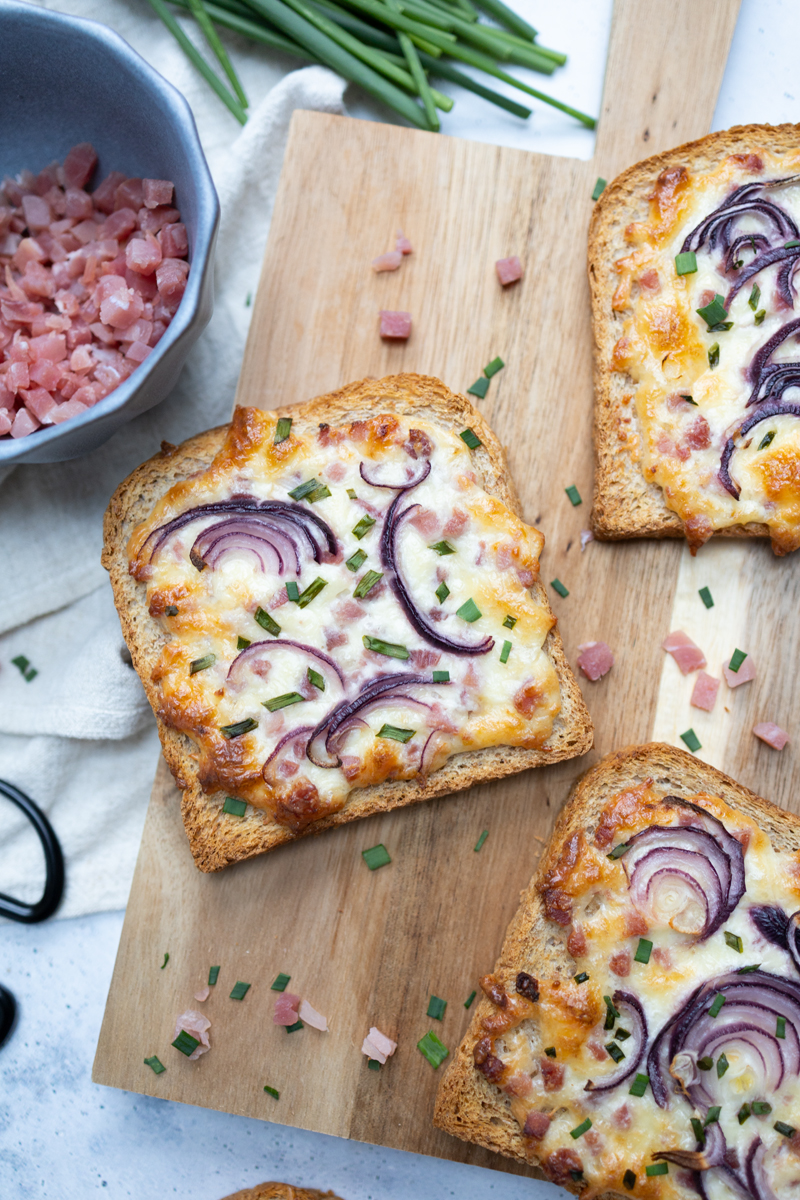 What are your favorite and easy party recipes?
Until then. Your Laura
Source: trytrytry.de