Long live Mexico! Welcome to a dish so traditionally Mexican that recipes inherited from grandmother abound and we already know that there is nothing better than homemade food made with love. Very easy, profitable and versatile, the chicken tinga recipe is the one chosen for family gatheringswith friends and to have in the fridge to fill some quick tacos or put on a toast and that's it.
In case you were wondering where it came from "tinga" or what it means, I tell you that the word comes from Nahuatl "we can" that means "something crumbled". This is because of the texture that the chicken meat presents in this dish. It is also super tasty so it can be eaten on its own if you don't want to add carbohydrates to the dish.
In the city of Puebla, the Tinga Festival is held annually, in which tastings and contests are held to choose the best tinga in the city. Of course, it is not only made from chicken, but the ingredients are very varied.
Well, I already told you the color data of this recipe, now let's go to the info on where and how we like them so much.
About the chicken tinga
Origin of the chicken tinga, a popular Mexican recipe
Chicken tinga is a dish originating in Mexico, specifically from the Puebla region., located in the center-south of the country. It is believed that the chicken Tinga originated in the city of Puebla during the 19th century. The tinga as a meat recipe in general, appears for the first time documented in the cookbook The cook from Pueblafrom 1881.
Chicken tinga is a very popular dish throughout Mexico and can be found in many restaurants and street food stalls. It is an inexpensive and delicious option for a quick meal, and is often served as a filling for Mexican tacos, toasts, cakes and other dishes. But, as we also said, it can be consumed alone since it is very substantial and tasty.
Curiosities of the original recipe for Mexican chicken tinga
The original chicken tinga, that is to say the poblana, carried sardines. The current recipe that does not include fish has been adopted and adapted in different parts of the world and variations of this dish can be found in some Latin American countries, such as Peru and Chile, as well as in some Mexican restaurants in the United States and other countries.
As the tinga can vary a lot the ingredients, around seven recipes are classified among which are the following:
The hot tinga It was the one that was prepared by stewing the entrails and blood of the pig with chipotle chili, onion and tomato. It was eaten with fresh cheese and avocado.
The chile meco tinga It was made with tomato, onion, garlic, zucchini, sausage, ribs and chorizo. It was garnished when serving with sliced ​​onions, avocado, lettuce, radish, oil and aged cheese.
It's scandalous It bears that name because of the large number of ingredients it contains. Usually pork with potatoes, sausage, onion and chorizo; It was served cold with chipotle peppers, vinegar, avocado and sliced ​​onion.
The simple tinga It has pork with sausage. They are served separately with onions, chipotles and slices of fresh cheese.
But let's put these facts aside and let's continue with our chicken tinga.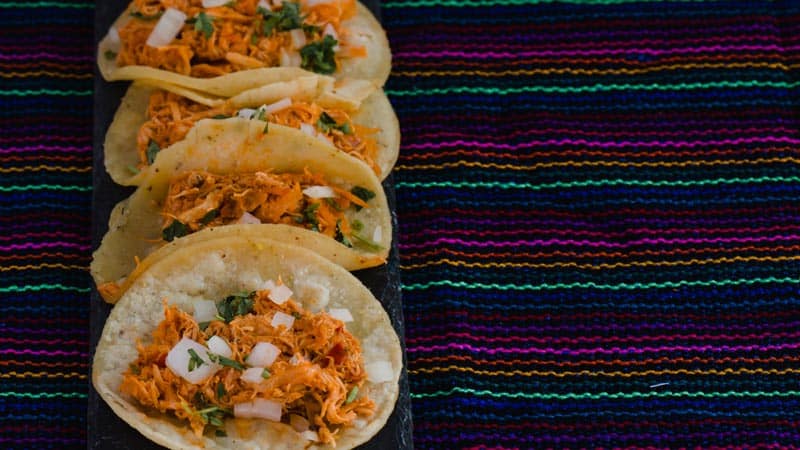 The tinga sauce: the base of the chicken tinga recipe
Tinga sauce is a spicy and smoky sauce Originally from Mexico, specifically from the Puebla region, where it is used as a base for the preparation of the famous chicken tinga. This sauce is characterized by its intense flavor and thick texture, and is a mixture of tomatoes, chipotle peppers, onion and garlic.
The best thing about the tinga sauce is that it is made with all the ingredients baked, then blended and finally boiled together in a pot until thick. More concentrated flavor? Impossible.
The other option is to make the sauce as part of the recipe and that is also very good. We invite you to try both options and then tell us.
The easy and delicious original recipe for chicken tinga
Due to how easy it is to make this chicken tinga recipeIt is a great option for a main course, appetizer or food on the go. It is used as a filling for quesadillas, nachos, molotes and tacos, as a topping for sopes and tostadas or directly alone with beans and rice. It is also a recipe that can be prepared in quantity at one time, which makes it ideal for sharing.
Yield: 4 portions
Preparation time: 1 hour
Chicken Tinga Ingredients
1 whole chicken breast
1 large white onion
3 garlic cloves
4 chipotle chiles in adobo
1 can of peeled tomatoes
1 teaspoon dried oregano
1 teaspoon ground cumin
Salt and pepper to taste
Oil quantity required
How to make chicken tinga in 6 easy steps
Place the chicken breast in a large pot and cover with cold water. Add a quartered onion, 2 garlic cloves, salt and pepper to taste. Cook over medium heat until the chicken is cooked, about 20-25 minutes. Remove the chicken from the broth and shred the meat with the help of two forks.
In a large skillet, add a little oil and heat over medium heat. Add finely chopped onion and minced garlic. Sauté until golden, about 5 minutes.
Add the chopped chipotle chiles in adobo and mix well with the onion and garlic.
Add the peeled and crumbled tomatoes. Add oregano, cumin, salt and pepper to taste. Cook for 10 minutes or until the sauce has a thick consistency.
Add the shredded chicken meat to the pan and mix well with the sauce.
Cook over medium heat for 10 more minutes or until the sauce has adhered to the meat and has a drier consistency.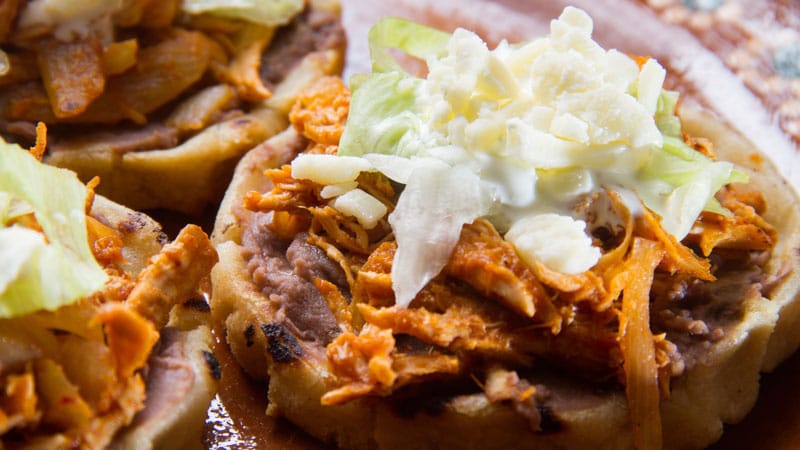 Source: www.paulinacocina.net