This post contains advertising Do you also have an old MALM dresser lying around at home and would you like to make a change in your apartment? Then pay attention now, because I'll show you how you can give your IKEA MALM a whole new look with decorative strips, Viennese braid and some paint!
I have in collaboration with Decosa and dekiso.de* completely redesigned my MALM dresser. I once bought them cheaply from classifieds, but I knew right away that the wood look would have to give way at some point. That's why I got these DECOSA® wall molding Marlene* and other materials obtained and gave the dresser a complete transformation!
And if you feel like it too, then you should pay close attention now. Here I will explain to you how you can easily redesign your MALM chest of drawers with Decosa products.
The materials from dekiso.de can be used for many different DIYs. So I already have one Hanging shelf with the beams in wood look built and one rustic wall wardrobe with the boards in wood look.
Pimp MALM chest of drawers with Viennese mesh and decorative strips
So today I will already implement the third DIY and give this IKEA chest of drawers a new look. In the step-by-step instructions, I explain exactly what materials you need and how you can implement the IKEA hack at home. And below you can find out more about Decosa and the Marlene wall molding used.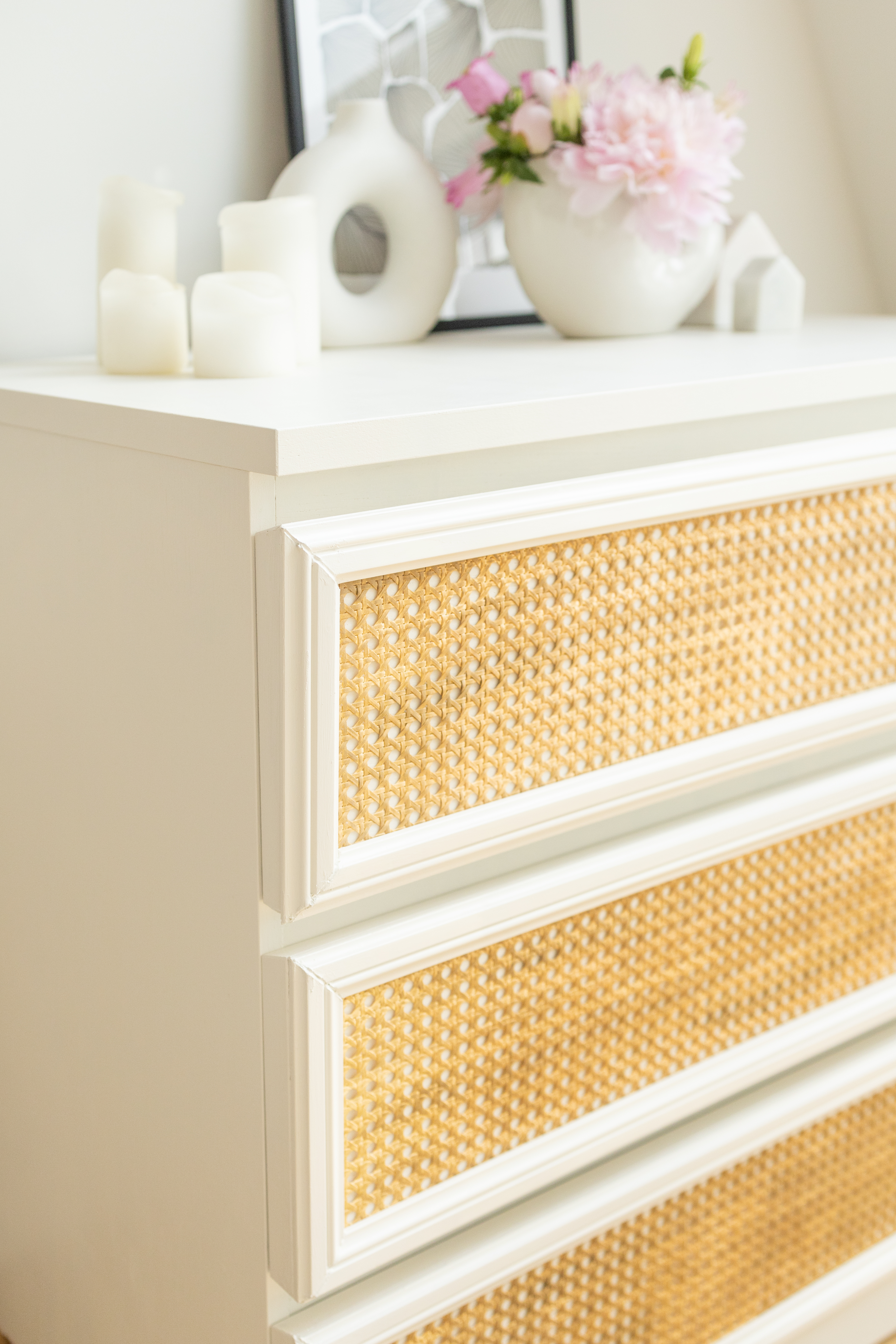 Instructions
1
If you don't have a white MALM chest of drawers, you must first paint it with colored paint and a paint roller. Both the body and the drawer fronts must be painted with at least 3 coats.
2
When the paint has dried, the wall moldings can be trimmed. To do this, place them on the drawer front and mark them.
3
Exact 45-degree angles can be cut with a miter box so that a frame for the front can be assembled from the strips at the end. You need a total of 2 long strips (each 80 cm) and 2 short strips (each 20.5 cm)
4
The strips that have been cut to size are now also painted with the colored paint so that they have the same color as the chest of drawers.
5
While the paint dries, the Vienna braid can be trimmed. A total of 3 pieces each measuring 79 cm x 19.5 cm are required.
6
If the Vienna braid becomes too wavy, it can be soaked in lukewarm water 15 minutes beforehand. The braid stretches and is more flexible. In addition, it no longer curls up.
7
Then dry and stick to the edges of the drawer front with assembly adhesive. It is important that you only apply glue to the areas that will later be covered by the strips. Otherwise you will later see glue residue under the mesh.
8
A few books should be placed on the drawer while the assembly adhesive sets and the Viennese braid dries again. The braid will now contract again and will be very tight when everything is dry.
9
The strips are now also glued to the edge of the dresser front with assembly adhesive. If there are small gaps between the corners of the strips, they can be filled with assembly adhesive. Then carefully wipe off the excess glue while it is not yet dry.
10
Finally, just put the drawers back into the MALM dresser and your IKEA hack is done!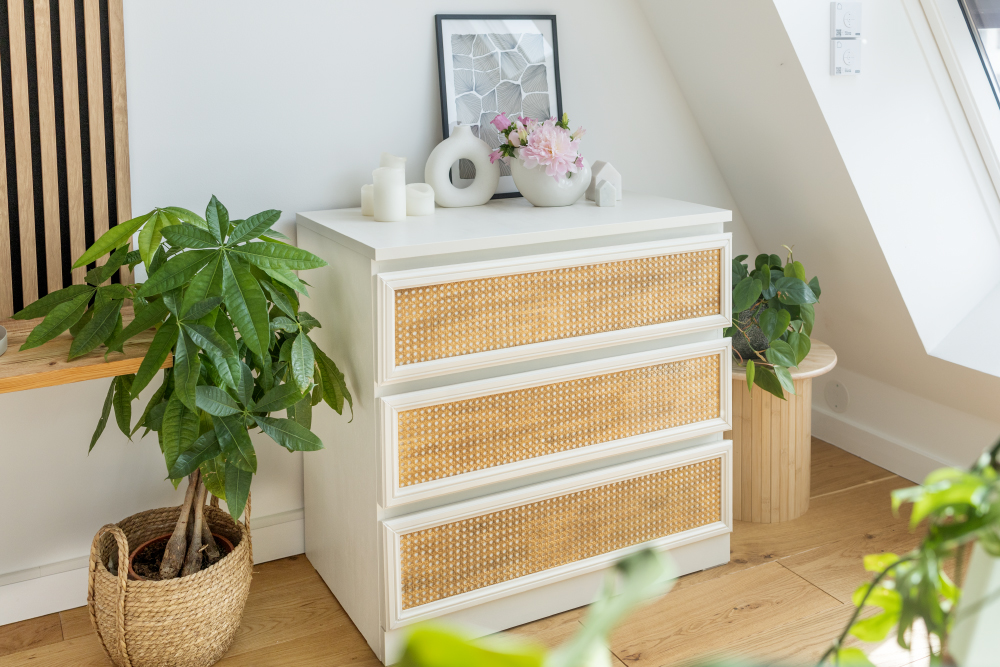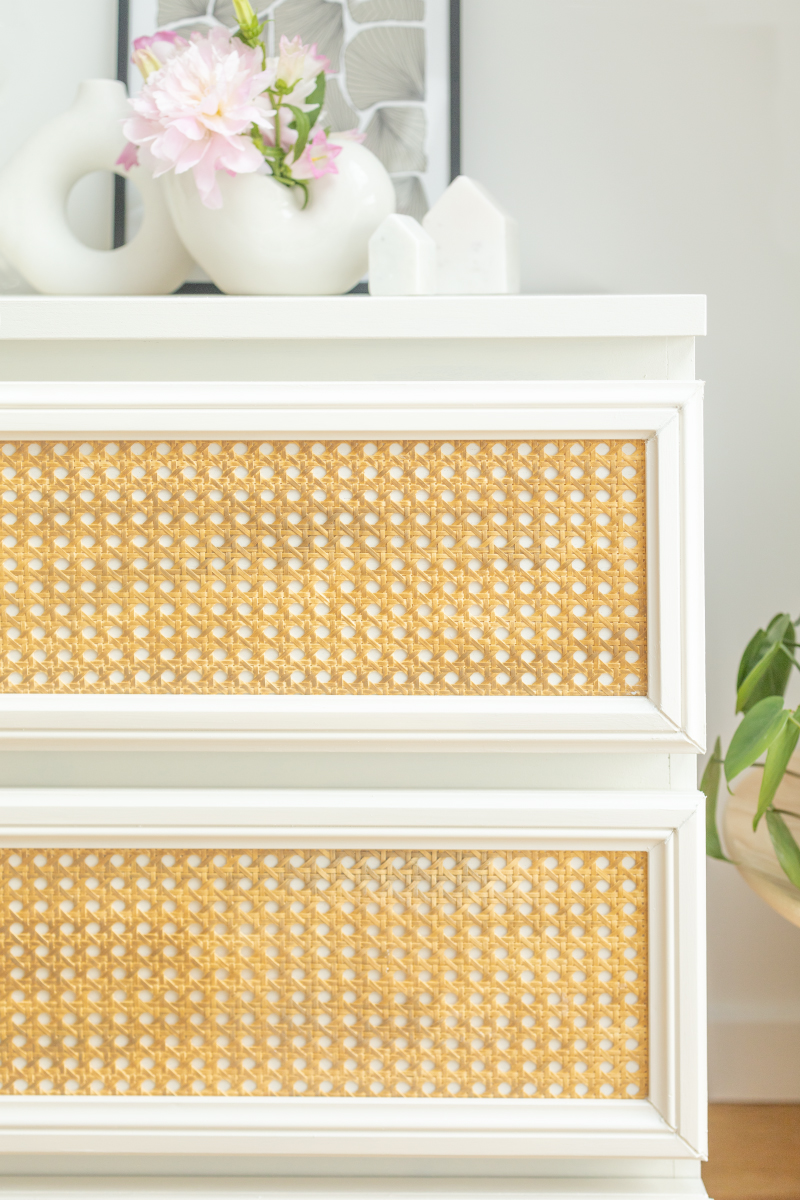 Didn't the result turn out super nice? I think it turned out even more beautiful than I originally imagined. Thanks to the Decosa strips and the Viennese weave, the chest of drawers now looks really classy in contrast to before!
Wall rails Marlene can be used in many ways!
For great DIYs in living room design, there is at dekiso.de* many products made of high-quality material such as styrofoam or polystyrene high density. For example, the decorative wall molding Marlene, which is suitable for all interiors. It has an extremely hard surface and is impact and shock resistant. The white wall strips can easily be painted over with solvent-free emulsion paint and give the decorative piece a completely different color appearance. The wall strip is flat and unobtrusive, measures 2000 x 10 x 31 mm and lies flat against the wall on the back. Of course, they are not only suitable for beautifying a MALM chest of drawers, but also as a decorative strip for ceiling and wall beautification, such as wall cassettes.
Under the Decosa brand, various decorative products made of styrofoam, polystyrene and polyurethane are offered on dekiso.de*. The decorative products are available from dekiso.de and in well-stocked DIY stores. At dekiso.de you will not only find a large selection of moldings, but also wall and ceiling decorations, natural cork, rosettes, wooden boards, wall decorations, wall coverings and anyone looking for something for interior insulation will also find what they are looking for. You can find more ideas for DIY's on the Blog favorite room*.
What do you think of the result of my MALM dresser?
Until then. Your Laura
Source: trytrytry.de