This post contains advertising for DUPLI-COLOR Would you like to make your own autumn wreath from natural materials this year? In this article I'll show you how you can make it quickly and easily.
The golden autumn is here and this year it has spoiled us with a lot of sun. Autumn is known for its many different warm colors and the large selection of natural materials with which we can get creative.
Autumn always inspires me to create beautiful DIYs and this year I also worked with various natural materials such as acorns and pine cones. The result is a wonderful autumn wreath, which I made together with the products from DOUBLE-COLOR* designed. It can be used as a door wreath or as a table wreath and will be a great modern eye-catcher for the home. You can make the autumn wreath alone or easily with children. Simply take a walk together in the golden autumn and then combine it with an afternoon of crafts.
Be creative in autumn with natural materials
We were also inspired by the golden autumn and the play of colors in nature. We are Lisa from meinfeenstaub.com and I. Together we have included the topic "Play of Colors" as the eighth topic for our #DIYYearChallenge this year. With the October theme we are supported by our great partner DUPLI-COLOR with their diverse range of spray paints. For everyone who still has a few question marks and is thinking "What kind of challenge?" – no problem. I have summarized the most important points of the challenge for you here:
#DIYYearChallenge 2023
Lisa and I are taking on a creative challenge once a month for a year – the #DIYYEARChallenge. We independently implement a DIY based on a given topic and with the support of a sponsor. We get creative with the sponsor's materials and publish our results on our blogs and social media channels. Our followers can win great prizes from the sponsor by voting for their favorite under the Instagram post.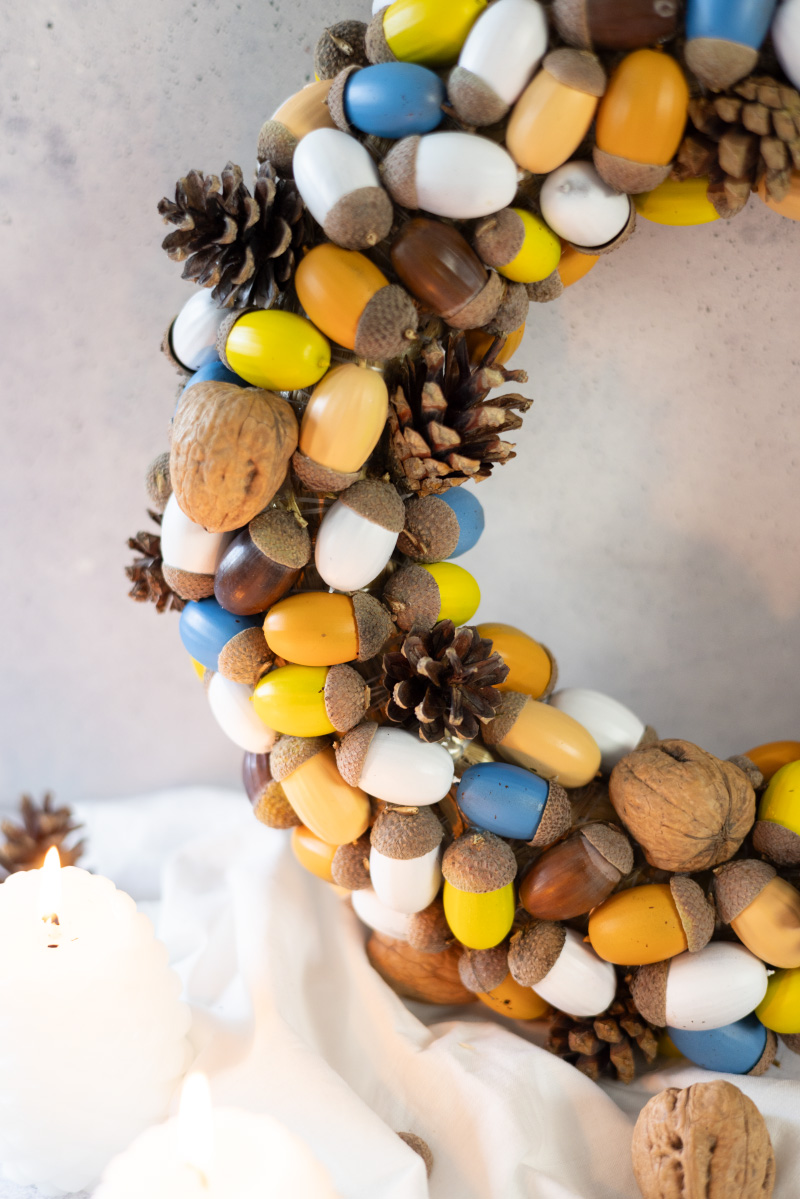 October's monthly theme: play of colors
Anyone who, like us, wants to get creative and do their own crafts should pay close attention now. As mentioned above, I made a simple autumn wreath for the monthly theme "Play of Colors" and sprayed the acorns with DUPLI-COLOR products. In this article I will explain to you step by step how you can make the autumn wreath from natural materials using my simple instructions. Be sure to check out how Lisa interpreted the topic.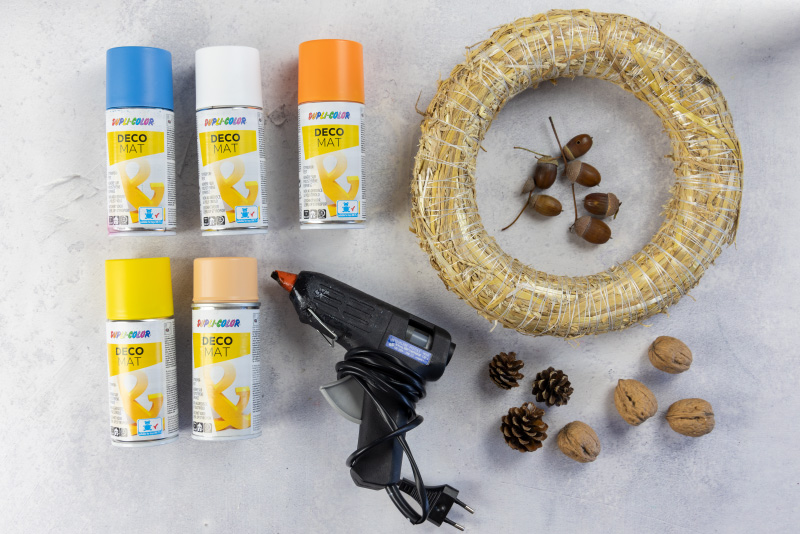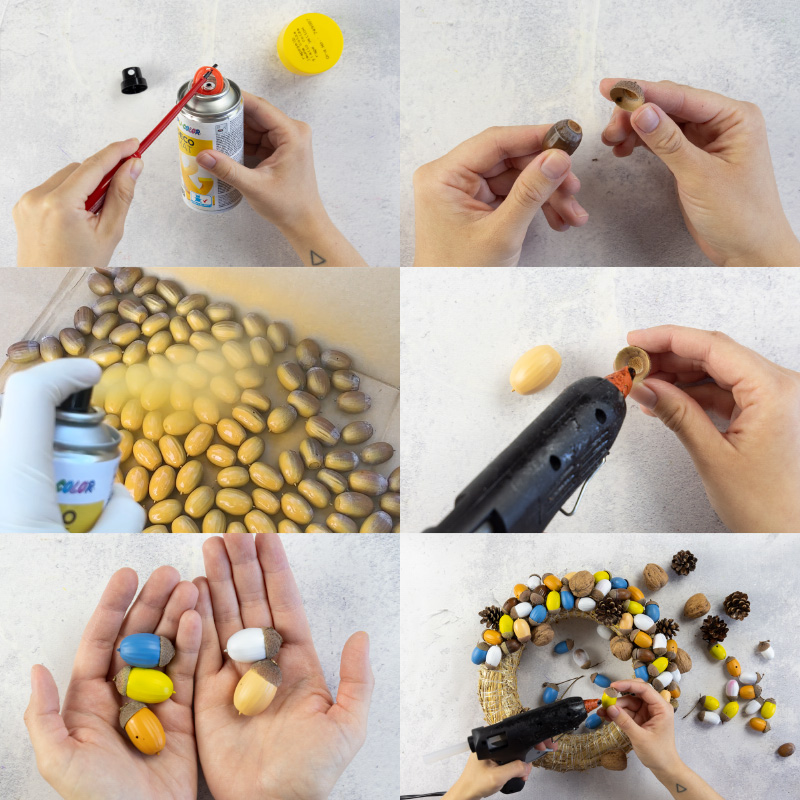 Ingredients
DECO MAT spray paints in the colors light blue, salmon, pastel orange, rapeseed yellow and white

Straw wreath Ø 25 cm

about 100 acorns

6-7 Wallnüsse

10 pine cones

screwdriver

Cardboard box (as a base)

Gloves

Hot glue gun
Instructions
1
Carefully remove the acorn caps from the acorns.
2
Remove the spray head from the spray can and remove the spray lock (red ring) with a screwdriver.
3
Replace the spray head and shake the spray bottle well before spraying.
4
Now place the acorns in a cardboard box, spray paint them in different colors and let them dry.
5
Once the acorns are dry, the acorn caps are glued to the colored acorns with hot glue.
6
Now the walnuts and pine cones are evenly distributed and glued to the straw wreath.
7
In the next step, glue the colored acorns with acorn caps to the straw wreath – the arrangement of the colors is up to you!
8
When all the colored acorns have been glued on, the autumn wreath is ready and can be hung on the front door or placed on the table as an autumn decoration.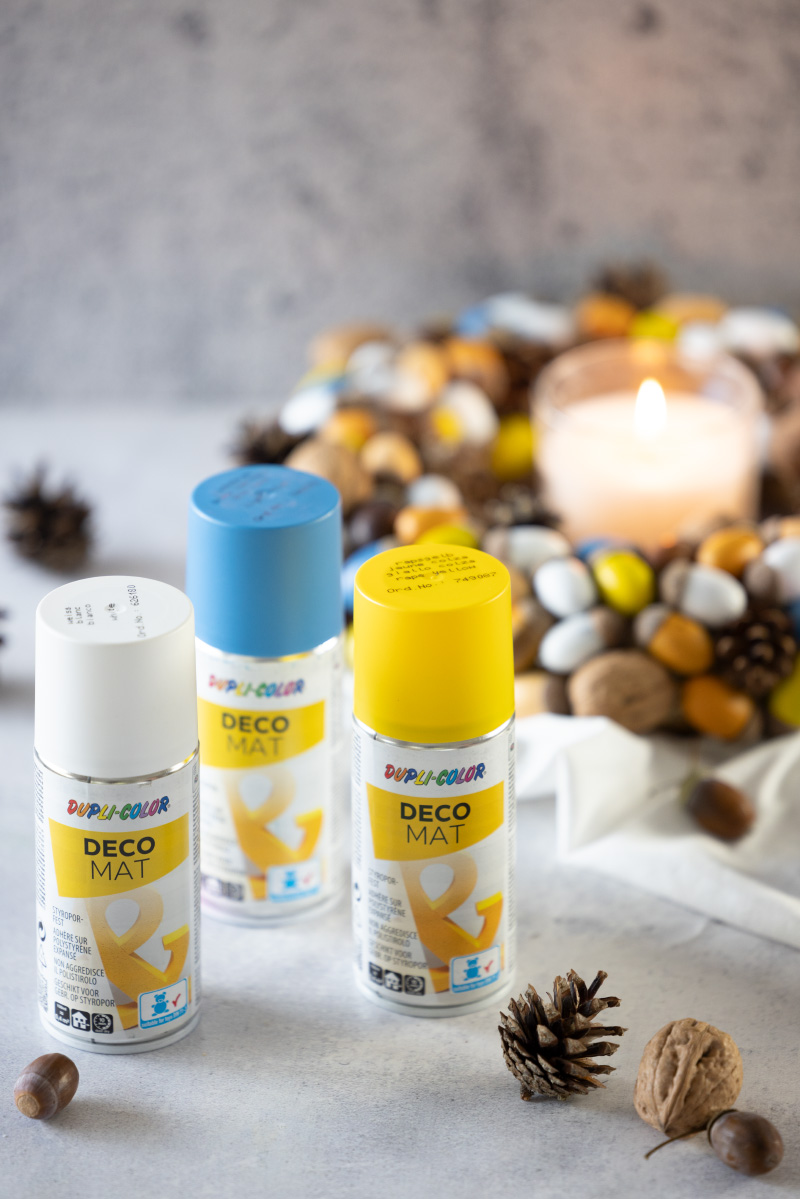 With a candle in the middle, the warm autumn colors are particularly effective when the candle is lit in the afternoon or evening. In addition to the colors of DUPLI-COLOR, I think it's particularly nice that you can use the autumn wreath over and over again and enjoy it for many years.
Get creative with DUPLI-COLOR
DUPLI-COLOR* has been a private label of the European Aerosols Group, a leader in paint sprays and touch-up pens, on the European market for more than 50 years. The huge range of decorative sprays sets no limits to your creativity and makes DIY hearts beat faster.
Die DECO MAT lacquers* with special solvents have very good coverage and adhere excellently to many materials such as wood, ceramics and glass, to Styrofoam, metal, concrete and stone as well as to paper, cardboard and flowers. The DECO MAT paints also impress with their good flow on smooth surfaces and their even and quick drying. They are also smudge-proof, weatherproof, UV-resistant, impact and scratch-resistant and ideal for indoor repairs.
If I have now inspired you for a new DIY project, you can test the colors from DUPLI-COLOR yourself and shouldn't miss this competition: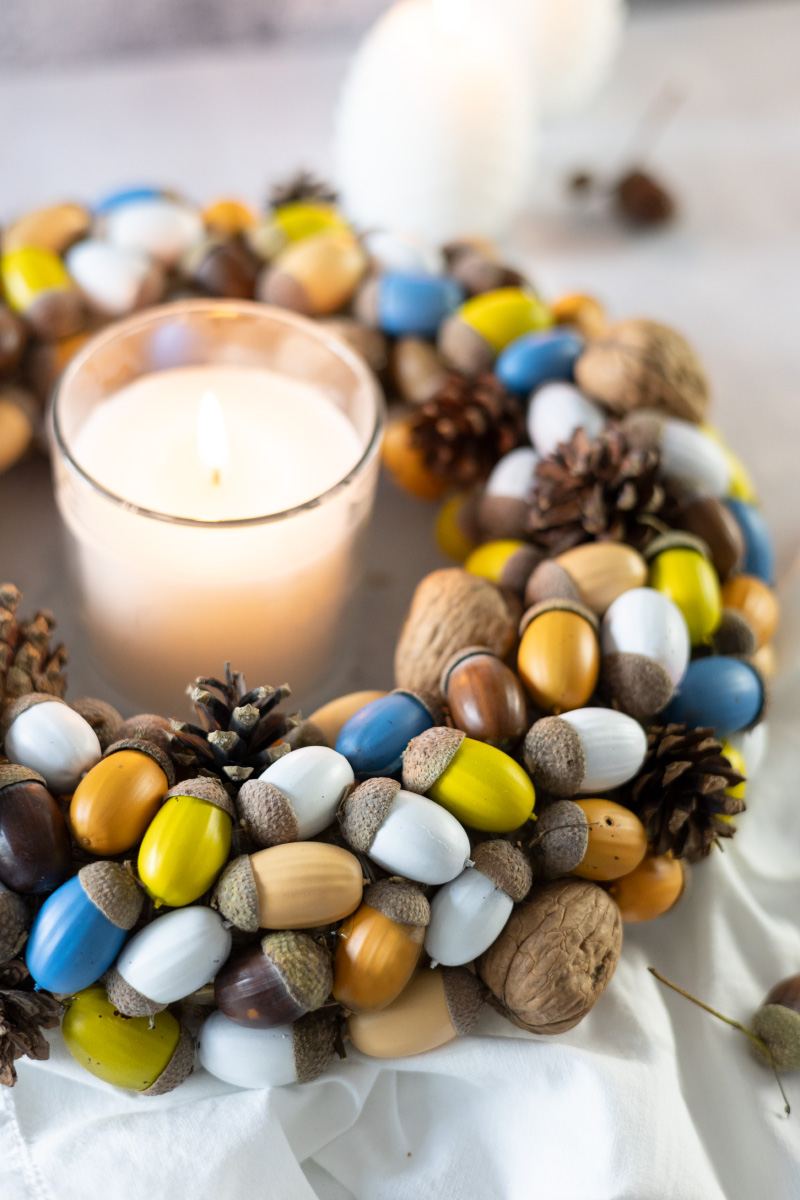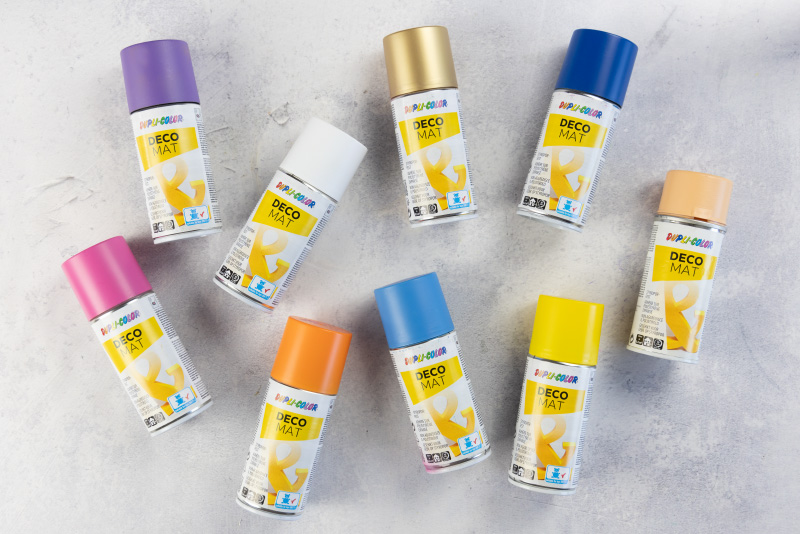 Win a product package from DUPLI-COLOR
So that you can convince yourself of the DECO MAT products, DUPLI-COLOR, Lisa and I are giving away a package consisting of the colors rapeseed yellow, salmon, pastel orange, white, light blue, blue purple, heather violet, gentian blue and gold bronze to you!
You can find all the conditions of participation here and information about winning can now be found in the current post*.
The theme for next month is: Magic Lights
See you then. Your Laura
* In colorful cooperation with DUPLI-COLOR

Source: trytrytry.de