Hello beautiful community of Paulina Cocina! Today we want to propose a different breakfast, for those who dare, start the day with some "Divorced eggs". We are not making jokes about your marital situation, or anything like that, these eggs, traditional in Mexico, are a very witty way to serve the fried eggs. Two fried eggs, red sauce and green sauce. Opposites that attract and mix in your mouth.
In this note we are going to tell you everything about this super easy recipe, the possible combinations, something about its origin and the reason for its name. We also leave you with the instructions to prepare the red sauce and the green sauce and, as always, a step-by-step recipe to make the divorced eggs at home and start the day with lots of color and flavor.
About divorced eggs
What are divorced eggs?
Divorced eggs are a typical Mexican dish consisting of two fried eggsalso called "starred"covered with two different sauces: a red sauce and a green sauce. In Mexico it is a very popular dish that is customary to enjoy for breakfast.
The red and green sauce represent a couple "divorced", which is no longer together, hence its name. Each egg is placed on one side of the plate, usually separated by a mound of refried beans or rice. This presentation symbolizes the separation of the couple and creates a visually striking and fun appearance on the plate.
Divorced eggs are an emblematic dish of the Mexican Kitchen that combines intense and contrasting flavors. Its visually striking presentation and its symbolism of the separation of a couple make it an interesting and very delicious option.
What are Mexican divorced eggs like?
Divorced eggs are an explosion of flavors and colors. Each egg is fried, with the yolk slightly runny, which allows it to mix with sauces when eaten.
The red sauce is made with tomato, onion and chili while the green sauce is made with tomatillos (a kind of small green tomato, with an acid and sweet flavor), chili and coriander. The red sauce provides a spicy and smoky flavor, while the green sauce offers freshness and a touch of acidity.
Why are they called divorced eggs?
The name is a metaphor that represents the separation of a couple. By placing the eggs separately on the plate, each covered with a different sauce, the breaking of that union is symbolized. This fun and creative denomination gives a special touch to the dish and has contributed to its popularity in Mexican gastronomy.
Although there is no exact story about the origin of the divorced eggs, it is believed that they are a derivation of the huevos rancheroswhich are similar, but are prepared on a tortilla and only with red sauce.
It is also believed that these eggs were created by workers who were looking for alternatives for a breakfast full of energy that would allow them to face their long workdays.
Huevos rancheros divorced: a marriage that works
Huevos rancheros and huevos divorciados are two dishes that share certain similarities but also have distinctive differences. Both dishes are based on fried eggs and are very popular in Mexican cuisine.
Huevos rancheros are fried eggs served on corn tortillas and covered in spicy tomato sauce. In addition, they are usually accompanied with refried beans, cheese, avocado and cream. It is a traditional and abundant breakfast, very common in Mexico.
On the other hand, the divorced eggs are also fried eggs, but they differ by being covered, as we said before, by two different sauces: a red sauce and a green sauce, and each egg is placed on one side of the plate.
Of course you can combine elements of both dishes and create the so-called "huevos rancheros divorced". This variant fuses the concepts of huevos rancheros and huevos divorciados for a super rich combination.
How to prepare the huevos rancheros divorced
To prepare the huevos rancheros divorciados, simply follow the divorced eggs recipe and two corn tortillas, previously heated, are placed on a plate, and on top the fried or fried eggs, covered, one with red sauce and the other with green sauce.
How to prepare the sauces of divorced eggs
For the red sauce
Quarter 3 tomatoes and place on a lightly oiled skillet, along with ¼ onion and 1 garlic clove. Chili can be added to give it a spicy touch.
Cook until the ingredients are golden. Remove and let cool. Then blend or process, adding water if necessary and season to taste. It has to be left with a smooth and homogeneous consistency.
For the green sauce
Peel 4 green tomatillos and wash them. Place them in a small pot with ¼ onion, 1 garlic clove and, optionally, 1 serrano pepper.
cover with water, bring to a boil, and cook over medium heat for 10 minutes until the tomatillos are soft. Remove from the water and let cool. Then blend or process all the ingredients. Add chopped cilantro and season to taste.
Divorced eggs with Chilaquiles
A popular variant of divorced eggs is to serve them on a bed of chilaquiles, another iconic Mexican dish. Chilaquiles are fried corn tortillas (like totopos or mexican nachos) and cut into triangles, cooked in red or green sauce.
By combining the divorced eggs with chilaquiles, an even more intense explosion of flavors and textures is created. The chilaquiles provide a crunchy base that contrasts perfectly with the softness of the eggs and sauces.
Divorced eggs recipe
Yield: 2 servings
Preparation time: 20 minutes
Ingredients
4 eggs
Red sauce (see above)
Green sauce (see above)
Vegetable oil
Refried beans or rice (optional)
How to make divorced eggs step by step
Prepare the red and green sauces following the recipes explained above.
In a frying pan with a little oil, cook the fried or fried eggs to taste.
Place two eggs on each plate. They can be separated by a mound of refried beans or rice, or served on the side.
Pour the red sauce over one of the eggs and the green sauce over the other. Serve hot and enjoy!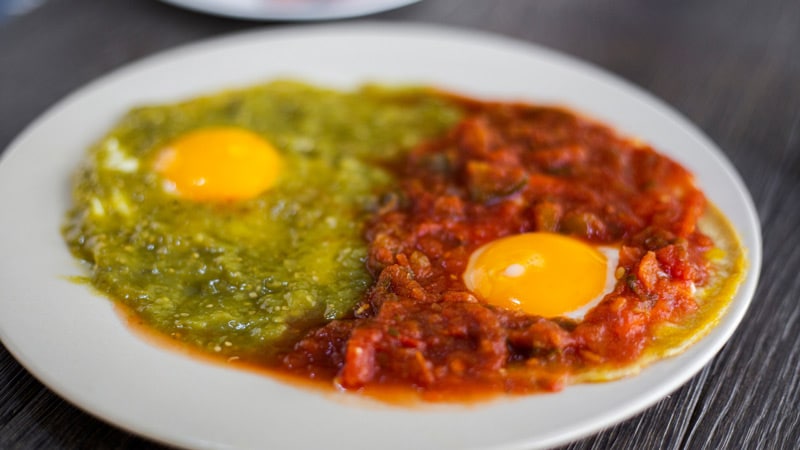 Source: www.paulinacocina.net