Are you looking for a fun gift for a wedding? This money gift car with gold cans in the picture frame is easy to imitate and a real eye-catcher! I'll explain how it works.
How can I wrap money funny?
Crafting a gift of money can sometimes be a tricky task. You want to give something original and creative that will make the recipient happy. An interesting idea is the money gift car, which is designed with money boxes in the picture frame. This unique packaging idea combines creativity with practicality and is sure to be a highlight at any celebration. In this article you will find out how you can easily design this special gift of money yourself.
Simply buy more and get started immediately*:

* Advertising // Amazon Affiliate Link: If you buy something through these links, I get a small commission. For you, the product does NOT cost more!
Instructions
1
First you look for a suitable background image or template. This can be a real photo, a drawing or an illustration from the Internet. I found my template from iconicbestiary on Freepik.
2
First, about 6 banknotes are placed horizontally in front of you, folded over once and then rolled up. To prevent them from unrolling again, they can be fixed with adhesive tape.
3
Now attach the banknote cans to a piece of yarn each.
4
The passe-partout is painted with watercolors.
5
When the paint has dried, the picture with the car is pasted behind the passe-partout.
6
Small heart stickers are glued to the picture and the passe-partout.
7
A small hole is made in the car's bumper using a knife, skewer, or scissors.
8
The yarn strands with the money boxes are now threaded through the hole and glued together to the background.
9
Finally, only the picture is inserted into the picture frame and the money gift car is ready!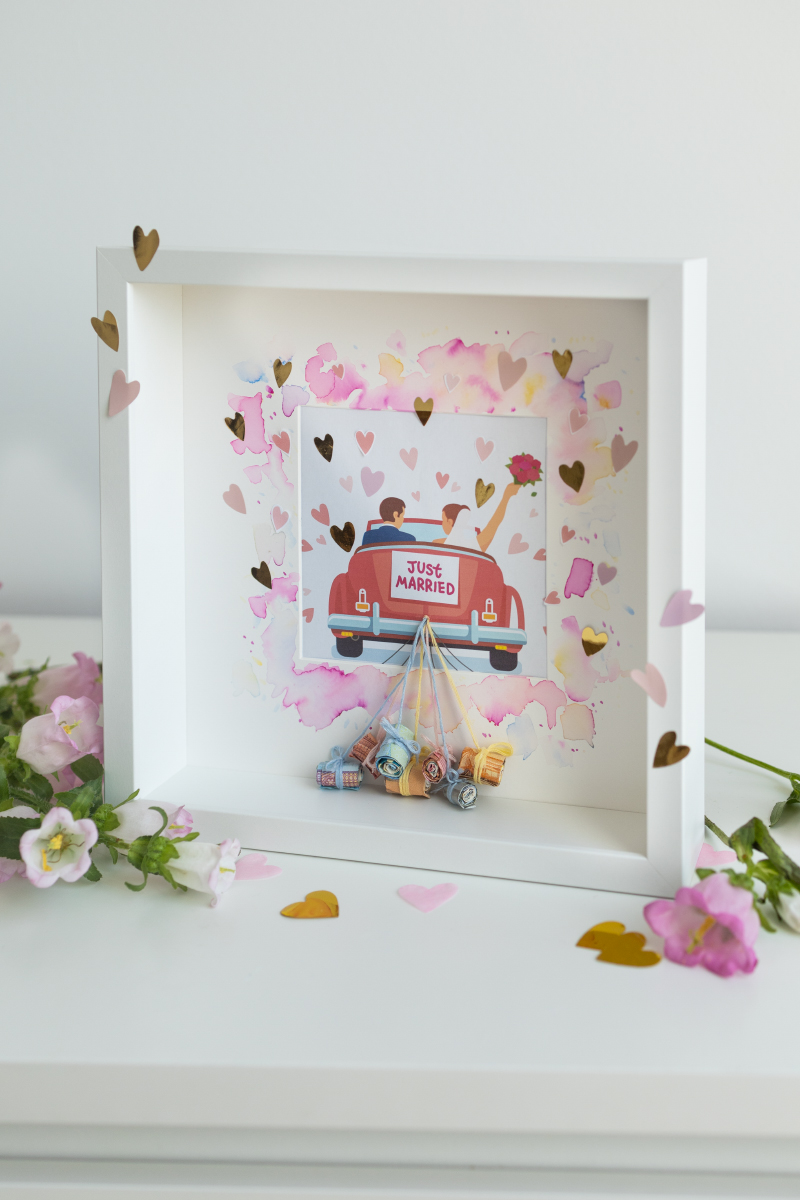 What is the best way to give money away?
The best way to give money depends on the occasion and the preferences of the recipient. You could present it in a personalized greeting card, wrap it in a gift, or present it in themed packaging.
How can I wrap gifts of money nicely?
Monetary gifts can be nicely wrapped in a variety of ways. You could present them in a decorative box, gift envelope, or homemade money gift wrap. Decorate the packaging with ribbons, bows, and other decorative elements.
What can you write when you give away money?
When giving money away, it's nice to add personal words. You could write congratulations on the occasion, words of thanks, or a special message. For example: "Happy birthday! May you fulfill a heart's desire with this gift."
How much money do you give for a wedding per person?
The amount of the gift of money for the wedding varies depending on the individual situation and cultural circumstances. There is no set amount. It is common for close family members and close friends to give a little more generously than more distant relatives or acquaintances.
What is appropriate as a wedding gift?
An appropriate gift of money for the wedding can vary depending on the financial possibilities and the relationship with the bride and groom. Generally, amounts between €50 and €150 per person are considered reasonable. However, it is important to consider your own budget and the expectations of the bride and groom.
How can I wrap money for the wedding?
There are numerous creative ways to wrap money for the wedding. You could present it in a decorative wedding card with a special drawer, a personalized money box in the shape of a bridal couple, or an original wedding cake made from banknotes.
What do you think of the result for the money gift car? Haven't you found the right one yet? Then maybe the following money gifts will inspire you: Money gift packaging: fold mountains of money (for the next adventure), make money gifts: fold butterflies out of money in the bell, money gifts: mini bus with cans as a wedding gift or DIY creative money gifts in a wooden box ( SOS gift).
What do you think of my cash gift car?
See you then. Your Laura
Source: trytrytry.de