maybe we should say bonjour but this recipe is not originally from France despite its name, so we tell you as always: Hello dear friends of Paulina Cocina! Welcome to our blog and to this recipe with a name that is confused with its name and appearance… Is it a lasagna, is it a sandwich, is it sweet or salty? Yeah! Today we prepare a delicious francesinha!
about la francesinha
Unlike most recipes that have ancient, diffuse origins and many versions, in the case of la francesinha is totally different. Being a fairly modern recipe, the origin of its name, recipe and different versions could be well documented. Let's say that its history is as simple as its preparation.
Before you see what this is about francesinha I am going to tell you something great, which is that the francesinha was chosen in 2011 as one of the 7 gastronomic wonders of Portugal in a national competition where other popular dishes such as Portuguese Chiken wing.
This made it a totally iconic element of the culture of Portugal, more precisely of Porto (yes, exactly, where the wine is made).
What is the francesinha?
francesinha means "little french" in Portuguese. It is believed that this name was inspired by the croque-monsieur, a sandwich of French origin.
The francesinha is a specialty of the city of Portoin the north of Portugal, and is a sandwich made with various types of meat, cheese and a tomato and beer-based sauce, which is gratin in the oven or on a grill before serving.
What is the origin of this delicious francesinha?
Because there are no previous records, its origin dates back to the 1960s when it was created by the Portuguese immigrant Daniel David Silva who had lived in France.
One day he decided to combine the French croque-monsieur with the Portuguese ingredients at his disposal. and this great sandwich came out. It is a fairly modern dish that immediately spread to other Portuguese regions due to its characteristics.
How do you eat it?
As the francesinha is a very caloric dish, in some Porto restaurants they are offered in two different sizes. Is the "Medium" French that yields for a person and the "complete" french which is usually for sharing.
Although it is so delicious that if only one person eats the whole thing, it would be fully justified and understood, especially since it is common to accompany it with wine or beer.
The sauce used in the francesinha is a key ingredient of the dish and its recipe can vary from place to place. Some places add beer, others wine, and some even add brandy or whiskey.
Why did it become so popular?
The francesinha is a very tasty and abundant sandwich that can be eaten easily and quickly, something highly sought after in recent decades where it was necessary to solve the meal of the day between work days or in a hectic pace of life.
In some places it is served with a fried egg on top to make it more flavorful and hearty. There are some vegetarian versions of the francesinha that replace meat with vegetable protein, tofu or mushrooms, to adapt to the needs of vegetarian or vegan customers.
This versatility also contributed to its popularity as it made its way into every possible culinary arena. A true gourmet "fast food".
The true and only Portuguese francesinha recipe
The original francesinha recipe it includes various types of meat, such as ham, linguiça, roast beef, and fresh sausages, as well as melted cheese and a tomato-based sauce, beer, and other secret ingredients that vary depending on where it is prepared. The recipe below is as true to the original.
Yield: 2 servings
Preparation time: 1 hour
Ingredients for Portuguese francesinha
2 slices of thick sliced ​​bread
2 slices of ham
2 slices of loin
2 slices of fresh sausage
2 slices of mortadella
1 large beef steak
6 slices of chorizo
2 eggs
1 large onion
3 garlic cloves
1 can of crushed tomato
1 beer
1/2 cup of milk
2 tablespoons of flour
1 tablespoon butter
1 bay leaf
Salt and black pepper to taste
for the sauce
1 liter of meat broth
1 onion
3 garlic cloves
2 tablespoons of flour
2 tablespoons butter
1 tablespoon of concentrated tomato
1 bay leaf
1 beer
1 red bell pepper
Salt and black pepper to taste
How to prepare the authentic Portuguese francesinha
Start by making the sauce. In a saucepan, melt the butter and sauté the onion and garlic until golden. Add the flour and stir well.
Add the concentrated tomato and bay leaf, mix well. Pour in the beer and beef broth, stirring until the sauce is smooth.
Add the red pepper, salt and pepper to taste and let the sauce simmer for about 30 minutes.
In a skillet, cook the beef fillet until golden brown on both sides. Reserve. In the same pan, fry the eggs and set aside as well.
In another pan, cook the slices of ham, loin, fresh sausage and mortadella until golden brown on both sides.
In a small saucepan, melt the butter and add the flour, mix well. Add the milk little by little, stirring constantly to avoid lumps. Season with black pepper to taste and let the sauce simmer for a few minutes.
To assemble the Francesinha, place a slice of bread on a plate and cover with a slice of ham, loin, fresh sausage, mortadella and the veal fillet. Add another slice of bread on top and place the chorizo ​​slices and fried eggs on top.
Pour the hot sauce over the Francesinha.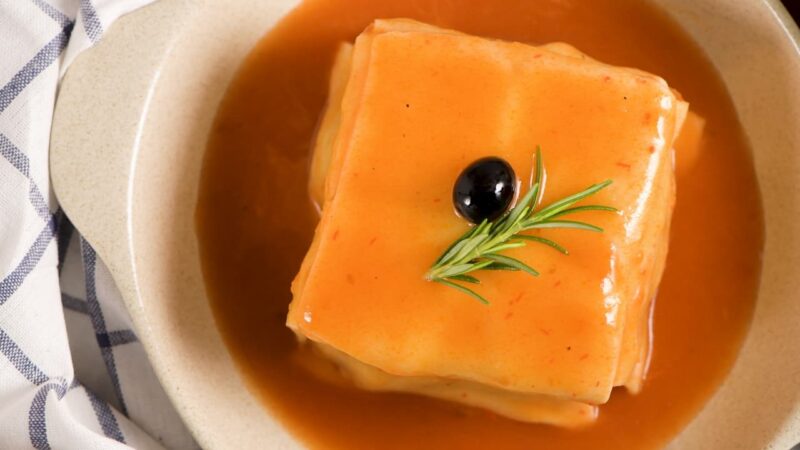 Source: www.paulinacocina.net