Grandma's recipes are those that are passed from generation to generation and, sometimes, without having something special in the procedure or the ingredients, they are special in themselves. The recipe of refried beans It is a must in the kitchens of Mexican houses and restaurants.
Called ¨chinitos¨ in some areas, this recipe is a popular side dish usually for breakfast or lunch.
The texture of this recipe is one of the most important characteristics since it must be creamy and smooth. For this there are several tips that we are going to share in addition to many facts about beans. Welcome to the world of refried beans, a typical dish of Mexican cuisine.
Characteristics and particularities of refried beans
Although refried beans are known as a mexican dish, actually have their roots in Spanish cuisine. During the time of the conquest, the Spanish introduced beans to Mexico, and the natives began cooking and refrying them.
The term "refried": Despite its name, refried beans are not fried twice. The name comes from the literal translation of Spanish, since "refried" means "well fried" o "fried again". The beans are actually cooked and then fried just once.
This recipe is also part of dishes like Divorced eggs, potosin enchiladasquesadillas and burritosamong others to give them more flavor and texture.
How healthy is it to eat refried beans, a popular food in Mexico?
Beans are a common breakfast food in many countries. If you are not one of them, you will surely wonder how healthy or beneficial its consumption is for the body.
Refried beans, like cooked beans, contain a good amount of fiber., which is beneficial for digestive health, blood sugar control, and satiety. It is important to note that refried beans are often prepared using oil or fat to fry them, this can increase their caloric and fat content.
If you choose to fry the refried beans in fat, such as lard, you must take into account the type of fat used and its moderate consumption. Lard is high in saturated fat. You may consider using healthier vegetable oils, such as olive oil or avocado oil, instead of animal fats.
Choosing the bean for our recipe
When choosing the type of bean to use, although the most common and recommended for this recipe is black, keep in mind that all types of beans (black, red, pinto or white) are beneficial for health and provide important nutrients.
Choosing the healthiest type of bean can depend on your dietary needs, personal preferences, and local availability. It is best to vary your bean intake and enjoy different types to get a wide range of nutrients.
Grandma's tips to make them perfect
season them: Onion, garlic, and spices are often used to flavor refried beans. Chopped onion and garlic are fried in hot oil before adding the beans to increase the flavor. Cumin, chili powder or other spices can also be added depending on preference.
crush them: To obtain the smooth and creamy texture of the refried beans, it is necessary to mash them. A potato masher or even a fork can be used to mash the beans. Some people prefer to leave some beans whole for a more rustic texture.
check consistency: If the refried beans are too dry, add a little bean broth or hot water to soften the texture.
fat options: Usually lard is used to fry the refried beans, which gives it a traditional flavor.
Refried Beans Recipe
Refried beans are typically made by cooking beans and then frying them in oil with spices and seasonings. Already made they can be easily frozen to keep them longer. This makes them a convenient dish to make ahead of time and have on hand when needed.
Yield: 4 portions
Preparation time: 25 minutes
Ingredients
2 cups of cooked beans (they can be black beans, pinto beans, or another variety of your choice)
2 tablespoons vegetable oil or butter
1/2 chopped onion
2 minced garlic cloves
1 teaspoon cumin powder
Salt to taste
Water (if needed to adjust consistency)
How to make refried beans
In a large skillet, heat the oil or butter over medium heat and add the chopped onion and garlic. Cook until golden and fragrant, stirring occasionally.
Add the cooked beans to the pan, stir and cook for a few minutes. For a smoother texture, use a potato masher or fork to mash the beans directly in the pan. Continue stirring until you get the desired consistency.
If the beans are too dry, add a little hot water or bean broth to adjust the consistency. Mix well, add the cumin powder and salt to taste. Continue cooking the beans for a few minutes, stirring occasionally.
Taste and correct the salt and seasonings. Serve the refried beans hot garnished with chopped cilantro, red onion, chili peppers, cheese, or other optional toppings if desired.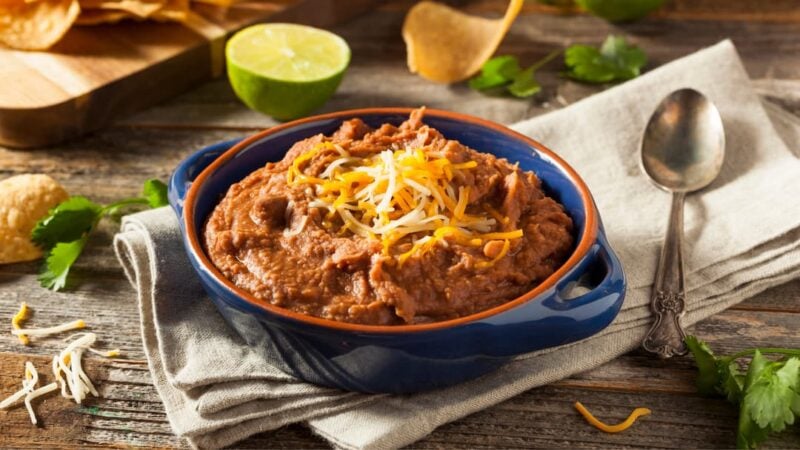 Source: www.paulinacocina.net