Welcome dears! Today I have a recipe for you with pork and whiskey, nothing can go wrong. We tell you that the Sirloin with Whisky It is a dish of Spanish origin that is characterized by its simple recipe but with a distinctive flavor. It is a recipe that combines sirloinwhich is in itself a tender meat, with a delicious salsa de whisky…All super aromatic and tasty. It is also worth clarifying that alcohol evaporates and they are not going to walk around drunk.
The plus is that if you are a lifelong whiskey lover, you can pour a cup of whiskey and use 1/4 for the recipe (wink wink). Otherwise, you can always use it to clear your throat, get rid of the cold or some other recipe that uses it.
On sirloin with whiskey
We present you the whiskey sirloin, a special dish
He Sirloin with Whisky It is a dish of Spanish cuisine that has gained popularity due to its delicious flavor and relatively simple preparation. It is a perfect option for special occasions or elegant dinners, but it can also be enjoyed any time you want to delight your palate with an exquisite dish.
He Sirloin with Whisky It is a variant of pork or beef tenderloin that is cooked with a delicious whiskey-based sauce, which gives it a distinctive and aromatic flavor. It is a versatile dish that can be adapted to individual tastesmaking it a popular choice in home kitchens and restaurants.
Although it has become popular as a Spanish dish, Sirloin with Whisky It does not have a clear origin in Spain. Some believe it may have been an invention by chefs in the hospitality industry to attract foreign tourists, as whiskey is more associated with Scotland and Ireland. Others suggest the recipe could have Scottish roots.
Sirloin with whiskey everywhere
Although it has its roots in Spain, the pork sirloin with whiskey It has become popular in many other countries, especially in restaurants offering international cuisine. It is common to find this recipe on menus of Mediterranean, Spanish, Scottish cuisine restaurants and also in places of international gastronomic influence.
Despite being an elegant and sophisticated dish, the Sirloin with Whisky It is relatively easy to prepare at home. This makes it a popular choice for special dinners, meals with friends, or to impress your guests with a tasty and attractive recipe.
Whiskey, a great partner of the Sirloin recipe
The inclusion of whiskey in the whiskey sirloin recipe It gives the dish a characteristic aroma and flavor that cannot be obtained with other ingredients. Whiskey is a distilled alcoholic beverage that provides smoky, earthy and sometimes fruity notes, which enhances the flavor of the meat and sauce.
The choice of whiskey used in the recipe can influence the flavor of the dish. Depending on the notes and characteristics of whiskeythe dish can be paired with different types of wines. Smoky whiskeys can complement well with robust red wines, while fruitier whiskeys can harmonize with white wines more fresh.
It is essential to highlight that the whiskey alcohol evaporates during the cooking process, leaving only the characteristic flavor and aroma of whiskey. However, if you are going to prepare this dish for people who they do not consume alcoholit is possible to eliminate the whiskey from the recipe and look for alternatives, such as meat broth and other aromatic ingredients.
5 tips to make the perfect whiskey sirloin
Meat selection: Choose a fresh, high-quality pork or beef tenderloin. Look for well-marbled cuts with little fat for the best texture and flavor.
quality whiskey: Use a good quality whiskey for best results in the sauce. Choose a whiskey that you like to drink, as its flavor will transfer to the preparation.
Appropriate reduction: When you add the whiskey to the pan to make the sauce, let it reduce over medium-high heat until the alcohol evaporates and the whiskey flavor remains. This will ensure that the sauce has an authentic aroma and flavor.
Add creativity: If you want to give it a personal touch, consider adding additional ingredients to the sauce, such as sautéed mushrooms, caramelized onion, mustard, or heavy cream. Experiment with different combinations to find your favorite version.
Rest before cutting: Let the sirloin rest for a few minutes before slicing. This will allow the juices to redistribute and make the meat more tender and juicy.
Ready, we don't need to know more, we are ready to start with this super simple recipe with sirloin. And if you have any whiskey left over, you prepare a Homemade Bailey.
You may also be interested in the recipe for Pork Tenderloin in Sauce.
Chau!
Follow me on Instagram (here)
And on YouTube I upload new videos every week (click here)
Whiskey sirloin recipe
Yield: 4 portions
Preparation time: 45 minutes
Ingredients
600 g pork or beef tenderloin
1/4 cup whiskey
2 tablespoons olive oil
2 cloves of garlic
1 large onion
1/2 cup meat broth
2 tablespoons of butter
Salt and pepper to taste
Chopped fresh perejil or rosemary to decorate
How to make whiskey sirloin
Make a mixture of whiskey, a tablespoon of olive oil, minced garlic, salt and pepper. Add the sirloin and let it marinate in the refrigerator for 30 minutes.
In a large frying pan over medium heat, heat a tablespoon of olive oil and cook the sirloin for about 3-4 minutes on each side. Remove and reserve on a covered plate to keep warm.
In the same pan add the butter and let it melt. Add the chopped onion and cook until tender and golden. Pour in the whiskey and let it boil for a few minutes so that the alcohol evaporates.
Add the broth and let it reduce over low heat until it thickens a little. Stir well, scraping any residue left from the sirloin to add more flavor to the sauce.
Place the sirloin back in the pan with the sauce and heat for a few minutes. Serve with the sauce on top and decorate with the chosen fresh herb. Serve with side dishes such as roasted potatoes, mashed sweet potatoes or sautéed vegetables.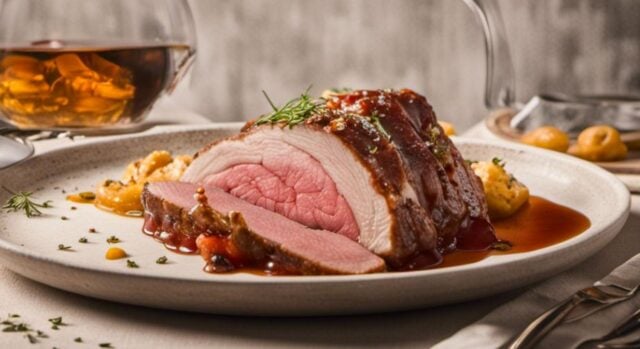 Source: www.paulinacocina.net