Hello everyone! I hope you are well and looking forward to preparing something. different and tasty! Today I bring you a recipe that is ideal for cooking at home and for your little ones when they deny "green": Mashed vegetables. One of those recipes to put your spoon in and warm up, enjoying all the colors and flavors that this beautiful preparation offers us.
In this note we leave you everything you need to know about the mashed vegetablestips to prepare it, Ingredients possible, some tips to achieve the desired texture, and a very easy recipe to make at home.
About the vegetable puree
He mashed vegetables It is an exquisite option for those looking to enjoy the benefits of vegetables in a more soft and easy to digest. Ideal for those people, especially the little ones, who are reluctant to certain types of foods.
What is this recipe about?
The recipe basically consists of cooking with a little water and then grinding or processing various vegetables until obtaining a uniform and creamy texture. Its consistency and way of preparation make it a dish that shares kinship with cream soup or vegetable creams.
He mashed vegetables It can be enjoyed as a single dish, as it is comforting, satisfying and nutritious. Ideal to eat very hot during the winter, although it can also be enjoyed in the summer at room temperature or with a few hours in the refrigerator, as a cold cream.
How to make vegetable puree
Make a mashed vegetables It is very simple. The first thing to do is choose the vegetables that we like the mostso that they add flavor, color and consistency to the puree, such as carrots, potatoes, zucchini (zucchini), celery, leek, pumpkinamong others.
They are washed and the skin is removed, cut into pieces and can be previously sautéed with a little oil or, for a lighter version, boil in salted water until the vegetables They are tender and can be easily pierced with a fork.
After that the vegetables They are processed or put through a blender, along with a little crema or queso cremaif it is to our taste and then it is enjoyed, either as an individual dish, as a entry or as an accompaniment.
What does a traditional vegetable puree contain?
He traditional vegetable puree It is a tribute to traditional cuisine, full of comforting and nostalgic flavors. Some classic vegetables for this preparation are potatoes, carrots, leek and zucchini or zucchiniand even the peas or peas.
However, the world of mashed vegetables It is diverse, full of options for all tastes. If you are looking for vibrant colors on the plate, you can combine spinach and beet.
For a more exotic flavor you can mix pumpkin with caramelized onions y ginger. If instead you want something lighter, a mixture of spinach, carrot and leek can be an excellent option.
The great advantage of this recipe is that you can play with a wide variety of ingredients and flavors, the possibilities are endless!
Thickening vegetable puree: tricks for an ideal texture
To achieve a thick vegetable puree and strong, you can add an extra potato to the preparation or even a sweet potato, since both are rich in starch and will help give it that desired texture.
Also, if you consume dairy products, you can add a touch of cream (born), cream cheese, butter or natural yogurt, to give it more consistency and an extra touch of flavor. The interesting thing is to experiment with different additions and seasonings until you reach the consistency you are looking for.
5 tips to prepare a tasty vegetable puree
Vegetable selection: Combine vegetables with different textures and flavors to obtain a balanced mix, without exaggerating with the varieties, to avoid losing the individual flavors of each vegetable.
Perfect consistency: Cook the vegetables until they are really tender. A mashed vegetables tasty and silky is the result of proper cooking.
Touch of flavor: Experiment with seasonings, fresh herbs and spices to enhance the flavor of the puree. Coriander, parsley, chives, nutmeg or a touch of garlic can make a great contribution.
Cream and butter: For an ultra-creamy puree, you can add a little cream or butter when blending the vegetables.
Creative decoration: Add a splash of olive oil, cream, a few parsley leaves or sprinkle with a little grated parmesan to play with the presentation.
This marvel of culinary creation combines all the good things about vegetables with the softness and silky texture of mashed potatoes. A super versatile dish, since it can be made with different ingredients each time.
Below I leave you a recipe that is so easy that you fall in love, one of those that is worth having up your sleeve for those moments of improvisation.
Watch a related recipe on YouTube (click here)
Follow me on Instagram (here)
Vegetable puree recipe
Yield: 2/3 servings (depending on whether it is a main dish or starter)
Preparation time: 45 minutes
Ingredients
2 medium potatoes
2 carrots
1 long zucchini
1 onion
1 leek
2 cloves of garlic
Salt and pepper to taste
Olive oil
1/4 cup of heavy cream (optional)
Fresh parsley or chives to decorate
How to make vegetable puree step by step
Wash and peel the potatoes and carrots. Cut all the vegetables into small pieces.
In a pot with a little olive oil, sauté the vegetables and garlic cloves, stir so they don't burn and let them soften so they release their juices.
Then add boiling water to cover the vegetables and season with salt and pepper to taste. Cook for around 15/20 minutes, until the vegetables are tender.
Remove the vegetables with a slotted spoon and place in the container of the blender or food processor, add part of the cream and process until you obtain a smooth puree.
Serve on a plate with a splash of cream on top. Decorate with some parsley leaves or fresh chives.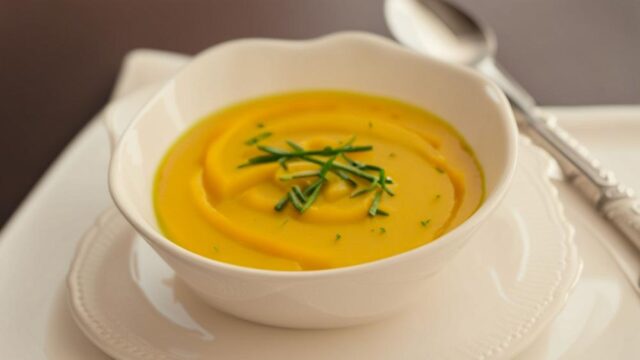 Source: www.paulinacocina.net