Want to guarantee that your child grows up just as awkward as you did? Give them the gift of horror from an early age with the Monster Stroller, a baby buggy clad in an awful-looking Cyclops' head. Believe me, awful is too weak a word to use for this thing.
Taking a departure from the usual animals and cartoon designs of children's cars, the arguably demented artist Elmer Presslee fashioned the piece with the kind of ridiculously gross imagery you typically expect from a Robt Williams painting, instead of a young child's pushchair.  While the little girl doesn't look horrified in the photo, I'm sure her expression changed a little as soon as she stood in front of the creation. That face is just nasty.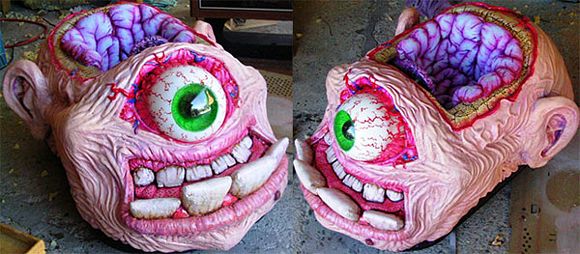 Children's emotional scarring aside, the stroller is marked by beautiful craftsmanship. It features incredible detail (check out the creases on the face and the gobs of brain juice falling off the cracked skull) and lively, striking colors. The horrible single eye pops out (as per the requisite for disgusting comic book characters) and comes decorated with red lines around the translucent green eyeball. A brain-like cushion provides the child's seating through an opening at the top of the Cyclops' head.
The Monster Stroller is likely a one-off from the artist, so you don't have to worry about seeing it the next time you're shopping at the baby section of a department store. Make sure to document what happens to that little girl when she grows up, though. I'd really like to know.