Hello hello my loves 🎀
What can I say – I wanted to finish typing this post 1 week ago and send it out into the wide open spaces of the internet. But then real life got in the way and crashed my plan… But hey, that's why I'm sitting here and banging the keys – do my best!
Because some of you have been waiting for this detailed DIY tutorial for over 1 week. What do I mean? 1 week ago I already posted the matching reel for this DIY card with an egg carton as a flower bag and dried flowers on Insta. Get hot on it and then nothing came from me at first… Just empty air! Is that how you say it in German? Nah, wait… That sounds wrong… Just give me a second. I can think of the right phrase right away… 🙈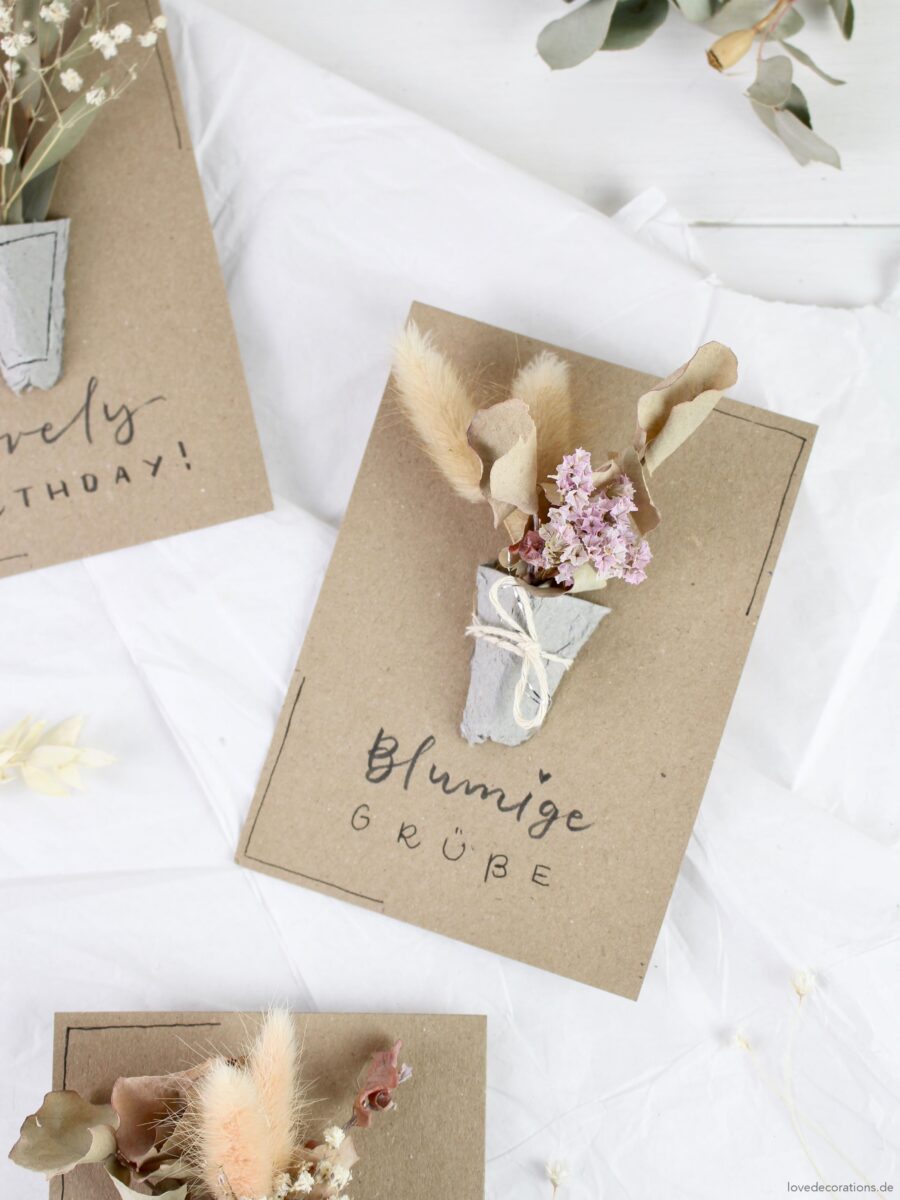 Waaaah, it's hot air, right? It's called hot air. Not empty air 😂 But you still understood what I wanted to say, didn't you 😉
I don't know if it's because I grew up with 2 cultures and therefore 2 languages ​​- but I'm not really into German proverbs or idioms. Sometimes I unconsciously change them, as you may have just noticed 😂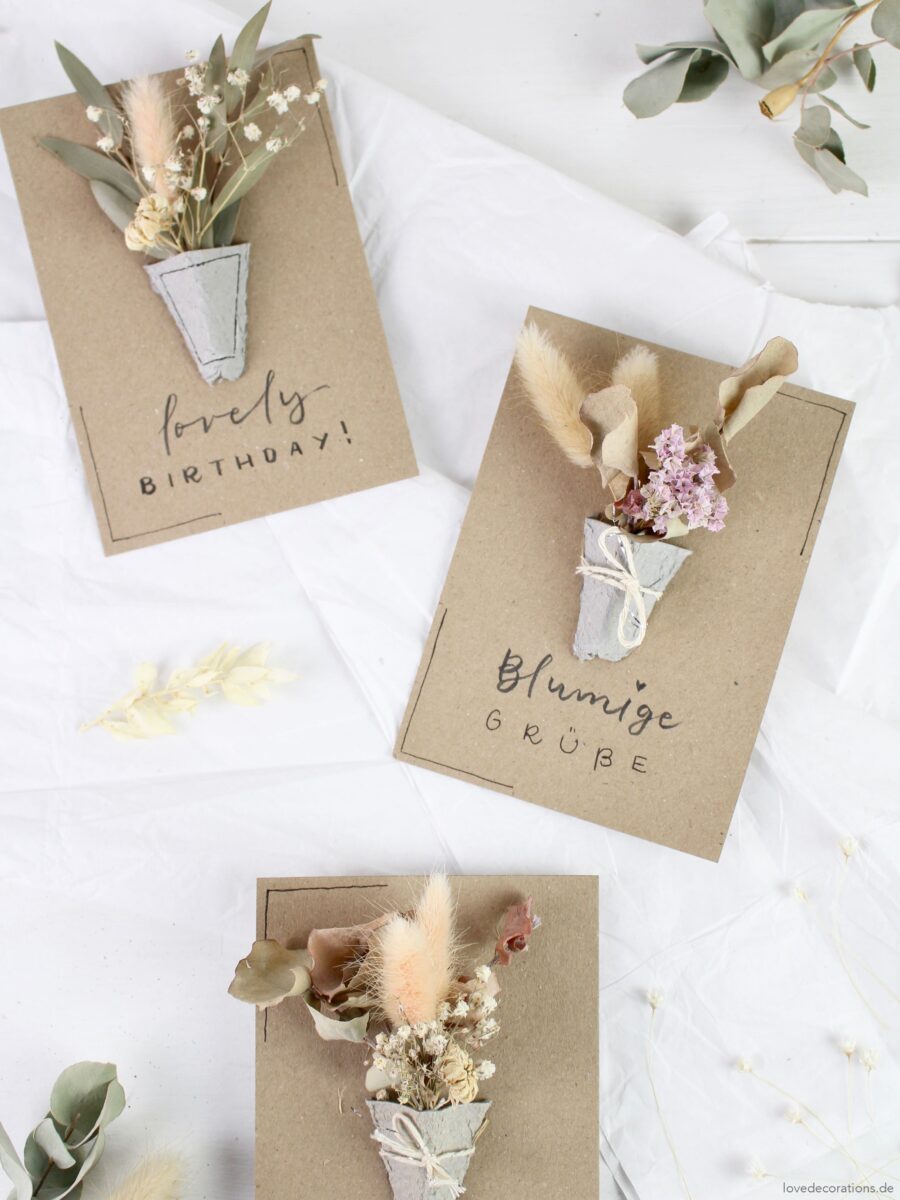 Now how do I make an elegant transition from my inability to put German idioms together correctly and these pretty DIY cards? Now you have to imagine the Jeopardy melody playing in the background and my brain rattling and rattling 🤔 Only to end up hearing the Zonk sound because I can't think of anything 😂😅😂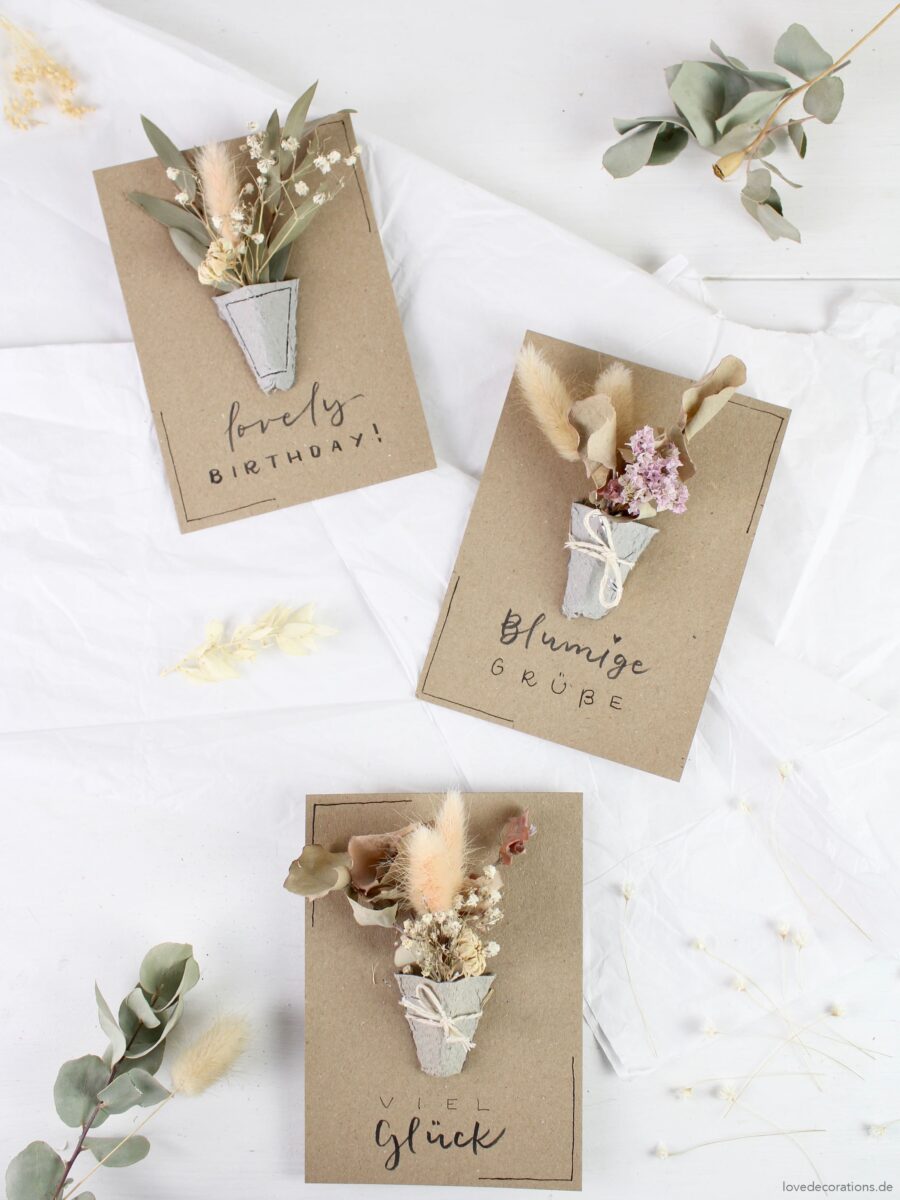 Well, we all just have to live with the fact that I make an abrupt cut here and jump straight into the DIY project – without any introduction, without any warning 😅
Before I say any more senseless things, I'll show you how to make these magical cards in just a few minutes 💐 🎀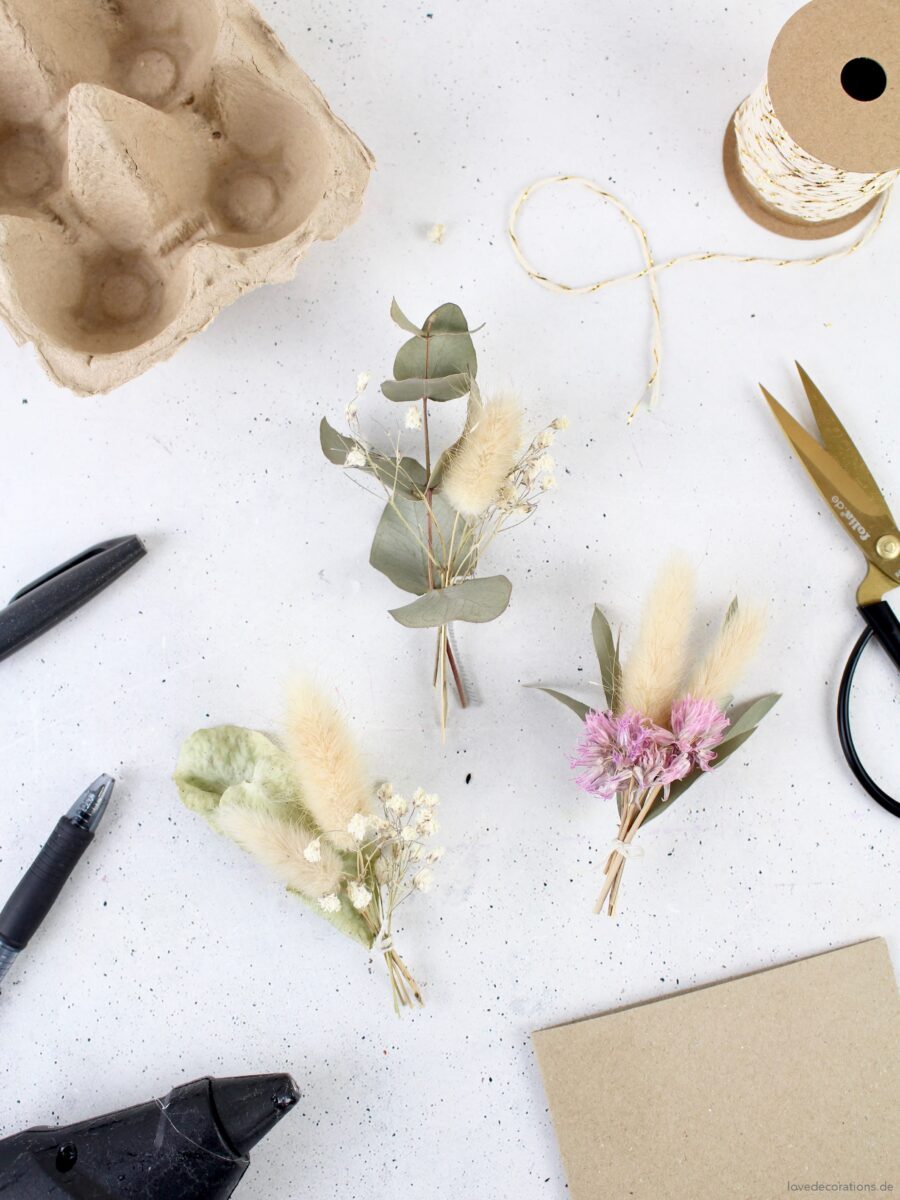 Step-by-Step-Anleitung
You need:
Folding card blank kraft paper [*]
Eierkarton
Scissors [*]
hot glue gun [*]
Pens/stamps/stickers/label maker/ribbon to design
dried flowers (bouquet)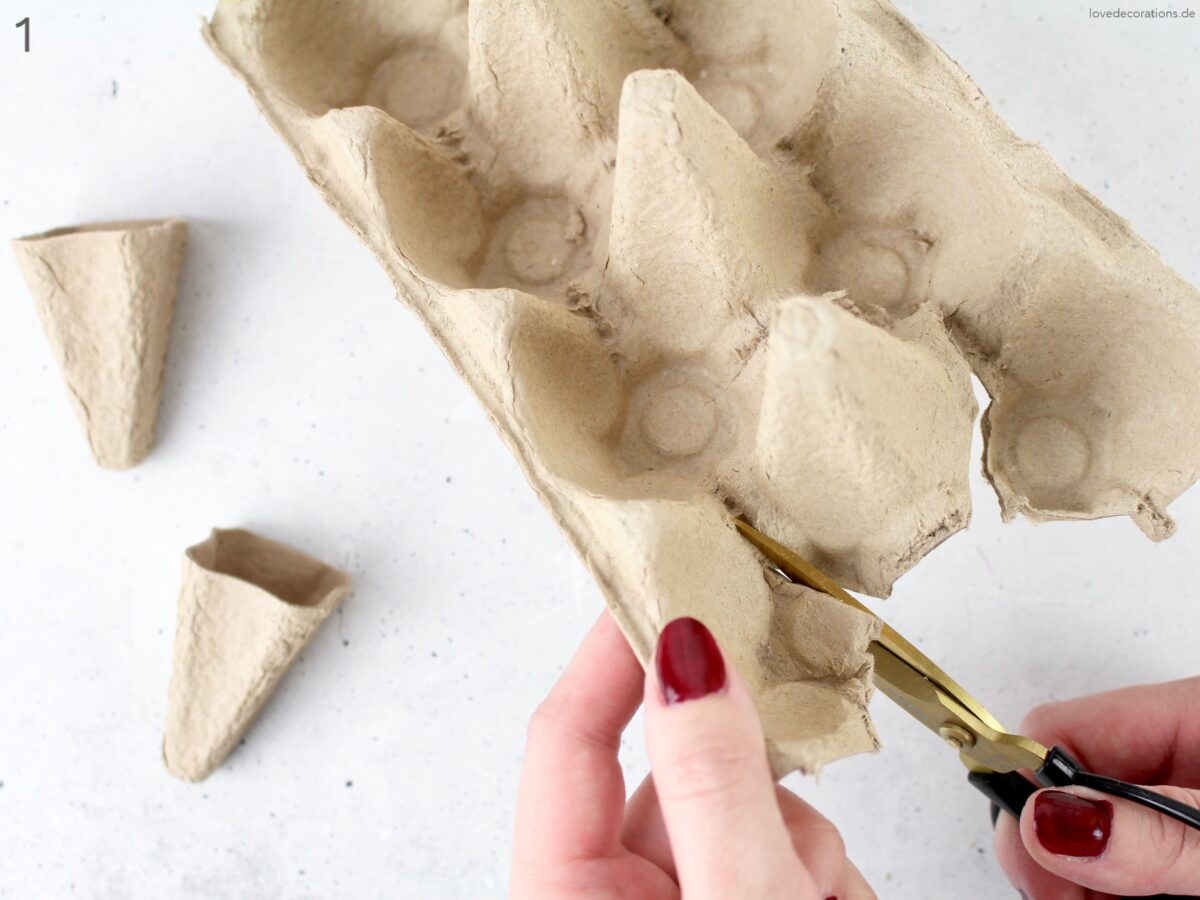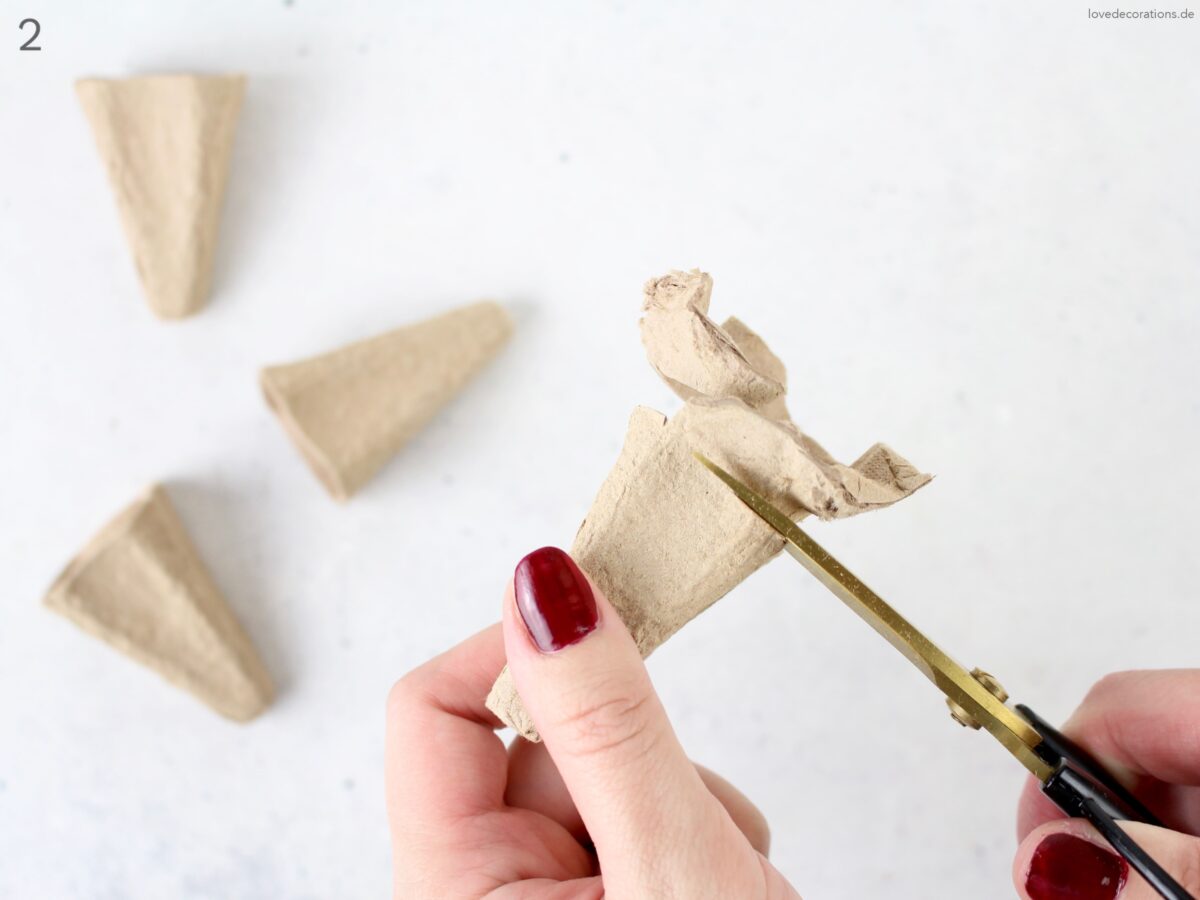 Cut the tips out of the egg carton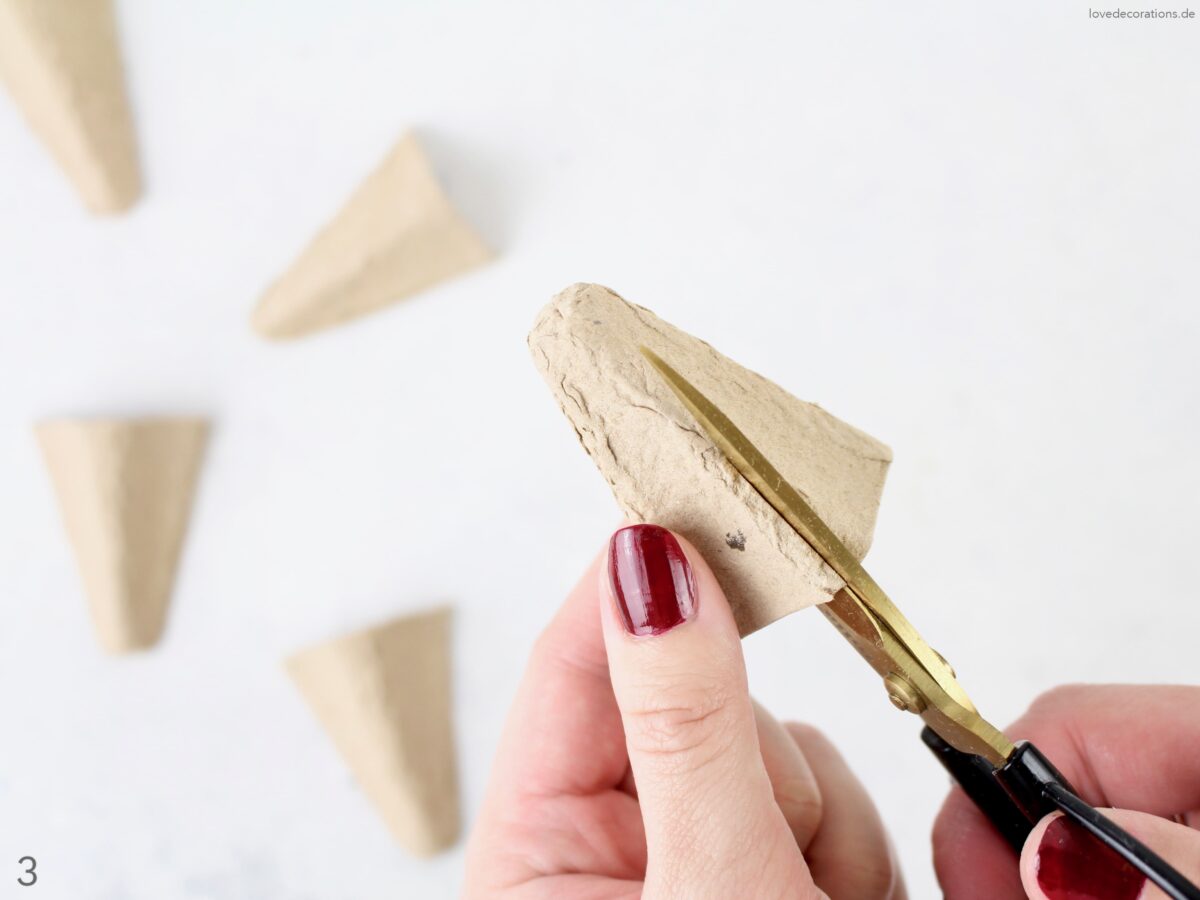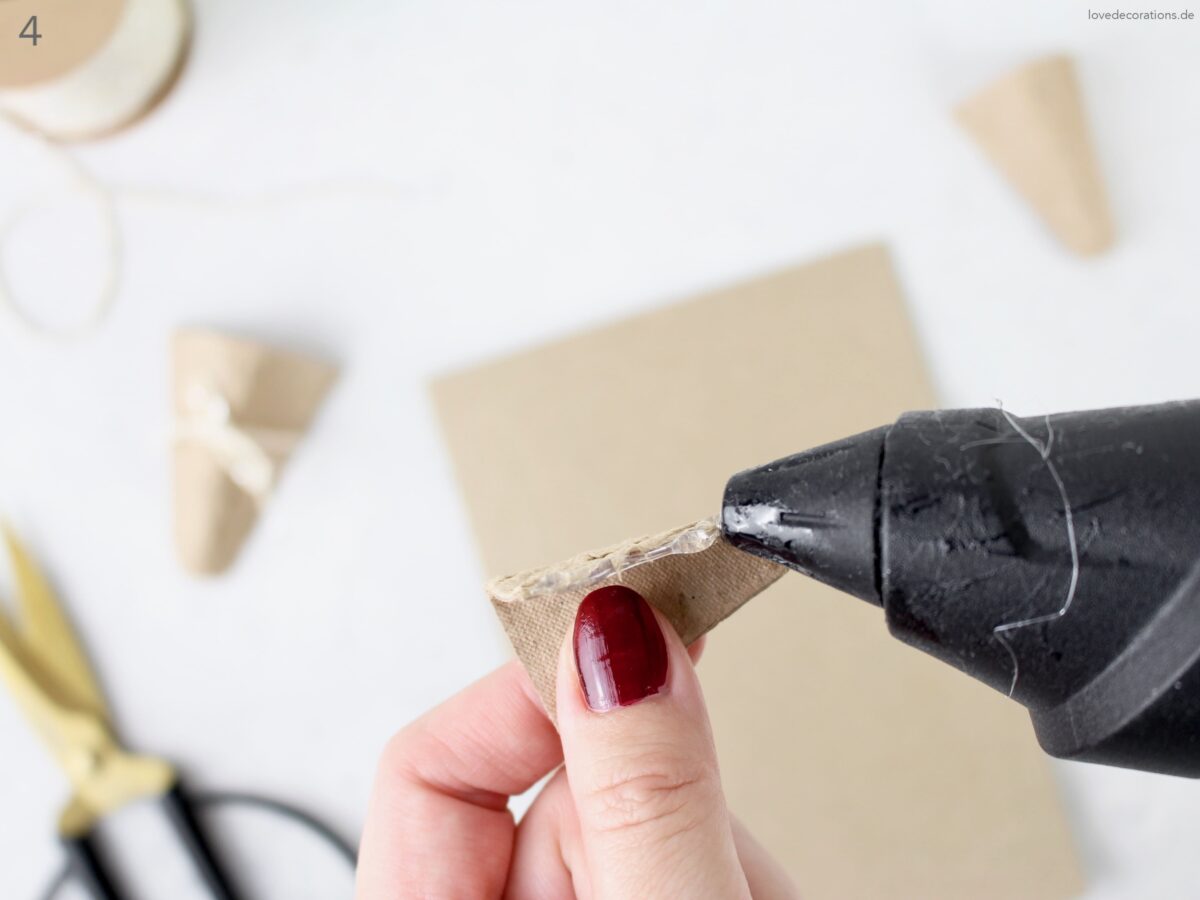 Cut along the edges to create 2 "triangles" – these will be our flower bags
such a flower bag comes with hot glue to stick to the card
for the "bow version": before gluing, simply tie a bow around it and only then glue the whole thing on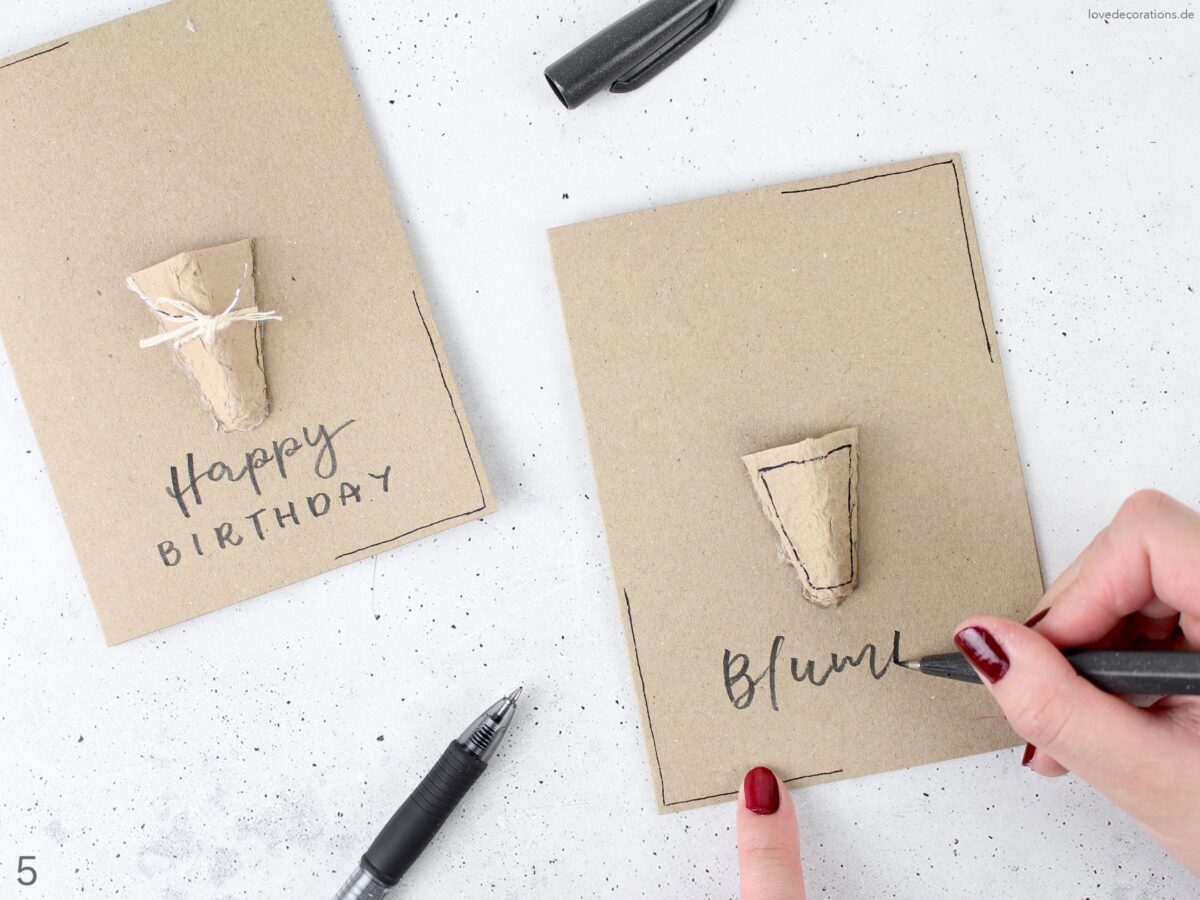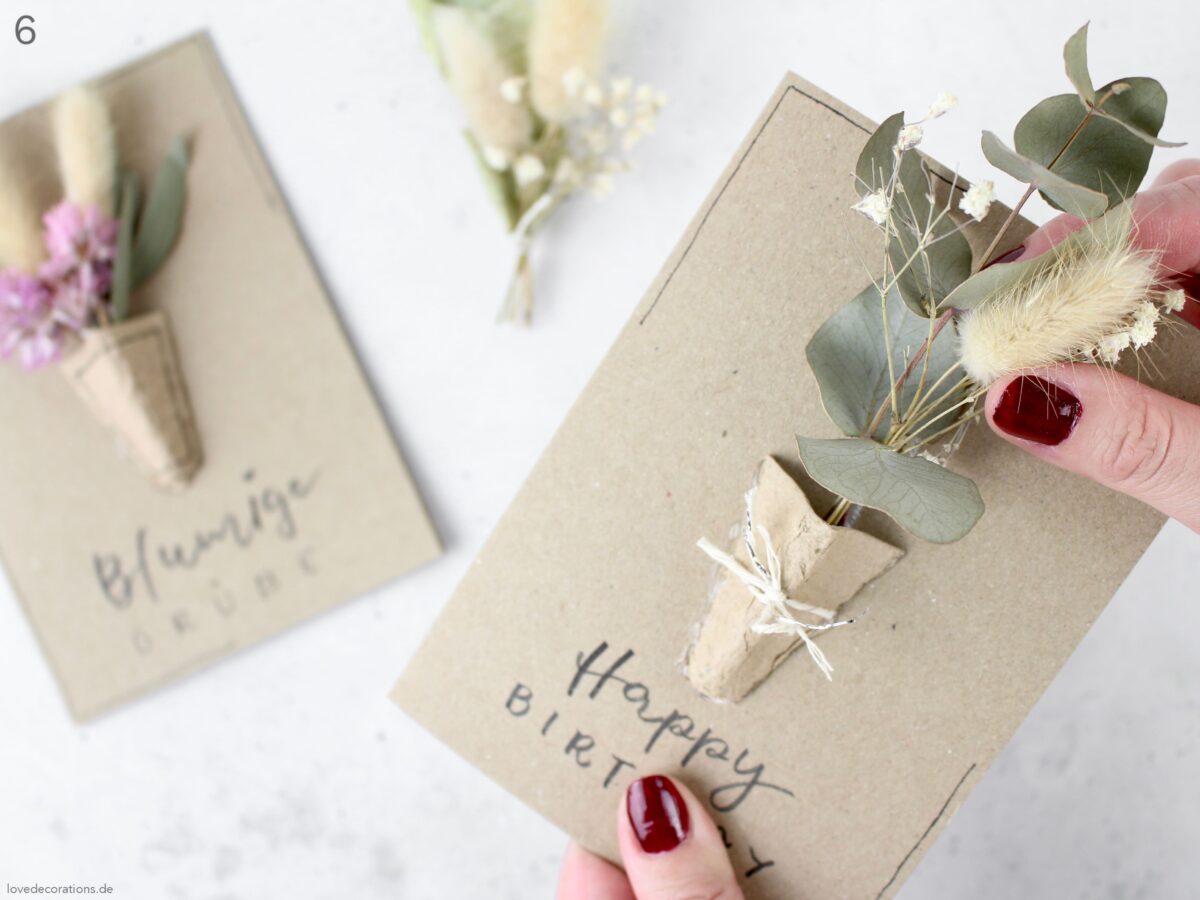 now design the card to your heart's content: pens, stamps, stickers, label makers – everything is allowed
Insert dried flowers either individually or as a bouquet
if the whole thing falls out too easily/slacks – simply apply a mini dab of hot glue to the tips beforehand (then the whole thing should be fixed) 😉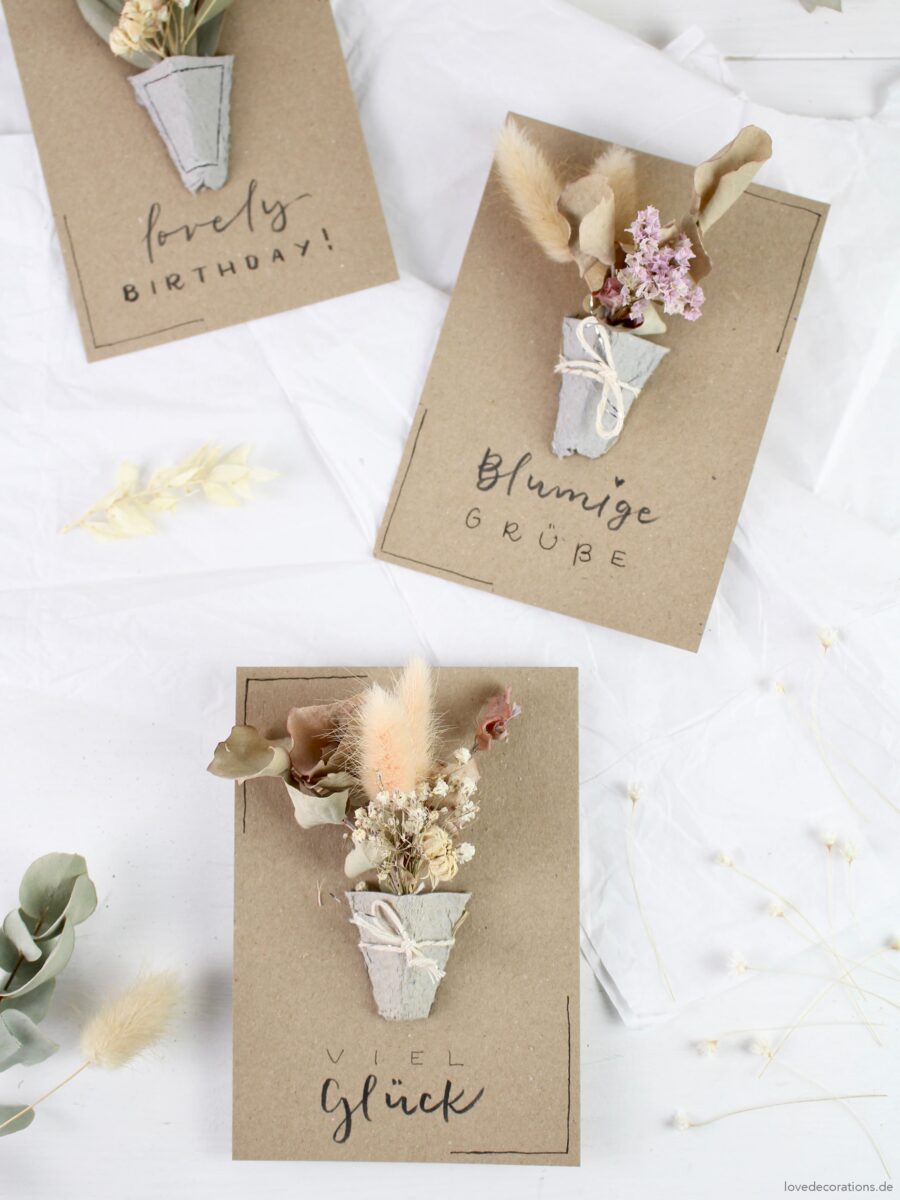 And the DIY card with egg carton as a flower bag and dried flowers is ready to be given away 🎀
What I find particularly great about them is that they fit every occasion – birthday, wedding, Mother's Day, congratulations, thank you or simply to send flowery greetings 💐
Ok, admittedly – they are not the best cards for sending, but a larger envelope and then it usually fits (that's how I usually do it) 😉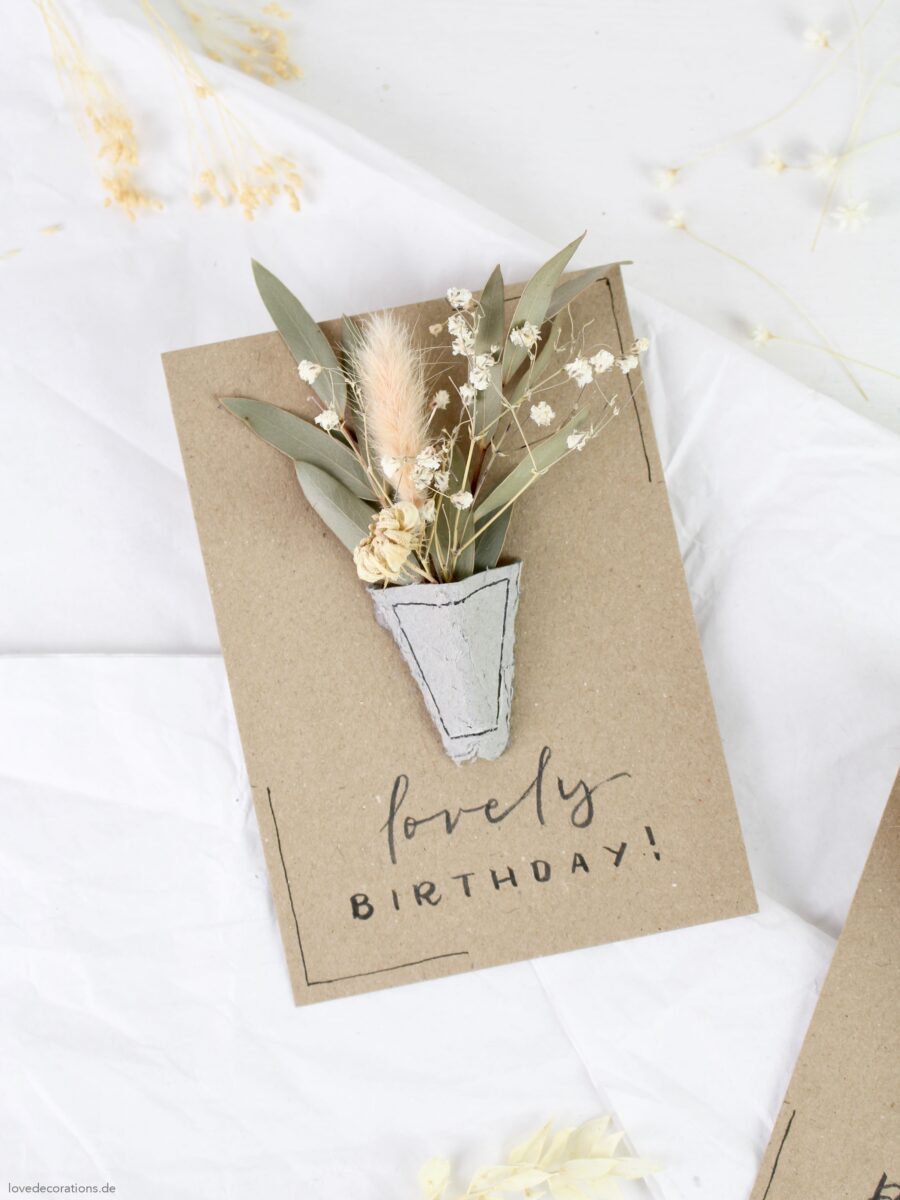 A look at the clock and the simultaneous yawn tell me it's about time to hop into bed 😴
Dear friends, have a nice time and be hugged 💝
➡️ If you are still looking for more DIY card ideas – once [hier] click 😊
➡️ If you want to take me through everyday life or take a look behind the scenes – once [hier] click 😊
You might also like these posts!
Source: lovedecorations.de