Looking for a special Mother's Day cake? These little heart-shaped cheesecake bites are creamy, chocolaty and fruity combined with berries. Cheesecake finger food is simply delicious!
A special Mother's Day cake: heart-shaped cheesecake bites
Would you like to bake your mom a cake for Mother's Day this year? Always the same is often boring and this day is something very special! We also need a special idea for this: heart-shaped cheesecake bites, for example. I'll show you how it works in the recipe. Particularly practical: If you failed to make the cheesecake (e.g. the top ripped), you can use this recipe to save the cake and make it a real eye-catcher. You can also bake this Mother's Day cake with children!
Ingredients
Ingredients for the dough:

200 grams of flour

100 g Butter

1 No

80 grams of sugar

1 sachet of vanilla sugar

1 teaspoon baking powder

1 pinch of salt

Ingredients for the filling:

50 grams of sugar

5 egg whites

5 egg yolks

1 sachet of vanilla sugar

750 g low-fat quark

150 g fresh cream

30 g cornstarch

juice of ½ a lemon

grated lemon zest (use unwaxed lemons if possible)

Additionally:

50 grams of raspberries

50 grams of strawberries

200 g milk chocolate

Streusel
Instructions
1
Place the dough ingredients in a bowl and knead into a dough using a hand mixer (dough hook). Chill the dough for 30 minutes.
2
Roll out 2/3 of the dough in a springform pan (diameter 26 cm) and prick several times with a fork. Form the remaining dough into a rim.
3
Beat egg white and sugar until stiff. Then beat the egg yolks with the sugar, salt and vanilla sugar until fluffy.
4
Add the quark, lemon juice, crème fraîche and cornstarch and continue beating for about two minutes.
5
Gently fold in the beaten egg whites and fill the quark mixture into the prepared baking pan.
6
Bake the cake at 180°C (top and bottom heat) on the lower level of the oven for 40 minutes.
7
Take the cake out of the oven and let it cool down.
8
Then cut the cake like a grid, i.e. into cubes.
9
The excess edge can be eaten immediately.
11
Pour the chocolate and a spoon over the strawberries with quick movements so that stripes appear on the strawberries.
12
Before the chocolate has hardened, spread a few crumbles on top.
13
Arrange the bits of cheesecake, strawberries and raspberries on a plate and shape into a heart.
14
Serve immediately or chill in the fridge for later.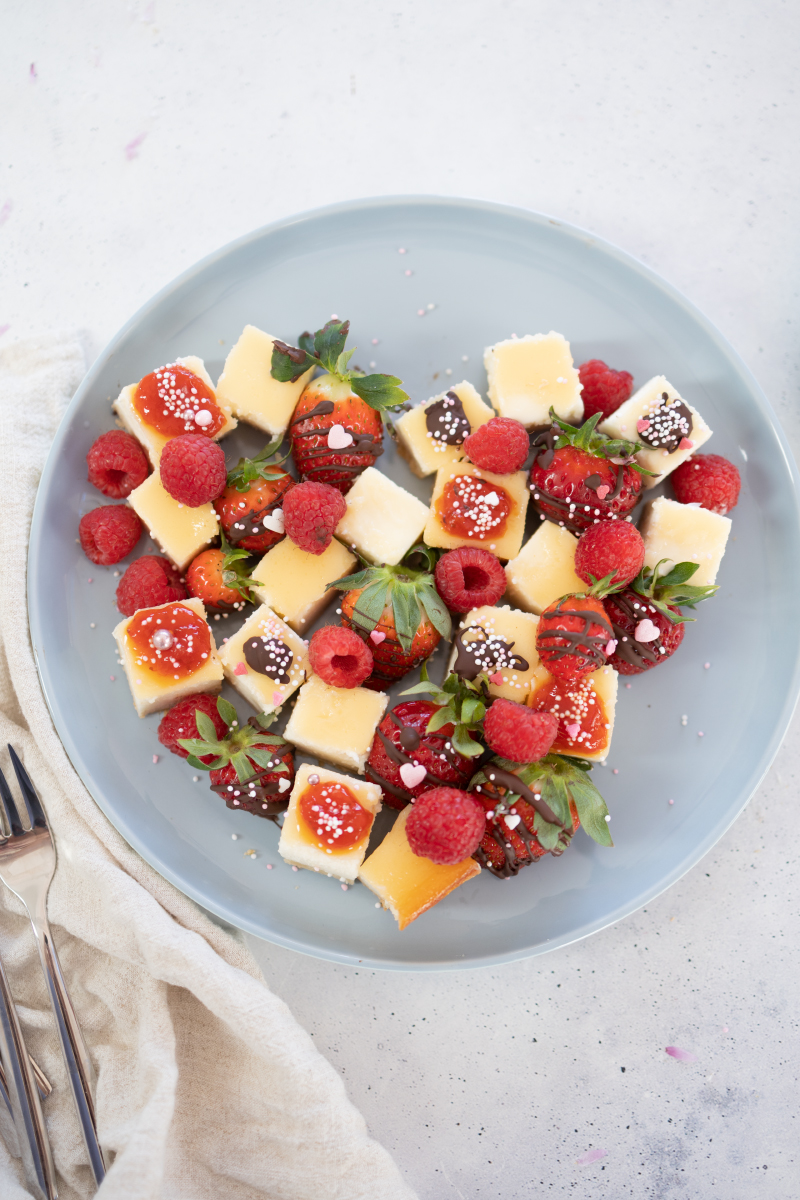 Hearty treat for mom: A special Mother's Day cake
Unique yet simple focal point: surprise your mom with a heart-shaped Mother's Day cake! This particular cake is perfect if you want to please your mum but aren't necessarily a baking expert. You should only plan enough time for the preparation.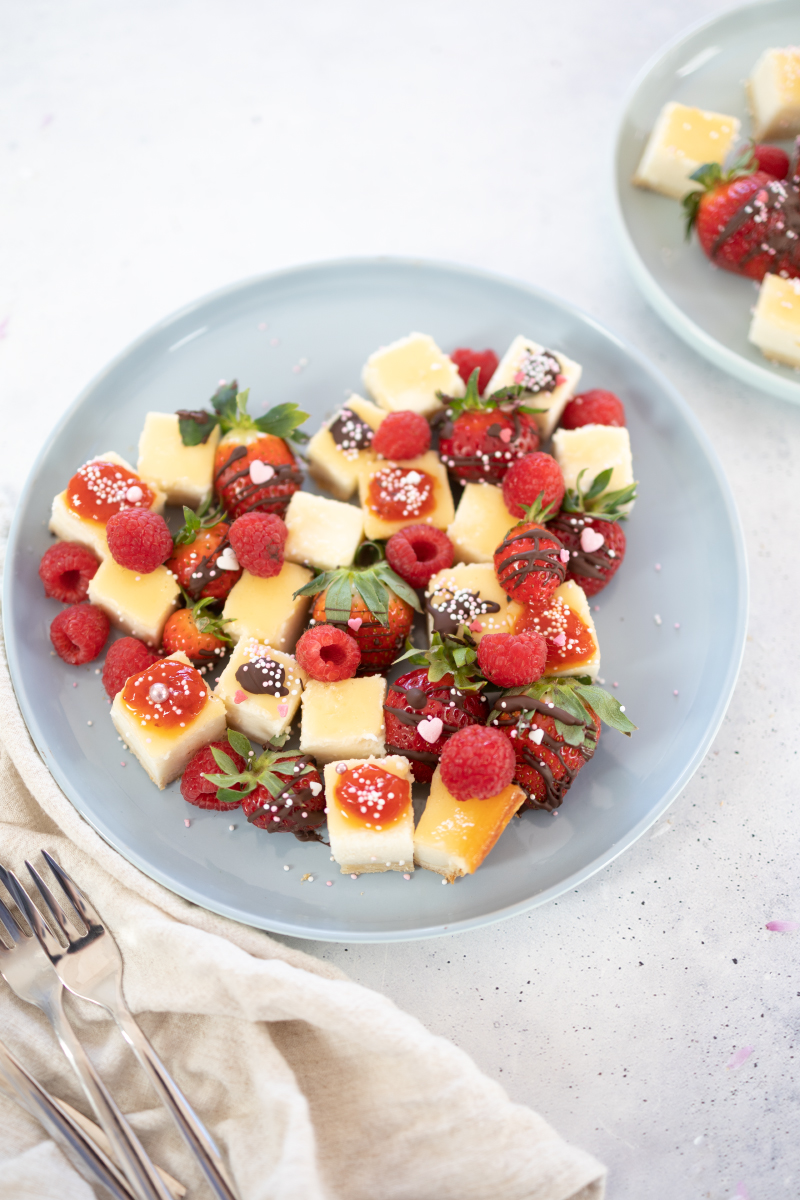 That was it with my idea for Mother's Day. Haven't had enough of homemade gifts yet? Then try my other ideas. Do you already know my articles about top 10 Mother's Day gifts yourself, make 3D flower pop-up cards for Mother's Day yourself or make gift bags and Mother's Day cards with paper flowers.
What do you think of the result for my special Mother's Day cake?
Until then. Your Laura
Source: trytrytry.de