Hi everyone! Today I invite you to travel with the flavors of Italy. The pasta so loved by most, I present it to you in a very simple dish to prepare: fettuccini with alfredo sauce!
About the fettuccini
Fettuccini is a type of pasta native to Italy, especially the Emilia-Romagna region, although it is a popular dish in all Italian homes. And in many restaurants around the world.
What does the word fettuccini mean?
"Fettuccine" is an Italian word that means "little ribbons". It comes from the Italian word "tape"that means "little tape". This is because the fettuccine is cut into small ribbons.
What is the difference between fettuccine and spaghetti?
Fettuccini and spaghetti are two different types of Italian pasta that differ in shape and size:
He fettuccini is a flat and wide pasta, similar to the shape of a ribbon. It is traditionally served with creamy sauces, such as mushroom sauce or Alfredo sauce.
On the other hand, spaghetti is long, thin pasta. Traditionally it is served with tomato sauce or olive oil.
The texture of the two types of pasta can also vary. Spaghetti tends to have a firmer, more elastic texture, while fettuccini is softer and more tender.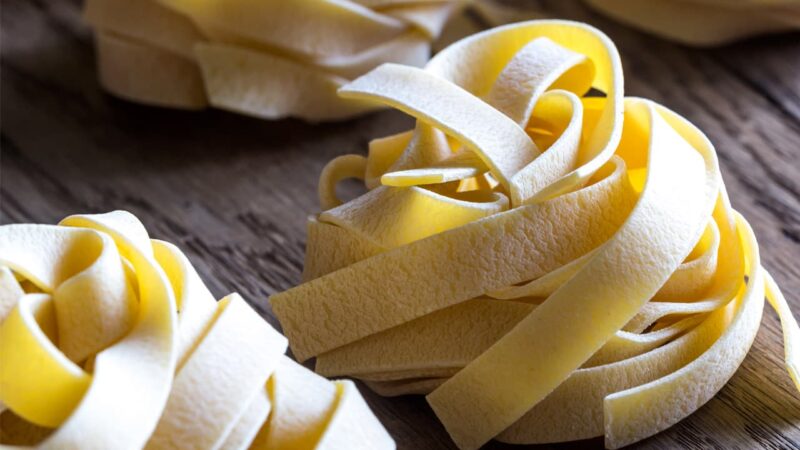 Ethyl pairings for pasta
These fettuccine are usually paired with medium-bodied white wines with moderate acidity that complement their smooth and creamy flavor. Some white wine options that work well in this fettuccini with Alfredo sauce recipe are:
Chardonnay: This strain is known for its rich, creamy texture that complements Alfredo sauce well.
Sauvignon Blanc: This white wine has a fresh acidity that can help balance the richness of the Alfredo sauce.
Pinot Grigio: This medium-bodied white wine is known for its fresh and smooth flavor, which makes it a good choice to accompany creamy dishes.
In general, it is advisable to choose dry white wines that have moderate acidity and are not too sweet.
How to accompany the fettuccine
To combine with the fettuccini with Alfredo sauce, a good cold starter option would be a fresh and crunchy salad, because it can provide us with a good contrast of textures and flavors. Some ideas you might consider:
Caesar salad: This classic salad is a popular choice to accompany pasta, as the combination of romaine lettuce, Parmesan cheese, croutons and anchovy dressing goes well with the richness of the Alfredo sauce.
Arugula Salad: The spicy and slightly bitter flavor of arugula can complement the creaminess of the sauce well.
Beef carpaccio: This cold appetizer consists of thinly sliced ​​raw beef served with arugula, Parmesan cheese, and a lemon-olive oil dressing. The combination of flavors and textures can provide a nice contrast for fettuccine Alfredo. If you are a vegetarian, I leave you the recipe of the zucchini carpaccio.
In general, it's a good idea to choose cold entrees that are light and fresh, with flavors that complement but don't compete with the flavors of the Alfredo sauce.
If you prefer a hot appetizer to pair with fettuccini in Alfredo sauce, there are several options that can complement its flavor and creamy texture. Here are some hot ticket suggestions you might consider:
Tomato and Basil Bruschetta: This entree consists of slices of toasted bread topped with fresh tomato, garlic, basil, and olive oil. The combination of fresh and roasted flavors can provide a nice contrast for Alfredo sauce.
Sauteed mushrooms: Sautéed mushrooms with garlic and herbs can be a tasty and satisfying option to accompany pasta. Its earthy flavor can complement the creaminess of the sauce well.
Zucchini stuffed with ricotta cheese: This vegetarian entrée consists of sliced ​​zucchini stuffed with a mixture of ricotta cheese, Parmesan cheese and herbs. When baked, they turn golden and crisp on the outside and soft and creamy on the inside, which can complement the texture of fettuccini Alfredo well.
In general, it's a good idea to choose hot entrees that are flavorful and comforting, but not too heavy or rich, as the Alfredo sauce itself is quite creamy and rich. Alfredo sauce is the choice, but what other options can fettuccini be served with?
Fettuccini are a noble pasta that we can accompany with a wide variety of ingredients and sauces. Here are some:
marinara sauce: A tomato sauce cooked with garlic, onion and herbs.
Pesto: A sauce made from basil leaves, olive oil, garlic, pine nuts and Parmesan cheese.
Sauteed mushrooms with garlic and onion, mixed with cream and Parmesan cheese.
Chicken pieces sautéed with garlic and tossed with fresh spinach and Parmesan cheese.
Sautéed shrimp with garlic, olive oil and red pepper flakes.
dried tomatoes and olives chopped black peppers mixed with olive oil and garlic.
There are many other combinations that can be made, fettuccini can also be served with sautéed vegetables, grilled or sautéed chicken, or even with seafood. I recommend you try and then tell me.
I invite you to discover all my homemade pasta recipes!
Fettuccini Alfredo recipe
Yield: 6 – 8 personas
Preparation time: 20 minutes
Ingredients
500 grams of fettuccine
2 ½ cups of heavy cream
170 grams. of butter
½ cup lemon juice
2 cups of Parmesan cheese
2 teaspoons lemon zest
1 pinch of ground nutmeg
Sal
ground black pepper
How to make fettuccini with Alfredo sauce step by step
Cook the pasta in a large pot in boiling salted water for 4 minutes until tender but firm. Strain them and reserve.
On the other hand, place 2 cups of cream and lemon juice in a pan and stir until everything is well combined.
Add the butter and cook over medium heat until the butter is melted.
Remove from the heat, add the pasta and mix.
Add the ½ cup of cream, the Parmesan cheese to the cream sauce that is in the pan.
Add the lemon zest, nutmeg, salt and pepper.
Place the pasta over low heat until the sauce thickens slightly. Done, turn off the heat and serve.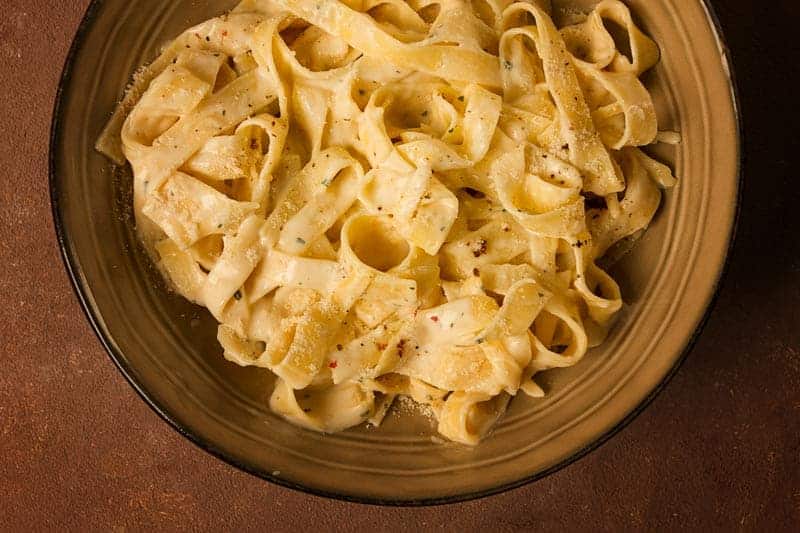 Source: www.paulinacocina.net