It is gazpacho but it is not ̈el gazpacho ̈… It is gazpacho Manchego and today we present it to you. Welcome dear friends of Paulina Cocina! I hope you are very well and ready to try this recipe as comforting as the Spanish one.
If you have never tried it or heard of it, this recipe will surprise you but also, with the cold that is coming, it will make you want to run out and make it.
Manchego gazpacho, a dish with medieval roots
The first thing we are going to do is make things clear because you have clear accounts, they keep the friendship, says the saying.
Although its name includes the word gazpacho, Manchego gazpacho has nothing to do with the popular Andalusian cold soup of tomatoes, cucumbers and peppers that we once made with Anabel Cherubito. Now yes… do you want to know everything about this delicious dish and how to make it?
As its name indicates, the gazpacho Manchego It has its origins in the region of La Mancha, located in the center of Spain.
What is not known with certainty is who invented this recipe but it is believed that it arose in medieval times at the hands of shepherds and hunters in the area who prepared a stew with what they had on hand. Isn't that a great way to start a recipe?
In short, it turns out that the shepherds and hunters, after long days of work, what they usually had on hand to make their stewed meals were game meat or rabbit, hard bread, vegetables and spices. All local ingredients that allowed them to create a nutritious and comforting dish.
And now? Your actuality
The Manchego gazpacho became not only the star dish of the grandmother and found in all homes in the area, but also to be a very popular dish throughout Spain. It can be found on the menu of many restaurants nationwide despite being a recipe that takes a lot of time and skill to prepare correctly. This caused it to be refined and adapted to some cultural changes.
Although the original recipe did not change much, each cook will give it their own touch and thus you can find some variants in which pork or lamb is used. Also exist vegetarian versions in which meat proteins are replaced by legumes.
Curious facts about Manchego gazpacho
Manchego gazpacho is one of the most popular dishes in Manchegan cuisine. The traditional recipe includes rabbit or partridge, but it can also be made with other meats such as chicken or hare, making it adaptable to other countries where game meats are not so common.
Manchego gazpacho works perfectly both as a main dish and as a soup to accompany other dishes. It can be served hot in winter or warm in spring and fall. The only thing that is not recommended, due to the ingredients it contains, is to serve it cold.
In some regions of La Mancha, a curious ingredient is added to the Manchego gazpacho recipe: wild rabbit, a type of wild rabbit found in the area and which gives the dish a very particular flavor.
The aromas and spices of Manchego gazpacho
Manchego gazpacho is a very aromatic and tasty meal thanks to the seasonings used in the recipe. Spices, herbs and vegetables collaborate and become essential in this dish, so I will detail them so that you do not forget any in the recipe that I leave you at the end:
Peppers: Always present in Spanish cuisine, this spice is one of the key ingredients of Manchego gazpacho. Both sweet and spicy are used to give flavor and color to the dish.
Cumin: It is a spice widely used in La Mancha cuisine and its function is to enhance the flavor of meat and vegetables. In addition, it gives it a distinctive and delicious aroma when used in its proper measure.
Thyme: This aromatic herb is used to flavor and aroma the soup. It helps to enhance the flavors and give a fresh and aromatic touch to the Manchego gazpacho.
Laurel: It is a very aromatic leaf that is used to give flavor and aroma to stews. In the Manchego gazpacho it helps to enhance meat and vegetables.
it: Widely used in Spanish cooking, it is also a key ingredient in Manchego gazpacho. It gives an intense flavor and a delicious aroma to the soup since the original recipe contains this ingredient abundantly.
Manchego gazpacho original recipe
This is the original recipe for this hot Spanish cuisine soup that is made with meat, vegetables, bread and spices. In any case, it is important to remember that each chef will give it his own touch, maintaining the traditional base to maintain the aromas and flavors of the homemade Manchego gazpacho.
Yield: 4 portions
Preparation time: 1 hour 30 minutes
Ingredients
1 rabbit or partridge chopped
1 red bell pepper
1 green pepper
2 ripe tomatoes
1 onion
4 garlic cloves
150 gr. hard bread
50ml olive oil
1.5 liters of water or meat broth
Salt to taste
How to make manchego gazpacho
In a large saucepan, fry the rabbit or partridge in olive oil until golden. Then withdraw and reserve separately.
In the same saucepan, add the peppers, tomatoes, onion and small minced garlic. Sauté for a few minutes stirring until tender.
Add the stale bread and a little water or broth to soften it. Then add the reserved rabbit or partridge to the pan.
Add the rest of the water or broth, salt to taste and cook over medium heat for about 30-40 minutes, until everything is well cooked.
Once cooked, remove the pieces of rabbit or partridge and shred the meat. Add the meat back to the pan.
Blend everything with a blender or food processor until you have a smooth, lump-free soup. Serve hot.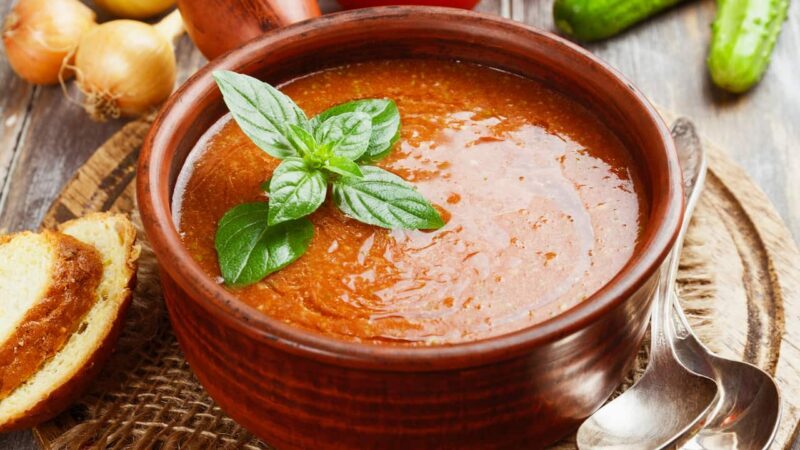 Source: www.paulinacocina.net