Friends, today's post comes with a talk, video, explanation and four recipes together. I don't know about you but for me it is a publication to use, save and share even with the neighbor. Papas bravas are a traditional dish of Spanish cuisine, especially popular in the Madrid region. These are potatoes (potatoes) cut into cubes (or chunks as we say here) and then cooked in oil until they are crispy on the outside and tender on the inside.
Papas bravas are an appetizer or tapa that can be enjoyed in bars and restaurants. Of the three recipes for sauces to accompany the potatoes, the first one we are going to talk about is the traditional one eaten in Spain, the second is with tomato and the third is an aioli that is light on paper but rich, easy and simple.
About the bravas potatoes
Before a little history
The exact origin of papas bravas is uncertain and there is some controversy about its history. However, this dish is believed to have originated in the Community of Madrid, Spain, in the early to mid-20th century.
They became popular as a tapa in the bars and taverns of Madrid, where they were served as an accompaniment to take with a drink. Originally, the term "bravas" referred to the hot sauce that was served alongside the potatoes, rather than the dish itself.
The popular papas bravas
Over the years, papas bravas have become a very popular tapa throughout Spain and can be found in many different variations and styles in different regions of the country. Each place can have their own version, adapting the recipe and seasonings based on local tastes.
In Catalonia they are known as "spicy potatoes" and are sometimes served with an additional aioli sauce. Papas bravas are usually served together with a Spanish beer or wine. The combination of crispy potatoes and hot sauce with a refreshing drink is highly appreciated..
Some interesting things about the papas bravas
During the Spanish Civil War (1936-1939), food rationing led to the creation of simple and cheap dishes, like bravas potatoes. This tapa is said to have originated in that period as a way to take advantage of potatoes and flavor them with a spicy sauce.
In some places, especially in the northern region of Spain, patatas bravas are served skewered on individual toothpicks, known as "pinchos". This makes it easy to consume and becomes a popular way to present them at bars and parties.
In Spain, especially in the Community of Madrid, events and festivals dedicated to papas bravas are held. These festivities highlight the cultural and gastronomic importance of this dish and allow lovers of papas bravas to enjoy different versions and styles.
Traditional papas bravas recipe
These potatoes are the ones one could find in any bar or restaurant in Spain. This sauce, with its characteristic spicy flavor, adds a touch of flavor and warmth to French fries.
Ingredients
½ kg of peeled and washed potatoes
Natural vegetable oil
5 tablespoons of olive oil
2 tablespoons sweet smoked paprika
1 tablespoon hot paprika
1 tablespoon of all-purpose flour
1 ladle of broth
Salt to taste
How to make traditional papas bravas
Cut the potatoes into large pieces and make sure they are dry. Heat a frying pan with 1 cm of Natura vegetable oil over medium heat.
Pour the potatoes into the pan and cook for about 15 minutes, stirring slowly and turning them so they don't burn or stick.
Put the olive oil and the two types of paprika in another pan. Stir until everything comes together, then add the flour and form the roux.
Add the broth and stir. Salt to taste and keep stirring.
When it begins to thicken, remove from heat.
Paulina Cocina style papas bravas recipe (with tomato)
These bravas potatoes are different and not as spicy as the traditional ones. If you are like us, a big tomato fan, you are going to love them, and if not, also because they are delicious.
Ingredients
5 tablespoons of olive oil
1 tablespoons sweet smoked paprika
½ tablespoon hot paprika
½ cup of crushed tomato
Salt to taste
Black, pink and white pepper. ground
How to make the Paulina style papas bravas recipe Cocina
Mix or blend the tomato until there are no pieces left.
Put the olive oil and the two types of paprika in a pan. Stir until everything is combined, then add the tomato.
Season to taste, keep stirring and cook for another 5 minutes.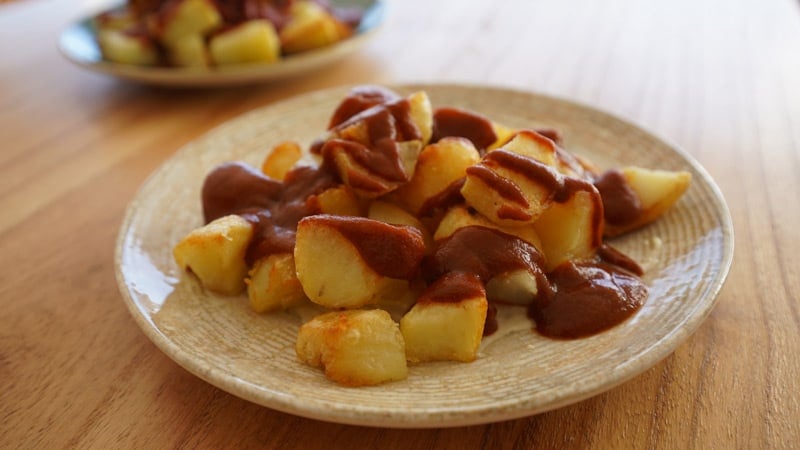 Source: www.paulinacocina.net