Today's recipe has the warmth of home and homemade aromas but it is very easy to make and requires few ingredients. Potatoes with chorizotransformed into a stew potatoes Riojana's styleare a tangible expression of the culture and culinary heritage of the region riojana.
Born in the kitchens of Spanish homes, the Riojan style potatoes recipe It is a comforting dish for those days when you want to eat something powerful with what you have at home. Ideal for winter but: Who says we can't eat it in summer and sweat comfortably?
About Rioja-style potatoes
Las potatoes Riojana's stylealso known as potatoes with chorizo ​​a la riojana, are an iconic dish that pays homage to the culinary traditions of the La Rioja region, Spain. This rustic and hearty dish reflects the influence of local ingredients and the passion that Riojans have for good food.
A recipe that has passed down several generations
This recipe, passed down from generation to generation, is often known as "grandmother's recipe", as it contains the ancestral knowledge and love that characterize home cooking. The process of how to make potatoes Riojana's style It is a lesson in itself in traditional cooking.
The stew of potatoes with chorizo Rioja style involves slow and careful cooking. The potatoes absorb the flavors of the chorizo, onion, red pepper, and garlic as they cook in the broth resulting from cooking the chorizo.
The end result is a stew of potatoes with chorizo ​​a la riojana that captures the very essence of the region. Known for its warmth and comforting flavor, this dish evokes the aromas and flavors that have been an integral part of life in La Rioja for generations.
Ingredients of Riojan style potatoes: tasty and simple combination
He chorizo ​​is one of the key ingredients in this preparation. It is usually a spicy chorizo ​​that adds a touch of flavor and a little heat to the stew. The potatoes are cooked in the broth which is formed by cook the chorizos along with the vegetablesallowing them to absorb the flavors and become tender and delicious.
Las potato They are cooked slowly together with the chorizo, which infuses its distinctive flavor into every bite. In addition to chorizo, ingredients such as onion, red pepper and garlic, which enhance the depth of the flavors. This potato and chorizo ​​stew is cooked over low heat, allowing the flavors to mix and develop fully.
Red pepper, onion and garlic They add an aromatic and tasty dimension to the dish. Additionally, in some versions of the dish, you can find other variations of ingredients, such as blood sausage or bacon, which further contribute to the richness of flavors.
Although he spicy chorizo It is commonly used in potatoes Riojana's stylesome recipes may use milder varieties or even deer or wild boar chorizo ​​to give a unique twist to the dish.
Las potatoes Riojana's style They are often served as a main dish, but can also act as a tasty accompaniment to other traditional dishes of the region, such as roast lamb or meat stews.
Riojan style potatoes in Spanish culture
Creative Adaptations: Although there is a basic recipe for potatoes Riojana's style, each cook can give their personal touch to the dish. Some people may vary the ingredients, adjust the proportions, or add additional elements to create their unique version of the stew.
Family Gastronomy: Las potatoes Riojana's style They are a dish that evokes the image of family meals and gatherings around the table. The tradition of cooking and sharing this dish has been passed down from generation to generation, making it a symbol of family unity and tradition.
Influence of Climate: The choice of ingredients, such as spicy chorizo, may be related to the climate of the region. Spicy dishes are often consumed in colder climates, as spiciness can create a feeling of heat in the body.
Celebration of Regional Identity: Las potatoes Riojana's style They are a way to celebrate the culture and identity of La Rioja. This dish, along with other typical dishes from the region such as Biscayan-style cod, contributes to La Rioja's reputation as a culinary destination in Spain.
Influence on Modern Gastronomy: The popularity of potatoes Riojana's style has transcended the borders of La Rioja and has influenced the way regional ingredients are used in other cuisines.
Gastronomic Festivals: In La Rioja, gastronomic festivals are held where Riojan-style potatoes are the center of attention. These events highlight the cultural and culinary importance of the dish in the region.
Grandmothers Legacy: The term "grandmother's recipe" associated with potatoes Riojana's style It's not just an expression. Many families have inherited and shared their recipes throughout the generations, keeping the authenticity and tradition of this dish alive.
Connection with Wine: Since La Rioja is famous for its wines, it is not unusual for the potatoes Riojana's style They are served with a good red wine from the region, creating a harmony of flavors.
Follow me on Instagram (here)
And on YouTube I upload new videos every week (click here)
Riojan style potatoes recipe
Yield: 4 portions
Preparation time: 1 hour 30 minutes
Ingredients
4 spicy sausages
4 medium potatoes
1 large onion
1 red pepper
3 garlic cloves
Olive oil
sweet paprika
Black pepper
Sal
Agua
Parsley to decorate
How to make Riojan style potatoes
In a large saucepan with a little olive oil over medium heat, cook the sliced ​​chorizos until golden brown. Remove and reserve.
In the same saucepan with a little more oil, add the chopped onion and the red pepper in strips. Cook until tender.
Add the cut potatoes to the saucepan and mix them with the vegetables. Sprinkle with a pinch of sweet paprika and stir.
Place the chorizos on the potatoes, add the chopped garlic cloves, black pepper and a pinch of salt to taste.
Cover the ingredients with enough water so that they are submerged. Cover the saucepan and cook over medium heat for 30-40 minutes.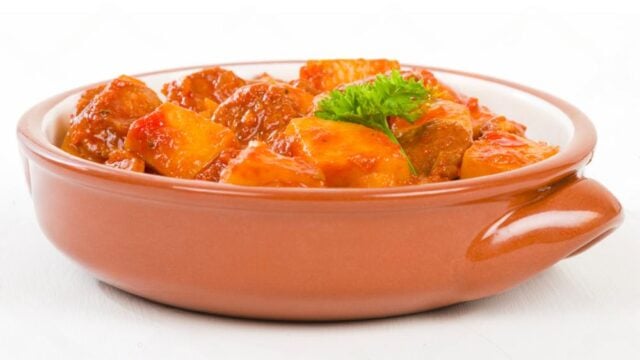 Source: www.paulinacocina.net